EDITOR'S NOTE: This is a press release. We did recently write a profile of Mile Twelve for the British Bluegrass News which will appear on this site once the magazine is out in print. We will also be reviewing the new album in the near future and will share that here. We can say, having heard several of the songs on this album performed live already, we really look forward to this release.

February 8, 2019 – Nashville, TN – IBMA Momentum Award winners and Instrumental Performance and Emerging Artist nominees Mile Twelve will be releasing their new full-length album, City on a Hill, on March 29th. Produced by guitar-great Bryan Sutton and engineered by Ben Surratt, City on a Hill is comprised of ten new songs that feature Mile Twelve's impeccable ability to tackle dense and often heavy subject matter from an easy-going, honest perspective. In combination with their masterful storytelling, Mile Twelve's David Benedict (mandolin), Catherine "BB" Bowness (banjo), Bronwyn Keith-Hynes (fiddle), Evan Murphy (guitar, lead vocals), and Nate Sabat (bass, lead vocals) show a command of their respective instruments that reaches well beyond their years. "We all inspire each other and recognize that everyone has different strengths," Evan Murphy says. "What makes this band so collaborative is that everyone in the band can do something at a really high level. That's the balance. We're all challenging each other."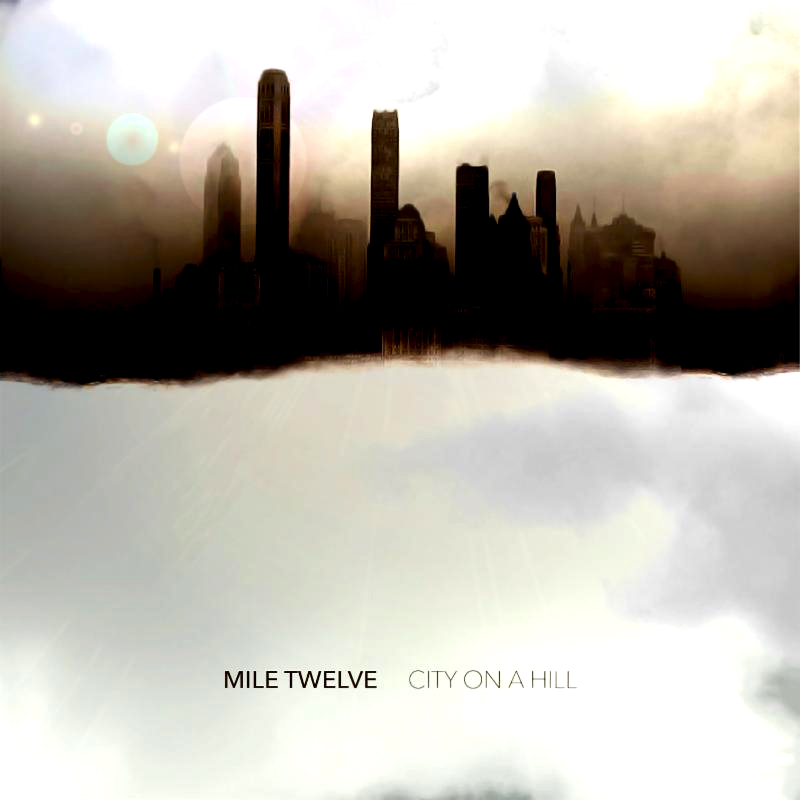 Today, PopMatters is premiering City on a Hill's first single, "City that Drowned", a song the band calls "a dark parable of events that may come." PopMatters writes that the track is "Driven forward by progressive instrumentation and ominous undertones," noting that the band "Establishes themselves as a bluegrass outfit intent on telling a story… effortlessly conveying the track's mystique whilst producing enough of a grooving rhythm to encourage swaying." Listen here.
City on a Hill opens with "Down Where the Drunkards Roll", a galloping version of the Richard and Linda Thompson-penned tune. Onward, the songwriting prowess of Mile Twelve shows up in a number of songs and laments seen through the eyes of a wide cast of characters. "Jericho" follows a modern war veteran's struggle post-trauma. In "Liberty", a Jewish immigrant tells their child the story of fleeing war to the United States of America. "Innocent Again" is a rollicking study of the stigma attached to one's time spent in the penal system. The waltzing "Barefoot in Jail" and the dream sequence of "Journey's End" roll right into album closer, John Cloyd Miller's portrait of small-time life, "Where We Started".
The album's title alludes to the idealized imagery of a shining city on a hill; a historical phrase that is often used to describe Boston, MA, where the band got its start in 2014 after recognizing each other as regulars of a Tuesday night bluegrass jam in a Cambridge dive bar. Honing in as a band, Mile Twelve caught the attention of now-producer Bryan Sutton with their debut album, Onwards. "I'm a fan of bands who strive for a balance of being musically unique and individualized, while at the same time working to include time-honored traditions found in this music," Sutton observes. "This blend is not an easy thing to accomplish. Mile Twelve does this with well-honed and refreshingly honest songwriting, along with powerful playing, singing, and performing."
For more information, please visit https://www.miletwelvebluegrass.com/. Click here to pre-order the album.
ABOUT MILE TWELVE: Although their sound is rooted in traditional bluegrass, Mile Twelve surveys a broader landscape on their newest album, City on a Hill. All five band members bring their own influences and observations into the music, resulting in a project that feels contemporary, thoughtfully crafted, and relevant. Produced by Bryan Sutton and engineered by Ben Surratt, City on a Hill follows significant recognition from the bluegrass community, including three IBMA Momentum Awards. With members based in Boston and Nashville, the lineup includes David Benedict (mandolin), Catherine "BB" Bowness (banjo), Bronwyn Keith-Hynes (fiddle), Evan Murphy (acoustic guitar, lead vocals), and Nate Sabat (bass, lead vocals).