It's that time of the year. Festival lineups are being announced and everybody is on pins and needles, hoping their favorite act will be at their favorite festival.
In keeping with the tradition of the season, here is our top wish for an act we'd like to on the bill of one of our favorite festivals this coming year. It's not exactly bluegrass, but it's close enough.
Ever since we saw the videos on You Tube, we've wanted to see Andy Falco and David Bromberg pick together like they did the summer of 2015 at Bradstock, a smallish little festival on the South Shore of Long Island.
The set had almost a master-pupil feel. Their styles of play so similar, so well matched. You'd have thought they'd done this for years.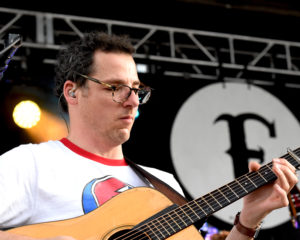 Falco, decades younger, held his own, and then some, with Bromberg, a legendary picker who has worked as a sideman with the likes of Bob Dylan, John Prine, Willie Nelson, Jerry Jeff Walker, and Bonnie Raitt. At the same time, you could see the reverence in his eyes. He made it clear, in the intro to Going Down The Road Feeling Bad, how big an influence Bromberg has been on him.
When we talked with Falco recently for a story on the Infamous Stringdusters for The British Bluegrass News, we had a chance to ask him about how that set had come about.
"The way the opportunity to do that all came around, we were playing right after David at a Grey Fox a few years back. He came off stage, and there he was, and I got to talk to him and started chatting." Falco said.
"He came to one of our gigs in Delaware, close to where he lives. We just kind of stayed in touch and I kind of got to know him. We said we should get together and play some music and, just get to hang and talk music and play music."
Lest anybody think our desire to see the two reprise that set is a pipe dream, let the record show at least one of the two likes the idea.
"I would love to do it again," said Falco. Michael Allenby, are you listening?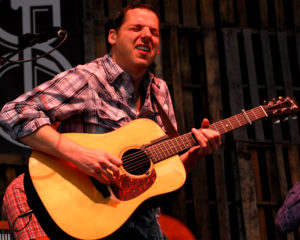 "That was a real fun time. That was a really special thing for me to get to do that with David," Falco explained. "Honestly, there were a few things that for me, in music, that got me sort of pointed me in the bluegrass direction . . . Bromberg, as I was getting into blues and stuff, was the first person I heard playing flat pick style guitar that I can remember. I was into blues and  listening to Bromberg from the blues standpoint, but he's such a diverse musician. That was a big influence to me, too."
Watching those videos, seeing the two trade licks, playing side by side, that influence is obvious.
"It was an amazing thing for me," Falco said. "I realized, sitting and playing with him, how many licks and stuff I actually got from David. I'm playing with him and I'm thinking, that's where I got that from."
Could it happen again? Who knows. It certainly seems more possible these days than it would have not so long ago when Bromberg was performing infrequently.
As Falco points out, "He's been touring quite a bit, doing a lot of. He's been real active, which is great to see."
Here is a sample from those Bradstock Videos. Click here to get them all (playlist not in order of performance)