EDITOR'S NOTE: This review was originally published in the British Bluegrass News — BBN85.
I hesitated in reviewing this album. Not because I didn't like it. I did, very much.
It's just that I know how some folks react to anything that does not meet some mythical bluegrass purity test. I don't want to upset those folks. I also don't care to get drawn into that long-running debate.
So I will make it very clear right up front. This is a very good album, with lots of very good, original, bluegrass music. But if your taste in bluegrass demands pure adherence to the canons of some imaginary Church of Bill Monroe, stop reading here and skip on to the next review. You won't like this album. There is nothing a reviewer can say to change that. Let's not either of us waste our time.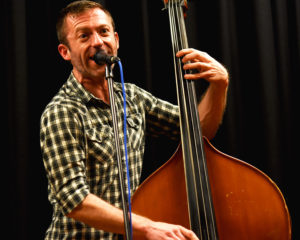 If you are still reading, I will make the bold assumption that your musical tastes allow for elements of other styles and influences to blend on an album with a strong bluegrass base to create some interesting and intriguing music. That being the case, you will want to give Ben Somers' first studio effort, "Poor Stuart," a listen.
Those familiar with Somers' musical credentials won't be shocked by the eclectic blend of musical styles on "Poor Stuart." Matter of fact, if you have ever seen the Ben Somers String Band live, you know exactly what to expect.
Just like those live gigs, Somers spends most of this album on lead vocals while also playing the upright bass. Stylistically he is one of the better bass men you will encounter, equally adept plucking, slapping, or bowing the strings.
Somers is also a world class saxophone player who has been heard backing artists such as Seal, Dr. John, and Taylor Swift. If you have been lucky enough to catch BSSB live, you already know Somers is apt to pull out his sax on a song or two
It is the same on this album, which is Somers' second release this year, following the Ben Somers String Band "Live At De Melkbus" album he released in the spring. It is Somers's first studio effort since his 2015 collection of New Orleans style jazz, "Brass Hysteria." 
The guys from the String Band — mandolin player Evan Davies, guitarist Dorian Ricaux, and fiddler Marius Pibarot — backed Somers in the Paris studio where he recorded this one. But Somers has released "Poor Stuart" as a Ben Somers solo album, consciously omitting the "String Band" from the name, in part to avoid having the album pigeon holed.
"It's less genre specific," Somers says. "I didn't want to pin it down by using the term 'string band.' I play some sax on there too."
Specifically, Somers breaks out the sax on two jazz influenced numbers on the album, "Torontolu," which was written by Pibarot, and "Good Boy," a Somers composition. Even though "Good Boy" was inspired partly by a mandolin solo Somers once heard American Joe K. Walsh play while the two were touring with American guitarist Grant Gordy as the bluegrass outfit known as The Peregrines, neither could be considered bluegrass.
Both songs are intriguing, even if they are not bluegrass. You can decide for yourself, but regardless your thoughts on those two songs, if you like bluegrass, you're going to like what makes up the balance of the CD.
 
One of the hallmarks of good modern bluegrass is authenticity. Trying to write tales of life in a cabin in the holler in this day and age usually comes across as phony and exploitative. The best modern bluegrass is true to the style musically, but lyrically true to the musical DNA of the modern artist.
It's sort of like that age old advice to would be authors to write about what you know. In Somers's case, what he knows, perhaps best, is the life of a modern minstrel, hustling to scrape together a living playing music.
Sometimes that means playing somebody else's bad music and putting up with oversized egos, and experience Somers relates in "Sideman," a bouncy tale that kicks off with of how some stars treat their hired touring band member. Sometimes it is just the grind he relates in "Life on the Road," another touring musician's tale.
The only complaint with those two tunes is that they are two of the shortest songs on the album. Both would benefit from letting Davies, Ricaux, and Pibarot stretch out a little longer on their tastefully picked breaks in each song.
They get that chance on the Somers penned "A Bored Farewell," which also features Burning Salt's Hannah Hull on harmony vocals. It is a lilting tale of heartbreak that has the makings of a modern bluegrass classic,
Somers makes no secret of the influence his father, cowboy crooner Steve Somers, has had on him musically. That influence manifests itself in two bluegrass styled covers of classic American cowboy songs that appear on this album.
Gene Autry's classic "Back in the Saddle Again" gets a fresh take with Somers combining a grassy arrangement and an interesting combination of scat singing and cowboy yodeling, updating the 1939 classic.
Likewise, the 1947 Roy Rogers tune "Blue Shadows On the Trail" gets updated here with Somers adding a little bounce to the beat. The original version was almost all vocal, with just a sparse guitar and bass rhythm underneath the sort of overproduced harmony vocals that were in vogue back then. Here, with his father guesting on lead vocals, and Ben singing harmony, the vocals still shine, but they share the spotlight with Davies' mandolin and Pibarot's fiddle.
Another intriguing cover comes in the form of unlikely medley of an old American blues tune from the 1920s with a contemporary Norwegian fiddle tune.
"Trouble in Mind" was first recorded by Bertha "Chippie" Hall in 1926. The immortal Louis Armstrong plays coronet on that version. And "Fasiken," written by Annlaug Børsheim, is a tune Somers first heard when a friend played it at the London Fiddle Convention.
It may sound like an odd pairing, but Somers's bluegrass arrangement allows the two to fit seamlessly, with Davies's mandolin providing a smooth transition between the slower "Trouble in Mind" and "Fasiken," which showcases some of the finest bluegrass musicianship on the album.
The picking also takes the spotlight on another instrumental, "Blake's Reel," written in honor of guitar great Norman Blake, and featuring Somers bowing the bass in tribute to Blake's wife Nancy, who played cello on many of Blake's recordings.
There are also three other instrumentals, all Somers compositions, that tend to defy easy classification. Although Somers sticks to the string instruments on "Poor Stuart," the title cut, which he wrote after observing a friend's flea infested cat, it is definitely a more modern style of bluegrass than traditionalists might be comfortable with.
The other two are actually two different versions of  a tune Somers wrote for a friend who was dying of cancer. "Mélodie Pour Jules," a more recent version recorded with Somers' string band mates, and "Melody for Jules," an older version Somers decided to also include, which was recorded earlier and features a pedal steel guitar.
In either language, the song defies easy classification. Call it what you want, it is a beautiful composition no matter the genre you might assign to it.
That, is also an apt description of the entire album. This is not a pure bluegrass album. But it does have a lot of very fine bluegrass on it and the other stuff does not feel out of place next to the grass.
The purists waiting for the second coming of Bill Monroe might not care for it. But those with musically open minds will find "Poor Stuart" to be an eclectic joy.
—
Ben Somers "Poor Stuart" is available via Apple Music, Band Camp, Spotify, Amazon Music, and most other major online music services.