If you want to see a pretty good illustration of the divide between the Flatt Earth Society bluegrass purists and those with a less parochial view of what bluegrass is, Thursday night in Gettysburg would have been a good place to be.
The folks who put on the two Gettysburg Bluegrass Festivals each year are hardly purists. While unlike some festivals, you will not find non-bluegrass "folk" acts spicing the menus at some festivals, Rich Winkelmann has never been shy about booking a few more progressive bluegrass acts.
Hell, The Travelin' McCourys will be there tonight for the third time in as many years. The Infamous Stringdusters and Steep Canyon Rangers — with Mike Ashworth on drums (OK, technically a cajon) — have also played there in recent years.
Thursday's lineup, though, was damned near as traditional as you can get, with Rhonda Vincent and the Rage as headliners and The Farm Hands, Blue Highway, and The Lonely Heartstring Band also on the bill.
Of the four, only Lonely Heartstring pushed the boundaries set by the true purists. That might be expected from a band from the Boston scene, which does tend to be a little different than the scene in Tennessee or Kentucky.
Formed by students at the well-known Berklee School of Music, aka The East Tennessee State of the North, the band came together in 2012 someone called the school looking for a band that could play bluegrass covers of the Beatles at a wedding reception.
Three years later, before even releasing their first full length album, The Lonely Heartstring Band won the International Bluegrass Music Association's (IBMA)  Momentum Award.
Like fellow Berklee School alums, Mile Twelve, these guys have a certain city polish to them. You can tell they have been classically trained. At times Patrick M'Gonigle's fiddling is much closer to classical violin than a hoedown saw.
We didn't keep setlists, but we are pretty sure Lonely Heartstring was the only band on the stage Thursday to perform bluegrass style covers of non-bluegrass songs (with the exception of Rhonda Vincent — more on that later). Included in their setlist Thursday night was a sublime version of Paul Simon's Graceland and a very sweet cover of a more obscure Bob Dylan song, Ramblin' Gamblin' Willie, which comes from The Witmark Demos, an album of outtakes from Dylan's sessions for the Freewheelin' Bob Dylan LP.
They played a good assortment of originals from both their first album and previewed a number of tunes that will be on the second release, which the band is currently working on, including a smoking new tune called "Borderland."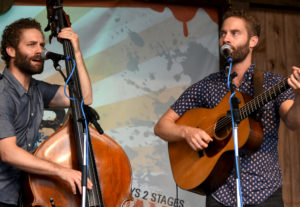 Led by twins George (guitar, vocals) and Charles Clements (bass, vocals), Lonely Heartstring didn't use pedals and effects, but they did plug in to amplify their instruments. That put them in stark contrast with the three other acts on the bill, who, aside from bass, played into microphones, but did not have mics or pickups on their instruments.
That is an important distinction because it seems to be one of the lines in the sand drawn by a lot of purists.
The separation became clearer when we went online to search some of the bands after hearing their claims on stage about awards and hall of fame members. It had us confused at first because we are pretty familiar with the International Bluegrass Music Association, its annual awards and its hall of fame. Many of these names were ones we didn't remember seeing on any of those lists.
Turns out many of those honors these bands boasted didn't come from the IBMA, though. Instead they came from the Society for the Preservation of Bluegrass Music of America, an organization that has strict rules and limits on what is and is not bluegrass.
According to the SPBGMA, one mandolin, one five string banjo, one guitar and bassfiddle are the minimum requirements to be considered a bluegrass band. Trios need not apply. If you already have those four, you may add a fiddle and/or a dobro. Non-musician vocalists are also allowed. But that is it.
The rules also state "only acoustical string instruments will be permitted and absolutely no direct amplification of instruments nor the use of amplifiers other than the house system."
To be clear, the other three acts Thursday all had their bass "directly amplified." Wayne Taylor, of Blue Highway, even played one of those new fangled, skinny, electronic standup basses. Daryl Mosely, of The Farm Hands, played an electric bass, too.
But other than that, the other followed those SPBGMA guidelines as if they were gospel. Which was fitting because gospel was also a prevailing theme Thursday night. Seemed like every band  had an a cappella gospel song in their set, each one more movingly beautiful than the other.
There was a lot of patriotism on display, too, and when Mosely sang "God Bless the USA," mixing the God theme with the Country theme. And when The Farm Hands did the title track of their In a Country Town LP, it was about as gee, shucks, golly Aunt Bee as it could get. Think Okie from Muskogee, but with more God, more country, and absolutely none of Merle Haggard's sense of satiric irony.
Lots of gospel in Rhonda Vincent's set, too, which featured a lot of stuff from her Bluegrass Legends Recorded Live at the Ryman project, including an absolutely beautiful rendition of the Dobro Chimes, with Brent Burke on dobro.
Another highlight of Rhonda's set was Please, an Elton John song that she recorded as a duet with Dolly Parton for Restoration, a Nashville stars John tribute album. Vincent's daughter, Sally Berry, sang Dolly's part.
Vincent's afternoon set also included a makeout session between Sally and Hunter Berry, the band's fiddle player, done at mom's direction to demonstrate the staying power of the lip gloss Rhonda sells in her bluegrass boutique. It was all in good fun and served us well when we were forced to produced a slide show to go with the interview we recorded with Sally after the video from that interview went south.
Friday's lineup is packed with great music, including local heroes Colebrook Road, Michael Cleveland and Flamekeeper, the Mosely Brothers, Russell Moore and IIIrd Tyme Out, and a long set to close the night from the Travelin' McCourys.
Also looking forward to checking out The Highland Travelers, a newish band that includes three members of the Boxcars, a critically acclaimed band that called it quits last year.