This interview originally appeared in the British Bluegrass News, Issue No. 84. You can get the British Bluegrass News delivered to your door by joining the British Bluegrass Music Association.
After having won almost every award the International Bluegrass Music Association hands out, Rhonda Vincent, and her band "the Rage," finally won the one that had eluded them when their live album "All the Rage — Volume One" shared the Grammy in January for Best Bluegrass Album.
It was Vincent's first Grammy, after having been nominated six other times, and it cemented her place as perhaps the premier female in bluegrass music. Actually, she didn't need the Grammy to validate her status. Since 2000, when she won the first of her eight IBMA Female Vocalist of the Year awards, Vincent has been known as "The Queen of Bluegrass," a tag placed on her by the Wall Street Journal while reviewing her first release on Rounder Records, "Back Home Again."
That was hardly Vincent's first rodeo. Born into a family whose musical heritage stretches back five generations, Vincent began performing with the family act when she was five-years old. She was just eight when she recorded her first bluegrass single, a cover of "Mule Skinner Blues."
Vincent signed her first recording contract after winning the Nashville Network television series "You Can Be a Star," and released a pair of "mainstream" country albums in the 1990s before returning to her bluegrass routes with "Back Home Again."
Since then she has recorded 10 bluegrass albums with the Rage, as well as a number of collaboration and christmas holiday albums. In between studio efforts, Vincent maintains a grueling tour schedule that keeps her on the road for 11 months of the year. 
Between March of this year, when this interview was conducted, and the end of the year, Vincent and the Rage are scheduled to play 82 dates in 27 states and two Canadian provinces.
We caught up with Vincent by telephone at her home in Missouri, where later that day she was scheduled to travel to the state capital to be present when the state legislature voted to name a section of highway "Bluegrass Queen Rhonda Vincent Highway." in her honor.
BBN: Good morning Your Majesty.
RV: (chuckles). Good morning.
BBN: I suppose that is a good place to start. How do you feel about that title, about being known as the Queen of Bluegrass? I guess it started back in 2000 when the Wall Street Journal first called you that. What is it like to be bluegrass royalty? 
RV: (chuckles, again) You know, it's a really fun title. It's something that's fun when you have a tagline, or a title like that. It's a fun thing to have.I don't take it seriously each day, I'm not like 'royalty coming through,' or whatever, I guess it is something to write about, and that it's a wonderful introduction. I do take it seriously when mothers come up and say 'you are a wonderful role model for my  daughter.' So I think coming with that title comes an expectation. You want to present yourself in a respectful way. 
BBN: We were going to get into the whole women in bluegrass angle a little later, but since we're already there, what do you think about the state of women in bluegrass? Are there enough female performers in bluegrass? 
RV: I don't think that music has a genre. I've been seeing that with the Grammys. Of the Grammy winners, there were only 17 percent women. I see that a lot, especially in bluegrass. It's dominated by males and my take on that is it's not music. Music is not gender related. 
They say make great quality music and the cream will rise to the top, and that is in some respects true. But you also have to do the work. Women in general, if they have children, it's more difficult probably to travel on the road than it would be for a man. Especially if you're going to be a mother, and a wife, there's a lot of different technicalities that come with that.
I encourage women to just make great music and perfect their craft. I wouldn't want someone to nominate someone or, or say you need to be here just because you're a woman. You need to be here because you make great music. 
BBN: So you don't think we need to encourage more women to play bluegrass? 
RV: You can't put a quota on that. There's not a quota, you know, let's just make great music. One of my big, my disappointments in the music these days is there such a glut of music. Everybody can record in their garage. It takes a lot of time and effort to create a great environment to record in, to create the music, to write the song. What it comes down to is a song, then it's the performance of the song, and it's the recording quality of the song.
These days it's almost like anybody can record. You feel like you want to sing, then you can go in your garage or garage band, pull up your computer and record. Then everybody feels like they should have the same opportunity. That's one of my disappointments. Take the time to create this great music. If you do that, that no matter if you're a man or a woman that will, that will shine through 
BBN: At the risk of dwelling too long on gender, who might be waiting in the wings to be the next Queen of Bluegrass when your reign might end?  
RV: Well, I'd have to say I'm very proud of my daughter, Sally (Berry). Of course I might be partial, but I also think I'm impartial. My daughter is getting ready to make her debut and you know, that's not something we ever pushed her to do. In fact, if you would've asked her many years ago, 'are you going to sing like your mother,' she would have said no way. Now all the sudden God has, has guided her. She's on the road with us. All of a sudden, in the last couple years, she started writing songs. They're amazing songs and she's just doing her first recording. So there are females out there that I see, but it depends on the dynamics. And that's what she was saying. I said, 'what if you decide to have children,' and she was, 'oh no, I want to do this right now.' 
But see, that's, to me, the pivotal point for women. They may be creating the music and then, all of a sudden, their focus may change to being a mother or wife. I'm in a very unique situation. My husband did whatever it took to allow me to follow my dream. That's not in every situation. Especially if you're a single mother. That, that would be very difficult to do, to travel, be traveling on the road. But there are many incredible women out there. Obviously I'm so proud of Sally and that this is the path that she's choosing to take.
I meet a lot of kids on the road. I love that because I was nurtured as a child to perform. People will bring their child and they'll sing or, just to buy, listened to a jam session. Usually people say, 'my daughter sings andshe plays.' So there are many women that are on the horizons that you definitely to watch for. It will depend on, I guess the situation that you get in. I struggled with this for a long time. I was with my family and then I did a couple of country music albums and that was like my musical college years, not going to a college, but really learning from the best of the best and soaking that in. So when I came to that place, like I did those two country albums and then I said, OK, what am I going to do with my life? Which were, where am I going? 
That's what I put together my first a bluegrass band. From that everything fell into place. The Wall Street Journal said 'Queen of Bluegrass' and I signed with Rounder Records. It's not only having this music, but also finding the path that works for you. I think there are women out there. I guess the basic thing is there are various obstacles to whether a female will take it to the same level as the men do it. It's like it's like the men are more free to do that. 
BBN: You mentioned your daughter, and of course she is married to Hunter Berry, who plays fiddle in your band. Your other daughter is married to your dobro player, Brent Burke. But that really is not out of the ordinary for you, is it? Ever since you were little, music has kind of been the family business, hasn't it? 
RV: It's been a way of life for me. It wasn't necessarily a career choice. It was a way of life. 
BBN: How so?
RV: Well, I grew up in a musical family. When I was five, we had a radio show, a TV show, made our first recording. We were just talking last weekend — I cannot remember a single time when we didn't perform. We were performing since I was probably three. Music was traced back five generations of the Vincent family and they were constantly performing at dances, or churches — they were always performing.
I just joined in this performance when I was three, going along. The first documentation is actually when I was five. There's never been a year that I didn't perform. It's just what we do. I didn't really think about it. It's not that I set out to have my own band. It just kind of all developed by nature.
A group of friends got together and we started jamming in my living room. We did a couple of shows and next thing I know my husband says, 'Hey, I got this. I got the name of your band. It's Rhonda and the Rage.' It just grew from there. It was only a few years ago that I said, 'oh my goodness, this is what I, this is my career choice,' because it was so natural. I didn't really think about it. 
BBN: So there wasn't any one spot you can look back on as when you knew this was going to be your future professionally, not just in terms of loving music and playing music, but that this was going to be your, your business calling as well. 
RV: That has always gone hand in hand, though it really wasn't called a business. What we did was probably not so economical. Luckily we were in a family band, so that allow us to do a lot of shows that maybe others couldn't do. I remember we got a call from Oregon and they invited us to come play. I would  venture to guess we probably did not make a huge amount of money. I know we weren't paid a lot of money and it probably cost us more to go. It was a 40 hour drive straight out and a 40 hour drive back and we drove the 40 hours, played this one-and-a-half-hour show, and drove 40 hours straight back.
That was pretty typical. We didn't do that every day, but if someone called, whether it was at the nursing home, whether it was at the church, whether it was in, in Oregon, we went to play. And that was one of the great things, It wasn't really looked at it as a business. Now, today, now when you have people on salary, you have a more fixed costs. I took accounting in college. so luckily all that prepared me for where I am and the economics of all of that in addition to the music. 
BBN: You're awfully busy. I know you are on the road at least 11 months of the year and I've seen a few stories where you said 'we were going to take December off, but we still did this and did that. How much of your time is on the road? How much of that time is it in the studio and you know, kind of taking care of the stuff back home before you go out on the road? 
RV: My kids always say I'm a workaholic. I constantly wake up working. I woke up today with about a hundred things or more to do, hoping to get a few of them done. I need to take that time to rest at some point. I haven't done that. At one point I had eight different projects going at once. That was last year. I've gotten four completed, and I'm about to finish two more of those. So even when we're not on the road, it's just trying to find a time to pay bills and, and to just rest a little bit. Like today, we've got a call yesterday that they're going to name a highway after me — it's going to be Rhonda Vincent Highway — so they called from the capital to ask if I can be there this afternoon? 
So now I am going to end up going to Jefferson City (Missouri) today. So, you know, every day is a different day. I find myself in a different place. But you know, I love this. This life is not for everyone. It's just a constant attempt to find a balance. Right now, it's a little out of balance because I haven't had time to rest.
I guess I can contribute it to the winning the Grammy because we have been received so many invitations for various places that are in addition, like extra appearances that we normally wouldn't do. Normally we would do our show, be on the Opry a few times, maybe a few award shows. I've never done so many TV shows. Almost every day there's either a TV show or an appearance, something unique that's, that we normally don't do 
BBN: As a band, you guys are known for having won more awards than anybody. But after all the Grammy nominations you had before winning this year, did you ever wonder if you were the Susan Lucci of Bluegrass? 
RV: (laughing) That's exactly what I said. I felt like I was the Susan Lucci of the Grammys. 
BBN: What does it mean to finally win that grammy? 
RV: This one especially is for a project that features just the band. Everyone is featured. It was a collective effort and I think it's wonderful. It really boosts the rapport of the band knowing there were no outside guests. It was exactly what we do. That's the reason we did that project. People kept coming up after the show saying, 'I want a CD that has exactly what I just saw on stage' and we didn't have that because we would go in the studio and create projects with different guests on the.
This project, all of the guys in the band have written songs. They all contributed original songs and so it was a wonderful collection of exactly what we do. That was especially exciting. We're greeting this year was so many incredible things. 
We opened the new Grand Ole Opry in Times Square in January, the Friday, right before the Grammys. We got to go to the New York Stock Exchange and rang the closing bell with Vince Gill. He was there with us at the Opry in Times Square.
We have a new song that's coming. We haven't had a new studio song in a long time, many years. It happens to be not on my label. Elton John and Bernie Taupin are celebrating their 50th anniversary in the music business and we have a song on that new project by Elvin and Bernie. It's a duet with Dolly Parton, with my band. It's treated straight ahead bluegrass, but it's one of Elton and Bernie's songs. So that's so exciting for us. Also recently I got to sing on a movie soundtrack with Dolly and Alison Krauss. So  there is some new music coming, too.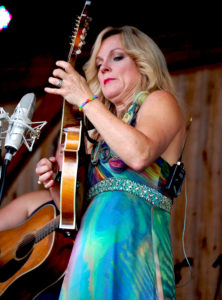 BBN: You mentioned you are about to finish two more of your projects from that list of eight. What is coming out next from Rhonda Vincent and the Rage? 
RV: The next thing is a live project. It's another live DVD that we did live at the Ryman Auditorium in 2016. It is a very, very special evening at the Ryman Auditorium during their bluegrass Nights at the Ryman. We were joined by Mac Wiseman, Jesse McReynolds, Bobby Osborne, and then Sonny (Osborne) surprises all and showed up to sing  with Bobby. They hadn't sang together since 2005, and he states in this DVD that unless he changes his mind, this will be their final performance. So that's all been filmed and we'd been working on the final edits for that. That will, that will be released on July 14, two years to the day. 
BBN: That's a special one there. 
RV: It really is because Mac was 91. He is now 93 or soon to be. Jesse's 89, or soon to be 89. Bobby will be 86, and Sonny just turned 80. So this is historic in, in very important due to their age. I want to see this project released. 
BBN: You shared the grammy with the Infamous Stringdusters. We had a story in the last issue of the magazine about how they have managed to bridge between that traditional and more progressive bluegrass. How you look at that whole divide?
RV: We have parameters that we try to stay in. We don't, as a rule, use drums or anything that is out of the traditional instrumentation of bluegrass. We specifically do that. We want to honor the tradition and the history of the music. But I also love that there's a progression for others now.  For me, we play the music and we try to keep it traditional bluegrass music. It has a bit of a contemporary flair to it. Our music is basically a traditional bluegrass, but we also do have a country feel. We also do some gospel songs. There's something for everyone, but it has more of a basic, traditional style versus using some other instruments or taking it into more of a radical style of bluegrass music. But I hear people, oh, this is not real bluegrass, or this is and I say I love that there's room for everyone. 
BBN: I'm with you. I don't care is it is traditional, or progressive. If it makes me tap my foot, I like it. 
RV: There's something for everyone, and I think that's great. Now my father, he was a traditionalist. Many of the festivals that we play, they are traditionalists. What I don't understand, though, is how some people will say, 'there's no young people playing bluegrass.'
You're in the wrong place, because there's all kinds of young people that are out here playing traditional bluegrass music, or taking it into more of a progressive mode. There's this love for the music. It's real. It's authentic. It's a wonderful thing. You only have to look at our schedule to see bluegrass is very popular and is loved by many. We work 11 months out of the year and we couldn't do that if there wasn't an audience for that