It is one of Dan Whitener's prized possessions. It is a musical instrument so special to him that he only breaks it out to play it for special occasions.
Yes, the Grey Fox Bluegrass Festival is such an occasion.
"I wouldn't want to take this outside to play, or to a festival, but this is one place where people know what it is," said Whitener, Man About a Horse's banjo picker, as he carefully wiped down his prewar Gibson TB11 before putting it gently into its crushed velvet lined case.
Gibson didn't put serial numbers on its banjos back when this was made. The model tells Whitener it is from around the mid 1930s. Pre-war instruments are valued for their richer tones. It was originally a four-string banjo, Whitener had it converted,adding a custom made five-string neck that is a replica of an old style neck.
This one has a unique yellow, pearloid — a sort of a plastic — cover over the back of the maple resonator with a flower like image that resembles an Amish hex sign. Whitener says Gibson put those covers on to hide the inferior quality of the grain in the maple used on these lower cost models.
Robin Smith, of Heartland Banjo in Gallatin, Tenn., silk screened the same image along the fingerboard of the new neck and inlaid it in the headworks.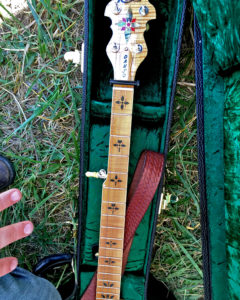 "I'll play my Nechville when we play over in the dance (Catskill) tent. I'll be plugged in over there. I can't play this everywhere. I'm not going to put a pickup in there, or add a metal tone ring," Whitener said.
But on what bandmate Matt Thomas called "Horsey Day" at Grey Fox, playing around a single mic in the more intimate Creekside Stage venue, Whitener felt a need to show proper reverence to the occasion.
"This was for sound quality. People at Grey Fox know the difference. They even look at you a little differently when you are playing an instrument like that," said Whitener. "This is a place where people appreciate things like that."
HORSEY DAY A SUCCESS
It started as a joke on social media, Thomas jokingly referring to Saturday as Horsey Day at Grey Fox due to Man About a Horse's four-sets in a single day schedule. The band started its day at 10 a.m., helping Ear Trumpet Labs in a "How to Mic a Band" workshop.
From there it was on to their noon Emerging Artist Showcase on the Creekside Stage before dropping by the Sierra Nevada Booth at 2:20 to jam for an hour there. They wrapped up the day. sort of, with a 4:45 set in the Catskill Tent that came off almost like a celebration of their triumphant Grey Fix debut, with the crowd chanting "Horsey, Horsey" and demanding an encore.
If Thomas would have tried to smile any wider he'd have needed to get a bigger face.It didn't wear off quickly, either. Late that night, as Horseshoes and Hand Grenades were blowing up the Dance Tent, we ran into Whitener, still bouncing, with a gig bag over his shoulder. After four sets, he was still looking for another circle to do some pickin.
"It was an awesome experience," said guitar player Matt Royles, who has been attending Grey Fox for five years after being turned on to the festival by Thomas shortly after they started the band. "I thought I'd be nervous because I have been a fan here so long."
The welcoming, and enthusiastic, crowd chased any butterflies Royles might have had,
"The crowd was great. They were cheering every solo break. They were so enthusiastic," Royles said. "It was great to be so well received by such a knowledgable crowd. They really know their bluegrass here."
DRESSED FOR SUCCESS
No, that was not Red Knuckles on the Catskill Stage before Man About A Horse Saturday afternoon. And no, Doyle Lawson was not dressed as a jockey in keeping with the Horsey Day theme.
"That is his signature jacket," explained the lady with the NPR station clipboard who had just welcomed Lawson and his band, Quicksilver, to the stage. "He's a very snappy dresser. And a real gentleman, too."
Lawson's outfit was straight from central casting's costume closet. Lawson worse a sky blue shirt, with a bright red scarf tied sort of like a bolo tie. Over that was his "signature jacket," a black coat bedazzled with sequins and beads, some shiny gold and silver and others dazzling red and blue in the exact shades as the short and scarf. He topped that with a white Stetson that matched his hair, and a pair of dark sunglasses, even though the venue was covered.
This, folks, is the way country music stars used to dress and the way some old timers, like Lawson, who is already enshrined in the International Bluegrass Music Association's Hall of Fame, still do.
"Are you writing an article," the emcee asks. "You should mention that the dobro player is nominated for IBMA Dobro Player of the Year."
"I will," I tell her.
Actually, though, it is the vocals that stand out most when you hear Doyle Lawson and Quicksilver. They have been named IBMA Vocal Group of the Year seven times and it was easy to understand why if you saw them at Grey Fox.
Three of the members of Lawson's band bear a very strong resemblance to one another. "I think they might be brothers," said one guy backstage.
No, they were not. But their harmony together, along with Lawson, was some of the finest heard all weekend. Especially impressive was the first of two a capella gospel numbers they did, the first with all six band members harmonizing.
Lawson was one of two IBMA Hall of Famers to perform at Grey Fox this year. The other was Del McCoury.
HAPPY GREY FOX
That was how Sam Bush greeted the crowd Saturday night at the High Meadow Stage. "Happy Grey Fox," like it is a holiday.
Sam Bush gets it.
To the long time Grey Fix attendees, this is a staple on the calendar. It might as well be printed right on there, just like Fourth of July, Christmas, and Labor Day. No doubt many of them, as soon as they get a new calendar, tear open the wrapper, grab a Sharpie, and turn to the third weekend of July — Grey Fox time.
To those attending for the first time, especially those of us who might be naive enough to think this is what the weather is like in the Catskills this time of the year every year, this will be, for many, the start of their Grey Fix stories to come.
It is that sort of a gathering. It has been going on since 1984. Half the people you meet claim to have been at that first one. The other half claim their buddy was. We are only slightly exaggerating. Chances are their were people there this weekend who were conceived there.
And there were kids there that no doubt will someday be adults telling their own kids stories about coming there as a child, about learning to pick at the Bluegrass Academy For Kids — four days of lessons and rehearsals culminating with a Sunday afternoon "Graduation Gig" on the High Meadow Stage.
This is very much a pickin' party. So much so, that there are those who never even bother to visit any of the stages to see the bands. They are too busy hanging out in the campgrounds, jamming damned near every waking hour.
You walk through the campgrounds, no matter the time of day or night, and you will hear music. Sometimes its the tightly arranged sounds of bands who are not on the lineup, but who come here each year the way Thomas and Royles did before getting on the lineup this year. Other times it is just a handful of folks who found one another in the campground. Often it is a group that started that way years ago and now get together to camp and pick each year.
They'll be back again, same time, next year, to do it all over again.
EPILOGUE
Covering a festival the size of Grey Fox as the one-man crew of a media outlet is a bit of work. With entertainment on three stages simultaneously, we couldn't be everywhere. We had to pick and choose what we saw, what we took photos of, and what we wrote about.
We were drawn to our first Grey Fox by the prospect of covering a number of bands we have gotten to know since starting the Chronicle. That so many of them were making their first appearance, or in the case of Mountain Ride, their first time on the big stage, presented a unique opportunity for us to try to share some of their stories.
For the most part, things went pretty much as planned. Our one, big disappointment was missing Colebrook Road on Friday. We had mapped out a schedule that included being at their 11 a.m. Emerging Artist Showcase before heading up the hill to spend the afternoon at the High Meadow Tent.
Unfortunately, we missed that one. Our routine each day involved getting up early and heading to the McDonalds in Cairo where we could get coffee, some breakfast, and use the wifi to update the Chronicle site. Bonus points were awarded for them having flush toilets.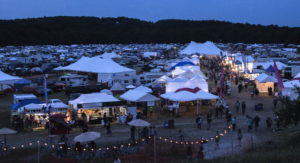 The wifi there, though, was slower than your first banjo lesson. It was, we told someone, like mowing your lawn with hedge trimmers. We were able to get it done, but it sure took a while. The bandwidth was so pitiful we could not even post photos or videos to Facebook and uploading a few photos to illustrate each post was only minimally better, which is to say it worked, but only barely.
On Friday, by the time we got stuff posted and got back, we even missed the start of Mountain Ride's High Meadow set. Saturday we were invited to a brunch that Mountain Ride was picking at, but til we got things posted, all we could do is drop off the apple pie we'd brought en route to Creekside for Man About a Horse.
There were other things we missed. We would have loved to have taken in Akira Otsuka's presentation about his John Duffey tribute project. We'd gotten to listen to Akira pick on Wednesday night and Tim Kruzic had told us about how Akira and a friend set up a portable recording studio in a hotel rook at the IBMA get together year after year, dragging artists who were wiling to participate in to pick some of Duffey's music.
The CD they produced, which features a who's who of bluegrass musicians, is available online, including from Smithsonian Folkways recordings.
We missed that one because we were scrambling about, trying, unsuccessfully, to overcome communications barriers related to trying to schedule our second "Bommer Session." The Bommer is a unique school bus conversion owned by our friends Lisa and Zig. Painted military drab olive, with a big shark's tooth mouth paint across its nose like a WWII B52, the "Bommer" was the backdrop Thursday evening for a video recording session with Fireside Collective (the video will be available exclusively on the BGC when we finish editing it).
A second Bommer Session was planned with Songs From the Road Band. But unable to get a cell signal (Sprint sucks!) and unable to access the free wifi at the Info Booth for messaging, we couldn't get it coordinated in time to fit what was a very tight window in Songs From the Road Band's Grey Fox schedule. And after that, we didn't even try to make it work on Saturday with Man About a Horse and their Horsey Day schedule.
Some times there were two acts scheduled opposite each other, which led those at our camp to ponder if it was improper to refer to such situations as a "Sophie's Choice." Some times you just need to sit your ass down, hydrate, and take a break.
With the weather forecast calling for rain late Saturday night, we decided to pack up camp early Saturday evening to avoid having to pack wet gear in the rain Sunday morning. You might notice we wrote very little about Sam Bush, and didn't even mention that the Steep Canyon Rangers's Mike Ashworth has now gone full drum kit after having straddled the traditional line to some extent by playing a cajon his first few years with the band.
That is because we made a decision prior to Sam Bush that our work there was through. Yeah, we did shoot some photos, but we put away the notebook, grabbed a folding chair right up front in the pit, and cracked open a big, hoppy, IPA from Pizza Boy and switched to fan mode.
It was so much fun, a little later we even left the camera behind, grabbing another beer to walk over to the Dance Tent for Horseshoes and Hand Grenades, who took us out with a bang, not a whimper.
It was raining when we woke up early Sunday morning so we didn't stick around for the gospel set, Country Currents, of the Graduation Gig. Instead we stuck the review copy of Songs From the Road Band's soon to be released CD in the player and headed down Interstate 87, tired, but happy.
Happy, and ready to do it again next year.
RELATED COVERAGE
Dispatch from Grey Fox: A Friday filled from noon to late night with great music
Dispatch From Grey Fox: Thursday comes with Strings attached
Dispatch From Grey Fox: Hot picking, cold sleeping on Wednesday night at Grey Fox
Grey Fox 2018 Photo Gallery