"That old guy emceeing is known as a no-nonsense keep the show moving kind of guy," said one of the volunteers working the High Meadow stage Friday afternoon. "He is usually out there with a kickstand, getting them right off the stage. He doesn't encourage encores, so you know he liked them."
"Them" was the southcentral Pa. band Mountain Ride and they had just finished a set that included not one, but two encores. Two encores for a band playing a noon Friday set. That sort of thing is unheard of, not just with the emcee with the gong.
But like Mikey and the cereal, he liked them. He really, really liked them.
"Most of your songs are nine or 10 minutes long," he said after Mountain Ride had finished its first encore. "How about one more that isn't 10 minutes long?" And as they left the stage following that final number, he was at it again.
"Was that straight ahead bluegrass or what," he exclaimed. "I'll tell ya!"
The enthusiasm of the audience, which filled the High Meadow tent, and the emcee, was not lost on Mountain Ride's Eric Avey, the band's guitar player, lead vocalist, and the guy who writes most of their songs.
"It is such an honor knowing the history of this festival," said Avey. "All our heroes have played here."
Playing the main stage at Grey Fox, after being here as an emerging artist on the small stages a year ago, was the latest honor in a whirlwind summer for the band, which has seen its profile rise significantly after also making their DelFest debut this year.
"To get that response from this crowd, especially with our set being all original music, there is nothing like it," Avey said. "It's just unreal. And two encores? Get out of town!"
Even more amazing to Avey that the big ovation and the calls for another song was that when he looked out into that crowd, probably the largest they have ever played in front of, he saw people singing along to his songs. Not the band's family members, or close friends, mind you, but complete strangers.
"It was so cool to look out and see people we don't even know singling along. People are really getting to know us. We're being recognized in the campground," said Avey. "That makes you feel good for all the hard work you put into it."
With a start to the day like that, there were only two ways the rest of the day could go, and, well, the rest of the day didn't suck.
URBAN COWBOYS (AND COWGIRLS)
Mile 12 is based in Boston. That sort of explains a lot. You can sort of feel that stereotypical blueblood, buttoned up collar polish in their music.
That is not a bad thing. To the contrary. It is a sign of a band that is genuine and true to its roots. Even though the mandolin player is from South Carolina and the fiddle player from Charlottesville, Va., these are not country folk. They met in Boston, where they all had migrated. The banjo player came there from New Zealand. They all have degrees in music. Two of the band members studied at the Berklee School of Music, a New England conservatory, for heaven's sake.
They did not grow up in a cabin in the holler. Some of them may have tried dressage, but we're pretty sure they haven't driven a plough horse. So if they are going to be genuine, true to themselves, it should reflect the urban environment they come from, and Mile 12 does.
That is especially true of bass player Nate Sabat,  a transplanted New Yorker who writes, and sings, about city life. On Rooftop Graveyard he sings of being born and dying in the city he loves. It's a tale alien to many of us, but probably not that uncommon among city dwellers. He also wrote and sang a song about being an out of towner in a new city, no doubt based on his experiences in Beantown.
Another highlight was a touching tune called Jericho, the poignant tale of a soldier come back from the war who will never feel at home there again. The song, sang by guitar player Evan Murphy, is expected to be on Mile 12's next album. They hope to get in the studio late this year to record it.
The band has been together four years. This is their fourth Grey Fox. It was our first time seeing Mile 12, though,  after hearing a lot of buzz about them for a while. Our friends in Serene Green have opened for them and picked into the early morning hours with them after the show. They raved about how good they were. They may have understated it.
The musicianship is very precise, the arrangements very tight. You can tell some have that conservatory, formal, musical training. There is a certain air of virtuosity in the way they play. The vocals, especially the three, and occasionally four –part harmony was sublime.
Mile 12's set also included their bluegrass cover of Alan Jackson's country hit "Ace of Hearts" that is currently No. 1 on the Billboard bluegrass charts and a polished cover of Elton John's Rocket Man that somehow added to their ever  so slightly sophisticated image.
It's the little things that make it obvious these five are not your stereotypical rural hippies or good ole' Southern boys (and girls). One of them wears jeans that are just too blue. The fiddle player's high top Chucks are as white as a game show host's smiles. And the shirts the three guys are wearing? Yeah they try to look casual by not tucking them in but all three shirts were neatly pressed.
And they should never change. Mile 12 is genuine bluegrass written about and played by some professional musicians who have that aura that professionals and artists in big cities often project. It's authentic. It's genuine. And it's a lot of fun.
They, too, got an encore. We were two-for-two, with Songs From the Road Band on deck.
BANJO DOWN UNDER
If they gave out an award to the musician who came the greatest distance to perform at Grey Fox, Mile 12 banjo player BB Bowness would not win. Not these days, but there was a time she would have. Now living in Boston, Bowness was born and raised in New Zealand.
Bowness first picked up a banjo at the age of 12 and developed a love of bluegrass at an early age.
"I realized pretty quickly that bluegrass is pretty much American music, so I needed to come check it out," said Bowness.  So her mom brought her on a trip to the states to check out a bunch of bluegrass festivals.
"It gave me the bug. I figured I would probably have to move to America if I wanted to keep playing banjo," she said.
After graduating from the New Zealand School of Music with a degree in Banjo Jazz Performance, Bowness packed her bags and moved to Boston, a destination she chose over Nashville.
"I knew there was a good scene there and I figured it might be a good place to find other young musicians to play with," Bowness explained.
Bowness originally was one a special one-year visa through a special program between New Zealand and the U.S. She later was granted a three-year visa allowing her to work in the U.S. as a musician. Her status these days has more permanency since she has married an American.
SONGS FROM THE FAST LANE OF THE ROAD
A lot of bands take a song or two to get properly warmed up before really cutting loose. Not Songs From the Road Band.
The boys from Ashville (hardly a precise descriptor in bluegrass these days) came out hot and didn't slow down much their entire set up on the High Meadow. You might expect bass player Charles Humphrey III, a well-known ultramarathon runner, to pace the band for the long run, but banjoman Ryan Cavanaugh was like a rabbit in a track meet. He took off at the first solo break and the rest of the band spent the rest of the set proving they could keep up.
The reaction of the woman sitting next to me best describes what seemed to the case for a lot of people who were hearing the band for the first time. When she saw Humphrey, the former Steep Canyon Ranger, she said, "Oh, yeah. I heard he has a new band."
Then she saw Cavanaugh, who has toured with a lot of musicians. "Oh. I have seen him before. He is a very good banjo player."
And as the rest of the band came into focus, she recognized a couple others – she couldn't name them, couldn't say what band they were with, but she recognized them.
"This looks like it will be pretty good," said said.
"Yeah," I replied. "I think you will like them."
She said she would keep an eye on my bag while I went up to the stage to take some photos. When I returned after the set to grab my gear, I asked how she liked them.
Her smile answered before her voice did. "They were really good."
Yeah. They were.
The crowd was much smaller for their second set, down on the Catskills Stage, in no small part because it was scheduled up against a Bryan Sutton and Billy Strings "Doc Watson tribute" set on the Creekside Stage and the Hot RIze 40th Anniversary set on the High Meadow stage.
Those who missed that second Songs From the Road Band set missed a treat when Fireside Collective's dobro player, Tommy Maher, sat in on a couple songs. Both bands, by the way, are from Ashville, N.C., so this was probably not the first time they'd picked together.
Folks won't be missing Songs From the Road Band because somebody else is on the main stage much longer. The only thing keeping these guys from being an evening main stage act is a little time and touring to make crowds more aware of the band, which is made up of stellar musicians many fans are familiar with. They just don't know them as this outfit, which is out on the road this summer for the first time after having been just sort of an Ashville side project when they were all playing regular gigs with other bands.
THE NIGHT IS YOUNG
Towards the end of SFTRB's Catskills set, the Wood Brothers turned up backstage to get ready for their set that followed. It was at that point we realized it was time to go. It was either head up the hill to the main stage then, or risk not seeing Del McCoury. We knew if we were still down at the Catskills Stage when the Wood Brothers came on, we would not be able to tear ourselves away and we did not want to miss Del.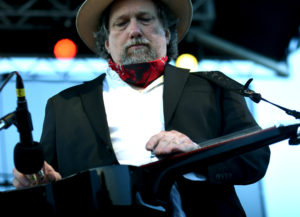 The lineup on the High Meadow stage Friday night was a continuation of the incredible plethora of great acts that made up Friday at Grey Fox.
Hot Rize was Hot Rize. They are never not good, and with Jerry Douglas joining them on dobro for the set and Jason Carter, of the Del McCoury Band, adding some fiddle on a few tunes, they were  in fine form Friday night.
Del and the boys are pretty much the gold standard in bluegrass these days and their set did nothing to diminish that status. Del's grandson, Heaven (Ronnie McCoury's son) joined the band for the entire set on guitar and Jerry Douglas and Billy Strings both sat in as they performed a nice mix of classic Del numbers like "Nashville Cats" and "Vincent Black Lightning," numbers from the album Del released in late May, and some well-chosen nuggets showcasing each member of the band. Particularly hot was Carter's take on the "Lee Highway Blues."
Billy Strings was back a short time later for a set of his own on the High Meadow stage. When he sat in with Del, Del introduced him by telling the story of when he first met the young protégé. Each time you see Billy sit in with Del, it is obvious the respect the master has for the young apprentice.
Anybody who didn't understand why from his sit-in with Del had to understand by the end of String's main stage set. The highlight of that set was when Billy's roommate, Molly Tuttle, joined him on stage for a cover of "To Lay Me Down," reprising the number they performed together on a Jerry Garcia tribute album.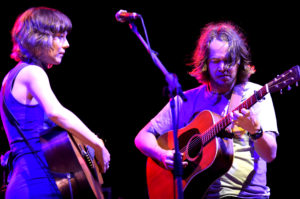 The Wood Brothers wrapped up the night with a midnight set on the High Meadow stage that featured a lot of numbers from their newest CD. Like the rest of the day, they were stellar, playing into the wee hours before sending the campgrounds to bed with a final encore of "Make Me a Pallet on Your Floor."
Trust us, after a 14-hour jam-packed day of incredible music, we didn't need a pallet. A sleeping bag and any relatively flat spot would have sufficed.
And it is going to be another full day today, with our plans starting with Man About A Horse at noon on the Creekside stage and ending Sunday morning with Della Mae on the High Meadow stage. In between there will be some Sam Bush, Steep Canyon Rangers, a modified Sierra Hull set that has been changed to a Sierra and Billy Strings set.