You know those tap takeovers that are so popular in craft beer bars these days? It was like a musical version of that Thursday at the Grey Fox Bluegrass Festival, with artist in residence Billy Strings taking over the Walsh Farm festival grounds as the four day festival got started in earnest.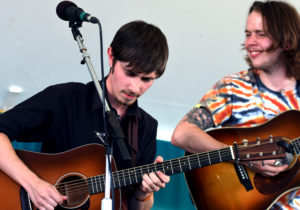 Strings appeared on all three stages Thursday, starting the day off by sitting in with emerging artists Cane Mill Road on the Creekside Stage Then he went up the hill to join Lindsay Lou on the High Meadow Stage, where he also sat in with Peter Rowan early in the evening before closing out his busy day with a scorching set on the Catskills Stage. Thus far we have been unable to confirm reports that he worked a shift in the merch tent, but as hard as he worked Thursday, it wouldn't be a surprise.
It was sometime around 2:30 in the afternoon when he hopped on stage with Cane Mill Road, one of the festival's emerging artist and quite possibly the youngest performers here, outside of the kids at the Grey Fox Academy.
Strings, who is just 25 himself, was the elder statesman of the bunch. It was an interesting twist on the typical Strings sit in at festivals. Usually he plays the role of the precocious youth joining the masters he grew up idolizing, like his appearance with Del McCoury at DelFest in May or his set there with Bryan Sutton, something they will reprise this afternoon when they do a Doc Watson tribute set on the Creekside Stage.
But this time, it was Strings who was the older artist being looked up to by the youngsters of Cane Mill Road, who range in age from 15 to just turned 21. Their reverence was obvious, but it did nothing to detract from their talent. They went toe to toe with Strings on a rollicking version of "Little Sadie," then swapped  sultry, jazzy licks on a sweet cover of "Summertime (and the living is easy)," with 15-year-old mandolin player Liam Purcell trading his axe for the fiddle.
The band from Deep Gap, N.C.  delivered an impressive set, filled with solidly written originals. Purcell and guitarist Casey Lewis traded off on lead vocals, sometimes even trading verse by verse.  Banjo man Tray Wellington, Lewis, and Purcell were all very capable pickers.  Eliot Smith held down the beat on one of those new-fangled electric standup basses.
The set featured a lot of songs from their new CD, "Gap to Gap," including that title cut, a tale of a young fella realizing just how special home is after some time on the road. Early copies of the CD, which will be released this week, is available at the merch tent at Grey Fox.
You might want to pick up a copy and play if for the next person who tells you young kids can't pick like the old timers.
SHOW MUST GO ON
It's a musician's nightmare, but Alex Genova and his Fireside Collective bandmates handled it like it was a well-rehearsed part of the act when the sound from Genova's banjo cut out about halfway through Dreams of California, the first song of their first set of the day.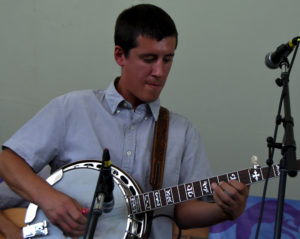 As the sound crew scrambled to try to figure out what was plugged in wrong, or what had for some reason stopped working, the rest of the band soldiered on. If you'd been listening on a radio, you'd probably never even have known there was an issue.
Finishing Dreams of California, the other four members of the band went right into the opening of the next song, "Won't You Think of Me Sometime," which opens with the band turning their instruments into percussion tools, before launching into the music.
Eventually the sound folks gave up and brought out a mic for Genova's banjo, which he played unplugged for much of the set until the sound folks eventually came up with a fix. Despite not having use of his foot pedals while playing with the mic, Genova still delivered his usual fine picking.
"I was kind of pissed off," he said later, "But it worked out O.K."
Fireside, who have played all over the northeast, including several dates in Pennsylvania the last month and a half, delivered another string set in the evening on the Catskills Stage and also stopped by to record a Bommer Session with us. Video of that will be posted next week after we get a chance to edit it.
They will be back on the Catskills Stage Friday at 2:30 and will be hanging around,  and picking some, before heading south to Virginia for Floyd Fest on the way home to Ashville, N.C.
PETER BEING PETER
Couldn't help but feel a little empathy for John Rossbach, who had the task of interviewing Peter Rowan Thursday afternoon at the Creekside Stage.  If ever you've interviewed the one-time bluegrass boy who also played with Jerry Garcia and David Grisman in Old and In the Way, you probably understood the helpless feeling Rossbach got as he listened to Rowan give four or five rambling responses to each question, most of which had little to do with the question Rossbach had asked.
While frustrating, perhaps, to the interviewer, Rowan's interview was highly entertaining and informative to the packed audience. Rowan is full of good stories and it seems as he tells one it reminds him of another that he also tells, sometimes without even finishing the first one.
A question about his uncle brought a story about how a Hawaiian song was the inspiration for Bill Monroe's "Kentucky Blues," which eventually led to the story of how his uncle, who had been in the Navy in the South Pacific during World War II, returned home with a ukele that he would play while teaching Rowan songs. Included in the telling was Rowan playing a little Hawaiian sounding ditty he had written about his uncle, promoting Rossbach to remark he had no idea he was going to coax a tune out of Rowan when he asked about his uncle.
When Rossbach asked about Rowan's time playing blues guitar, the response started with the tale of The Cupids, his first band back when Rowan was in high school. From sharing the tale of how being in the band got him chances to dance with the girls when they played at a Catholic girls school, Rowan went on to talk about meeting Joe Val, and playing with the folks who hung out in Harvard Square in his native Boston. That led to a story about the bluegrass band he played with while a student at Colgate University in Hamilton, NY, where he also was a cheerleader his freshman year.
Rowan dropped out of school and was playing with former Bluegrass Boy Bill Keith in the Boston area when Keith introduced him to Monroe when they backed Monroe at a Doc Watson birthday celebration in New York City and on a subsequent short run through New England. Rowan was playing mandolin with Keith's band, but switched to guitar because Bill Monroe left no room for another mandolin player in the Bluegrass Boys.
Somewhere in there he also talked little about the McCarthyism communist witch hunts that ruined the careers of many folk musicians, reminding the audience that we must be careful to make sure such times don't happen again now, bringing an enthusiastic ovation from the crowd.
Somewhere in there he did talk a little about playing blues on a Telecaster, too.
Near the end of the interview, Rowan realized Rossbach had asked about something that he forgot to talk about and offered to go off in that direction.
"I'd would love to, but we're about at the end of our time," Rossbach replied, inviting Rowan to end the session with a song.
Rowan responded with the title cut of his latest album. "Carter Stanley's Eyes," a song that tells the story of the time Monroe asked him to drive Monroe to visit Stanley, who was nearing the end.
It's a true story. Rowan told it to me last summer when I interviewed him at the Gettysburg Bluegrass Festival. Pretty sure I had asked a question about something else. Not that it mattered to me any more than it mattered to the audience at the Creekside Stage. Who cares what the question is whan a master storyteller like Rowan is spinning a yarn.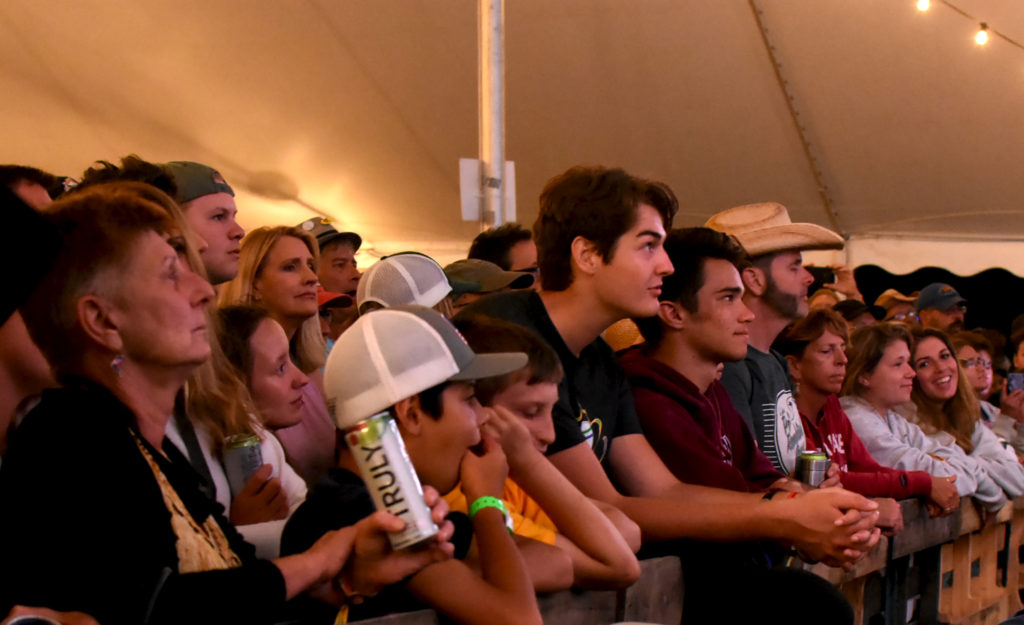 WAITING FOR BILLY
They showed up already amped and ready to let loose, and when Billy Strings hit the stage for his late night set on the Catskills Stage, that is exactly what the packed crowd did. Of course Strings did nothing to discourage that enthusiasm or diminish the energy that filled the tent and spilled outside.
Although Strings is more than capable of playing delicate, slower tunes (see "Summertime"above), what his fans seem to love most is the way he sometimes seems to only have three speeds – fast, faster, and overdrive.
Unlike some speed pickers, Strings never sacrifices his technique for speed. He simply is that good, that talented, able to somehow seem to be able to jam more notes into any given segment of time without ever missing a single one.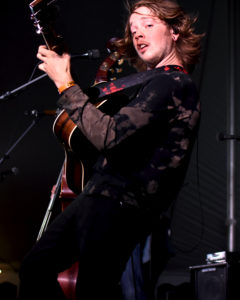 His bouncing, hair thrashing stage presence just adds to that aura, and the fans lap it up like speed freaks at a meth buffet. They were packed tight from the back of the tent to the rail, and lined up a few deep along the edges of the tent.
Billy thrashes his hair and the girls scream while the guys roar and pump their fists in the air. He goes off on a blistering break and the roof of the tent seems to be just a little higher than it was a second ago.
With a crowd that included a number of the festivals younger musicians hanging backstage, Strings played well past his scheduled end time, acquiescing to the calls for more until the festival organizers finally brought the extended set to an end, allowing the crowd to filter back to their camp sites to get a little rest (or not, as surely was the case for many at an event where the picking in the campgrounds goes on all night).
We'll do it all again today, and more, with easily the best single day schedule of the festival on tap. Mountain Ride, Songs From the Road Band, Moly Tuttle, Jerry Douglas, Del McCoury, Hot Rize, and the Wood Brothers are all on the High Meadow Stage, with plenty more happening on the other stages, including Fireside Collective's third set of the festival, this time on the Creekside Stage.
Oh, and that Strings kid will be on the big stage tonight, too. Maybe better try to find time to sneak in a nap this afternoon.