Tim Kruzic was back home Wednesday night. No, the banjo picker from Columbia, Md., did not sleep in his own bed. He as at his second home, the one he has been going to this time of the year every year for the past 10 years – the Grey Fox Bluegrass Festival.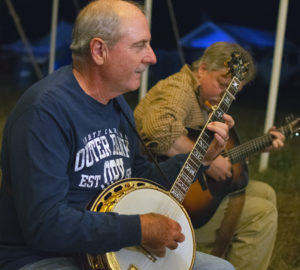 "I've bee a volunteer the past 10 years. Those guys have been coming for longer," Kruzic says, nodding in the direction of a group of about eight pickers jamming under the Creekside Stage tent.
The fellas Kruzic was picking with have been gathering in the evenings to jam at Grey Fox at least since Kruzic first attended – 2008, the year the festival moved to its current site on the Walsh Farm, just outside of the hamlet of Oak Hill, in New York's Catskills region.
By night they are a pretty tight unit, the result of having played together so many years. By day they serve as the sound crew at the Creekside tent, something Pete, no last name given, started before Kruzic started tagging along.
"This was always a workshop stage, and it didn't used to have any sound. It was all acoustic, then Pete decided to bring some sound equipment along so it there would be (amplified) sound on this stage," explains Kruzic.
Kruzic knew Pete, and most of the others, from monthly jam sessions in the D.C.-Baltimore area. It was Pete who invited Kruzic to his first Grey Fox. He's been playing with some of these folks for more than 20 years.
"It seemed like every summer somebody would say 'are you going to Grey Fox' and it always seemed like the would mention it a week or two before the festival. I usually already had gigs schedules, so I would have to pass," Kruzic says. He eventually learned why he always seemed to be booked that weekend.
"I was getting a lot of gigs filling in for guys who were taking off that weekend from their bands so they could go to Grey Fox," he says with a chuckle.
Pete convinced him he was missing out and talked him into coming along to help with the sound. "He told me to stick with him, he'd hook me up," Kruzic recalls. He has been back every year since.
The music on the main stage begins in earnest today, with the host band, Dry Branch Fire Squad's "welcome" set at 1 p.m.  The first "official" music will get going an hour earlier at noon on the Creekside Stage with Tony Trischka hosting a showcase of student bands from Boston's  Berklee School of Music. Mile Twelve, a band that formed when its members were students at Berklee, will play the High Meadow main stage on Friday afternoon.
That is the "official" start, but there was plenty of music in the campgrounds Wednesday night as the smartly laid out grid of "streets" filled with campers, many of whom gathered with other pickers to jam. There was also an "open mic" on the Catskill Stage, with a steady stream of bands taking advantage of the chance to play a song or two on that stage.
SMART LAYOUT
Finding your friends at Grey Fox is almost easier than finding the Walsh Farm itself, especially for those of us unlucky enough to have Sprint cell phone plans, service for which is pretty much non-existent in the Oak Hill area (despite a map on Sprint's web site that indicates good service there).
The camping area, a freshly mowed hay field, as the festival itself describes it, is marked off with a grid of streets that allows friends to give pretty easy directions how to find their camp sites. The streets are all named for bluegrass greats, with Watson street serving as sort of the main thoroughfare.
The "downtown," or vendor area sits sort of off of Martin Avenue between Crowe and Stover streets, sort of spanning the curve between the Creekside and Catskill stages, just down the hill from the High Meadow.
WEATHER IS HERE, WISH YOU WERE BEAUTIFUL
Aside from the music, the weather was the main topic of conversation of people arrived Wednesday afternoon.  Conditions were, in a word, gorgeous, with scattered clouds in the bright blue skies. Temperatures were around 80 degrees in the afternoon, but with a nice breeze blowing, and humidity low after a cold front swept through on Tuesday, even in the sun things were comfortable.
"This hardly seems like festival weather, but we deserve this after last year," said one festival goer. Last year's conditions were somewhere between horrible and dreadful, with heavy rains turning the festival grounds into a mud bog that forced organizers to limit motor vehicle traffic. Folks who were there said they needed tow vehicles to held the trucks servicing the porta potties make it through the quagmire.
Wednesday night was crystal clear, with the waxing crescent moon helping to create a dark sky made for stargazing. Well away from major urban areas, even with the lights in the campground, the Milky Way was easily visible with the naked eye.
The one drawback of those ideal conditions: with no cloud cover to hold in any of the day's heat, it was a pretty frigid night for the middle of July, especially for those (yes, us) who packed no long pants and just brought a lightweight, summer backpacking sleeping bag.
Those sorts of folks are the ones filing this from the McDonalds in Catskill, where they stopped for coffee and wi-fi while making a run to Wal-Mart for some sweat pants to sleep in an a cheap blanket to supplement that sleeping bag.
SPEAKING OF WI FI
We hope to update daily, and will try to post stuff to our Facebook page throughout. No live streams, though. Not with "no service" replacing the usual "bars" in the corner of the phone were it shows the strength of your connection.
There is wifi, albeit slow wifi, at the information booth in the vendors area and we will have access to what should be a better connection in the media workroom in the farmhouse used as festival headquarters.
Those with ATT and Verizon do have service thanks to two towners that were installed in the area. But even that is apparently limited due to the large number of users. Festival organizers ask folks to only use their cell service for communications and to avoid heavy data use and streaming.