They are a grammy nominated bluegrass band comprised of five woman. They are undoubtedly the preeminent all-female bluegrass band in the world, though they don't much care for people feeling the need to include gender in describing the band.
Della Mae, which formed in Boston in 2009, started as a joke. But their music is not laughing matter.
"We take it seriously," says Della Mae's mandolin player, Jenni Lyn Gardner. "If people are drawn to the band for novelty's sake, they pretty quickly take us seriously when they see us live."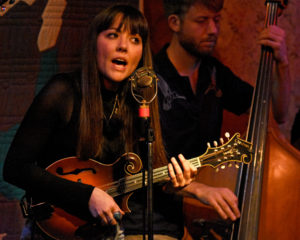 The same can be said for Jenni Lynn herself, who stopped in Bethlehem, Pa., Sunday afternoon for a solo set, accompanied by a tight trio of men who did their best to keep up with Gardner's picking.
Gardner got her start young. On the interwebs you can find a video taken by her father in 1993 of a 9-year-old Jenni Lyn picking with Bill Monroe himself backstage at a festival in her native South Carolina.
"I didn't really think a whole lot of it at the time. I just wanted somebody to play with and Bill Monroe was larger than life," Gardner says. "Now I see the magnitude of that moment."
It's easy to see why it didn't seem like such a big deal to 9-year-old Garner. She'd already been playing for a while by then, taught by her grandmother, a banjo player who gave Jenni Lyn her first guitar. Her father played, too.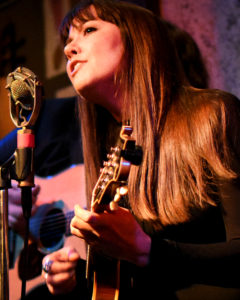 "I've been playing music my entire life," says Gardner. "My childhood was spent going to bluegrass festivals, taking mandolin lessons, and taking piano lessons. It was just what I found normal, going to festivals and learning songs."
At 18 Gardner joined her first band, playing seven nights a week in bars and honky tonks around Charleston, S.C. At 21 she moved to Nashville, playing with the Bradley Walker Band for two years, and several other outfits, until she joined Della Mae.
"It started just sort of as a joke by Kimber (Ludiker, Della Mae's fiddle player). She was joking around at fiddle camp — wouldn't it be great if we started an all female band that dressed in power suits and wore stilettos and no one smiled. We'd just played as fast and hard as we can," Gardner says with a smile.
The suits and heels part never came to be. But after a gig in Boston, "it turned into this thing that now exists," she says.
"It kind of started out as a joke, like all good things do. But obviously we took it very seriously," says Gardner. "The stars aligned for Della Mae, with everyone being available to join."
Three of the band's members are currently overseas on a State Department sponsored trip. Della Mae has appeared in more than 15 countries as part of the Department's American Music Abroad program.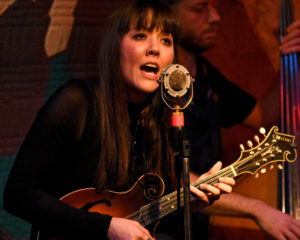 Gardner passed on this trip, staying home to take advantage of the break in Della Mae's touring schedule to go out in support of her own solo effort, "Burn Another Candle," much of which she wrote, and recorded, while on tour with Della Mae, scrambling into the studio whenever she could squeeze some time in. The album was released in April.
This is Gardner's second time out behind the album. She toured a bit when it was first released before taking the summer to play the festival circuit with Della Mae.
Those who have only experienced Gardner in the Della Mae format might be surprised by her solo persona. With Della Mae she is only in the spotlight on mandolin breaks, for the most part. Guitar player Celia Woodsmith handles most of the lead vocals and Woodsmith and banjo player Courtney Hartman get most of the songwriting credits.
Gardner wrote eight of the dozen songs on her album and she handles nearly all the vocal duties live, save the occasional harmony contribution of guitarist Harry Clark, who gave Gardner a brief respite by belting out a rollicking lead on a cover of the Townes Van Zandt classic "White Freightliner Blues."
Suffice to say Gardner is more than capable of the expanded role. Her voice is strong and true. Her light touch of southern drawl adds an authenticity to "Hickory Holler," a traditional sounding romp about the good old days back home where she "played hide and kiss and seek."
At the same time, she has no trouble shedding the drawl for the make-your-ass-move reggae-inspired title track, which was written while vacationing in the U.S. Virgin Islands.
The increased demands of handling lead vocals has no ill effect on her picking. The breaks show off what Sam Bush has called her "remarkable mandolin chops."
When she toured in the spring Gardner had banjoman Kyle Tuttle and bassist Max Johnson in her backing band. With Tuttle and Johnson out west with the Jeff Austin Band, two other stellar pickers have taken their place. 
Ryan Cavanaugh, who has been "called the most versatile banjo player in the world whose name isn't Fleck" takes over for Tuttle and Josh Rilko, better known as Lindsay Lou's husband and the Flatbellies' mandolin player, picks up the bass and lays down the beat. Ironically, guitarist Clark, a former member of Volume Five, is also best known as a mandolin player.
Gardner has eight more dates left on this northeastern U..S. swing, starting with a date tomorrow night in Lexington, Mass. and including two more dates in Pennsylvania — December 14 in Harrisburg and the following night in Phoenixville (Serene Green opens that Phoenixville date), before wrapping up the tour with a gig in Conway, S.C. (Dec. 23) and a New Years Eve appearance at Nashville's legendary Station Inn.
The venues on this tour tend towards small and intimate. The Godfrey Daniels show drew about 50 people. You'd be well advised to take advantage of this opportunity to see Jenni Lyn is such settings.