We were sitting under the awning of "The Bommer," hiding from the sun and enjoying the music and Lisa and Zig's hospitality simultaneously when we met Bob Keel. He introduced himself. Pretty sure he complimented the site. And he made us feel terrible, because first time we meet the guy first thing we have to say is "sorry, got here late and missed your set."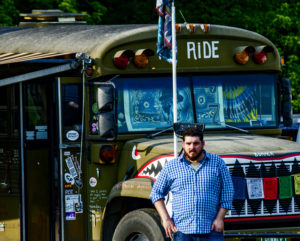 It's not bullshit. We were not just being polite. We had wanted to see Keel's set with D.C. mandolin player Eldred Hill. We see Bob's name on a lot of billings and have heard good things.
Besides, given the quality of the rest of the acts Eric Avey curated for this year's Camp Bluegrass event, there is no doubt in our minds Keel and Hill would live up to those positive advance notices. It was, top to bottom, about as good a lineup as a small festival might put together.
When the lineup was announced, it did raise questions. Given the crowd Avey and Mountain Ride run with these days, we expected more familiar names. Aside from Colebrook Road and the Jakobs Ferry Stragglers, we'd never heard of these folks. Also missing was the Northeast Pa. connection that we'd been accustomed to at Camp Bluegrass, where folks like Coaltown Rounders, Still Hand String Band, and Dave Brown and The Dishonest Fiddlers have carried the Scranton bluegrass scene flag in recent years.
This year's lineup was influenced, in part, by Avey's side gigs hosting bluegrass jams and open mic nights. That was how he met the guys from The Crop Dusters, a five-piece outfit from the Frederick, Md. area Avey met while hosting Monday night jams at The Blue Side in Frederick. The Crop Dusters feature former Circa Blue member Ron Webb on mandolin who you will likely being hearing more from. They have not even been together a year yet, but they are all experienced musicians, which was obvious during their fine set.
The band that preceded The Crop Dusters, Jerry Rigged, was a local group that included Mountain Ride's old mandolin player and a bass player who Avey has played with in The Reckoning, a bluegrass Grateful Dead tribute type project that only makes an appearance or two a year these days. The guys in Jerry Rigged also frequent the bluegrass jam session Avey hosts on Thursday nights at Gear House Brewing in Chambersburg.
That was who was playing when we were sitting under the awning at The Bommer. We were flabbergasted, we told Keel. How could a band this good, and relatively local to our base in the Harrisburg, Pa., area, be flying under the radar? How could we not have heard of them before?
Keel said he thinks they mostly just play pretty local. Actually, from looking at their Facebook page, it appears they don't play much at all these days. Sure hope that changes. They were very good. Note to Sarah Staub: A Jerry Rigged/Mountain Ride show at The Abbey Bar would be a lot of fun.
Also outstanding was The Long Point String Band, who were easily the most unique act, with Hunter Walker on the mountain dulcimer. We don't see that instrument much. Most festivals, if there is a dulcimer present, it is at some luthier's booth in the vendors area.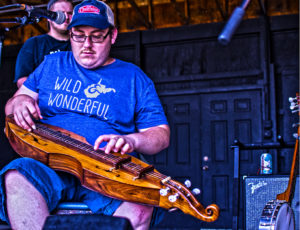 We have no idea how most people play the mountain dulcimer. More gently that Walker, we always have presumed. Walker attacks the dulcimer like Jeff Austin attacks a mandolin. It is certainly a far more aggressive style of play that we would have presumed.
"A few, not too many," says Walker when we ask him if other dulcimer players share his style. When we get some time, we're going to have to check on YouTube, or something. It just is not an instrument you see in most bluegrass.
Long Point would seem out of place here if you didn't ever hear their music. Their schedule is mostly fillers conventions and Appalachian music gatherings. They say their music has a large element of "old time," which is different from bluegrass, especially the numbers where Walker switches to clawhammer banjo.
Brian Bell, the guitarist, is a longtime Facebook friend of Avey's. That was the connection. Plus "We like to try to have something on the old-timey side," Avey says.
Long Point's best music is very different than what we usually think of as "old time." We'd call it bluegrass with little qualm, purists be damned. And really, the purists would be just as happy with the band's Midnight Moonlight, as would the Deadheads, who also no doubt would have enjoyed their Deep Elem. These guys were a lot of fun.
State College based trio The Crooked Line was on stage when we arrived. We didn't get to hear their whole set, but what we heard we liked. We didn't miss a lick of the day's last three bands, two of which were recently announced as IBMA Bluegrass Ramble showcase artists,
Finally seeing The Jakobs Ferry Stragglers was a treat. Loved the new stuff from the Poison River album was even hotter live. Libby Eddy's vocals might even be better than her fiddling, and that is saying something because Eddy is a fine fiddler.
So is Ray Bruckman, who sat down his mandolin and picked up a fiddle for an amazing solo version of "Little Sadie" while guitarist Gary Antol replaced a broken string. With special guest Jody Mosser getting there just in time from his earlier that day gig with The Plate Scrapers in Pittsburgh to play dobro and a little lap steel, and a nice lengthy sit-in from Mountain Ride's Corey Woodcock on banjo, it was an amazing set.
Matter of fact, the crowd demanded an encore, ignoring the house music to keep cheering until Jakobs Ferry came back out and Eddy delivered a spirited version of the Dolly Parton hit "Nine to Five" that made us forget that we never used to much care for that song.
Colebrook Road followed with a stellar set of their originals. These guys were at IBMAs last year as part of the band coaching program and they are headed back for the Ramble showcase this year.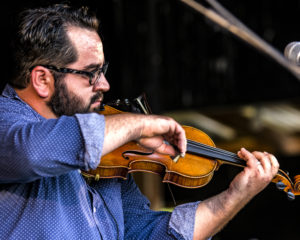 Stop and consider that right there. You got two bands who have been selected for the IBMA's Ramble, plus those first five acts, all for $20. Camping included in a very chill, family friendly, creekside setting.
Oh, and let's not forget our hosts, Mountain Ride, who seemed to hit the stage with energy built from the momentum of three straight weekends at significant festivals. Coming home to host it seemed as if this small, intimate gathering with a crowd heavy on friends and family was the celebration of that triumphant trio of shows that started at Gettysburg and included the band's DelFest debut and an appearance at Danny Stewart's NEPA Bluegrass Festival last weekend.
They saved it for their final encore, but the lyrics of the Avey-penned "I'm Coming Home" really summed it up — "Sit right down, I have a song for you." Except for the sitting down part. There wasn't much of that going on during Mountain Ride's set, which clocked in a little over 90 minutes.
With the scorching sun having finally set, and temperatures back to reasonable, the area in front of the stage was filled with dancers as they ripped through numbers from both their CDs, as well as a number of yet-to-be recorded compositions by Avey, who is a prolific songwriter.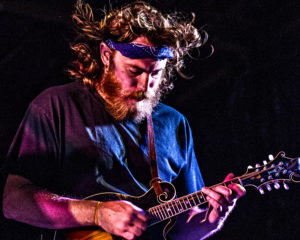 Avey has long expressed a desire to keep Camp Bluegrass a small, intimate affair. He figures the picnic grove where it is held can accommodate 300 people comfortably. That could prove a problem in the next year or three. If Mountain Ride continues on its current trajectory, they could find it hard keeping the crowd to that size even without adding other bands to the lineup.
Should that happen, Avey hopes to find a promoter to take over the event. Let's just hope if someday that occurs, the deal keeps Avey in the curator role.
Camp Bluegrass Photo Album