Editor's Note: This festival "review" thing is an evolving notion. The "Brewskis" awards idea we trotted out at Gettysburg doesn't work at places where you cannot see every act. We did sort of a "notebook" with our favorite sets after DelFest. We're just going to sort of write about our impressions from NEPA Bluegrass Festival here. Eventually we will decide on a preferred style for festival recaps. Or not.

If there is such a thing as a perfect setting for a bluegrass festival, Lazy Brook Park, along the Tunkhannock Creek in Pennsylvania's Endless Mountains region might just be it.
Located just 25 minutes from Interstate 81, just northwest of Scranton, it is not hard to get to the NEPA Bluegrass Festival. It is hard to leave. Even harder when you have to leave early, as we did on Saturday evening.
Because of our necessarily premature departure, we missed some acts we wanted to see. Specifically we had to bail before Jeff Scroggins' final set on the big stage and we'd been looking forward to checking out Breaking Grass after a friend from Virginia recommended them.
We also would have enjoyed sticking around for a little more campfire picking after our late night fun Friday (Thanks again, Philly Billies). And while we wouldn't have been able to do it on this visit, you can bet we plan to being along our fly rod next time. Even though preliminary research seems to indicate the stream that flows past the Progressive Stage is not great trout waters, who can resist the idea of fishing while listening to live bluegrass.
That is the kind of place this is. You would come for the natural beauty. The bluegrass is just a bonus.
One helluva bonus.
Kudos to promoter Danny Stewart for that. This is not a huge festival. Let's hope it doesn't become one, either, because DelFest like density in the camping areas would ruin a lot of what there is to love about this festival.
The venue is compact in terms of the distance between stages and amenities, yet roomy enough to allow buffer space between camps. The creek, in addition to being a nice place to wet a fly line, was an inviting proposition to tubers, at least on Friday before that evening's deluge turned it the shade of a latte.
It is all BYO, beverage wise. No glass bottles please, and no drunken a-holes. People seem to follow those rules. One tent camper bragged of getting a site that has electricity so they could bring a blender for frozen drinks. It's a fun place for grownups, yet kid friendly, too.
At the same time, though, it's the music, not the partying, that we are here for. Stewart puts together a very solid lineup. Headliners like Rhonda Vincent and Danny Paisley are backed by a strong slate of supporting acts playing on two stages, both in beautiful settings with abundant shade available.
To local fans of bluegrass, the lineup at the smaller, second stage, dubbed the "Progressive Stage," was as attractive as that on the main stage. Man About a Horse, Mountain Ride, Dishonest Fiddlers, and Serene Green are arguably four of the top five or six bands in Pennsylvania bluegrass at the moment.
Toss in sets by Scroggins, who played both days and both stages, Breaking Grass, and West Virginia's Hillbilly Gypsies, and you understand why some folks saw no need to leave that smaller, intimate venue, which was set under a covered pavilion that provided shade from Friday afternoon's torrid sun and shelter from Friday night's torrential rains.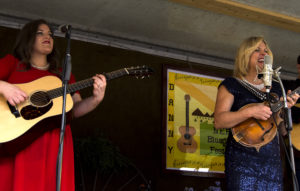 That chill vibe changes later in the evening, when the Progressive Stage becomes the Dance Hall Stage (unofficial). They even put a tape across the floor of the pavilion to delineate between where chairs are allowed and where it must be kept clear for dancing.
We were warned about that Friday afternoon by the stage manager, who suggested we would probably want a different spot for our tripod, which we had set right in front of the stage for the afternoon sets.
"It gets pretty crazy in here," she said.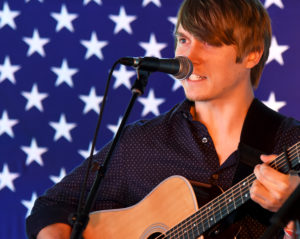 It does, but crazy is a relative term. In other words, it gets very crazy by traditional bluegrass festival standards — at least the ones we have been to. But in reality, aside from a fair amount of drunken chattiness and a few unnecessary Indian whoops by that guy who ruins every tape of every great show with his blood-curdling, inappropriately timed, yodel-yelp he learned from an old western movie, it's just another night on the rail. The music makes people want to move and they respond accordingly.
We never made it past the Progressive Stage on Friday. We only went to the Traditional Stage on Saturday afternoon for Jeff Scroggins and Rhonda Vincent, catching about half of each set.
Then we scurried back to the Progressive Stage to catch the end of Dave Brown and the Dishonest Fiddlers, which included a sit-in by Quentin Fisher and Steve Leonard, of Serene Green. We stayed for Serene Green's set, and long enough to have a quick chat with Fisher and guitarist Michael Johnson.
It's probably worth pointing out that to a lot of folks, the lineup on the Progressive Stage might seem pretty traditional. Serene Green's sets often include mini lectures on Bill Monroe history by Fisher, who we like to call "The Professor of Bluegrass." About as progressive as it got was Dave Brown's band having a drummer (Jami Novak, formerly of Cabinet).
Nobody seemed bothered by the drums, by the way. They were too busy having a good time.