There are few things in bluegrass that have stood the test of time the way the Seldom Scene has. What began as a weekly jam session in founding member Ben Eldridge's basement made what current lead singer and guitarist Dudley Connell estimates was its 76th appearance at the Gettysburg Bluegrass Festival last weekend.
Held twice each year — in May and in August — this was the 76th edition of the Gettysburg festival. It was founded in 1979. For perspective, Seldom Scene had already been around for eight years when they played that first Gettysburg event.
"We've played this festival twice a year, I think since its inception," says Connell.
Watch the full interview with Dudley Connell
Nobody expected that sort of a future when the band was first formed. In fact, the band's name was inspired by the fact that the band members all held down day jobs and didn't play out much. 
"Ben would refer to it as their Wednesday night poker game, except instead of playing cards they played music. They never really thought about going out and playing live," Connell explains. "It was just for fun. And it ended up becoming something way bigger than any one of them."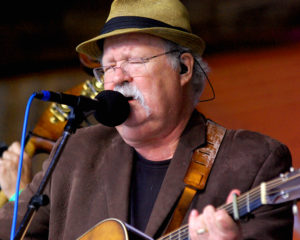 Eldridge was the last original member. He retired in 2016, after 44 years with the band. Eldridge, along with the other original, founding members, is in the IBMA Hall of Fame. It would be little surprise if the same fate awaits the current members, all but one of whom has been in the band since the mid 1990s.
Connell thinks that continuity is a big reason why Seldom Scene has remained so relevant even though none of the original members are still in the band.
"One thing we've been lucky with is that me, and Fred (Travers), and Lou (Reid) have been singing together for 22 years. At this point, we can kind of anticipate what each other is going to do. Lou will make a move, and I will move with him. It is very organic in that sense," says Connell.
Connell, Travers, and bass player Ronnie Simpkins have been part of Seldom Scene since 1995. Reid, who played guitar for Seldom Scene from 1986 to 1993, rejoined the band in 1996, taking over mandolin duties following the death of founding member John Duffy.
"At that point, we were actually thinking the band might just dissolve after Duffy's death. Duffy was kind of bigger than life, both on stage and off. He was a great entertainer, a great singer, and a great mandolin player," Connell says.
"When he passed, we had a meeting over at Ronnie's house. We decided what we would do is to reach out to the people who held contracts and see if they wanted the band. Only two decided that they didn't. We've been playing with Lou ever since."
The newest member of the band is Ron Stewart. Last year, Stewart, who has won IBMA Awards for both banjo and fiddle replaced Ronnie Simpkins' brother, Rickie, who decided to move on after having joined the band as Eldridge's replacement.
Don't expect Seldom Scene to slow down any time soon. They still hold day jobs, but they are on the road almost every weekend, especially during festival season, when they travel literally all over the country. They will be back at Gettysburg for the August version of that festival. Between now and then they will hit nine different states, ranging from Arizona to Vermont.
And although they typically slow down just a little in the winter, expect them to be out quite a bit this winter to support a new album, their first for Rounder, due out in October or November.
RELATED LINK:
Seldom Scene tour schedule