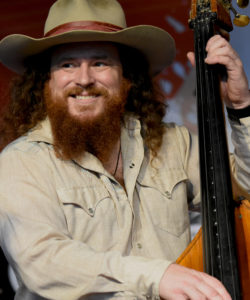 When Charles Humphrey III suddenly announced last fall that he was leaving the Steep Canyon Rangers, the musical home he helped to build and his main musical focus for 18 years, it caught a lot of fans by surprise.
The timing seemed a little odd. The Steeps were about to release a new album, one that included three songs written by Humphries.
In a Facebook post announcing his decision, Humphrey wrote: "I'm excited to let y'all know I'm moving on to pursue other musical and non musical passions aside from Steep Canyon Rangers."
To those who watched it unfold from afar, or at least to some of those who watched from afar (OK, to us), it seemed as if perhaps it was a decision to get off the road. News coverage of the announcement did mention that Humphrey plans included playing some with Songs From the Road Band. But there was as much, if not more, mention about beastcoasttrailrunners.com, an adventure running company that Humphries, a well known ultra distance runner, had helped to start.
Watch our full interview with Charles Humphrey III
Turns out getting off the road was not the motivation. Matter of fact, Humphrey will likely be on the road as much with SFTRB this year as he would have been with the Rangers. The band, which is releasing a new album come July, has been out touring since early March, with around 20 shows under its belt to date, and around 25 more currently scheduled for this leg, which will wrap up in August at Wellsboro Pa.'s Hickory Fest.
The tour will take Songs From the Road Band to the west coast, and back, with stops planned for several major festivals including Rooster Walk, Red Wing Roots, Grey Fox, and Floydfest. Expect more bookings to be added as word spreads about these guys.
Up until recently, they have been one of the best kept secrets in bluegrass. Although they released their first album in 2006, and have released two others since, with number four in final production, they have flown under the radar. Gigs have been limited. So to has been airplay.
"We've been picking together 16 years . . . This is the first time actually touring full time," says Humprhrey, who sat down to talk with us about the project after the band's stellar set Friday night at the Gettysburg Bluegrass festival.
"We've been together a long time. We have a lot of records. But we've never actually toured together."
The band is a five-piece bunch, with Humphries manning the bass. Ryan Cavanaugh, of Bill Evans' Soulgrass project (and who also has toured with Jeff Austin's band in the past) mans the banjo. Two-time national fiddle player James Schlender and Ashville stalwarts mandolinist Mark Schimick (formerly of Larry Keel and Natural Bridge) and guitarist Sam Wharton round out the ensemble.
"We all come from different influences. We kind of share some common threads. We all appreciate bluegrass, historic bluegrass, newgrass — you know, kind of like what the pioneers have done with Newgrass Revival, stuff like that," Humphrey says.
The new album — titled "Road to Nowhere" — was recorded at Echo Mountain in Ashville and includes a dozen songs, all co-written by Humphrey. Schimick and Wharton share the songwriting duties.
"It's 12 brand new songs. We're excited to get it out to the DJs and to have a new product out there. We're proud of it.," Humphrey says.
You can get a preview of it by catching one of their upcoming tour dates. The band played several songs from "Road to Nowhere" at Gettysburg. You can find their full tour schedule by clicking here.
"We've been very fortunate to get some great bookings," says Humphrey. "We're going all over the country."