The press releases for The Bluegrass Congress, which is set to convene in late May in Cumberland, Maryland, suggest the legendary Del McCoury personally summoned the participants by sending out invitations on hand-rolled pieces of parchment.
That might conjure up a good image for marketing purposes, but according to Del himself, that is not exactly how the event, which is sure to be a highlight of the 11th Annual DelFest, came to be. Credit for the idea, which will bring together a veritable who's who of bluegrass musicians for what is being billed as "a picking party like none other in festival history," actually should go to someone else.
"That was my manager's idea," Del says with a laugh. "He comes up with so many ideas, it is hard for me to keep up."
The 79-year-old one-time Blue Grass Boy might have a hard time keeping up with his manager's plans, but as anybody who has seen him perform in recent years can attest, Del has no trouble keeping up musically. In fact, often it is the other way around. Young bluegrass bands covet a spot on the DelFest bill, in part for the chance to play in front of large, enthusiastic crowds of bluegrass aficionados, and part in hopes they will be lucky enough to have Del join them on stage for a song during their set.
No doubt Del will do that a lot through the four-day weekend gathering, which features more than 30 acts on three stages over four days. You can also expect his sons, mandolin virtuoso Ronnie and banjo flame thrower Robbie to sit in with some of the guests performing at the family's fest.
But when the Bluegrass Congress is called to order on Saturday night, it will take that concept to a whole new level, with the likes of Ricky Skaggs, David Grisman, Sam Bush, Béla Fleck, Jerry Douglas, Bryan Sutton, and Stewart Duncan joining Del and his band on stage. For those keeping score at home, that will be four mandolins, two banjos, two fiddles, two guitars, a dobro, and a bass.
It's enough to excite Del, which is saying something when you consider he got his start playing with Bill Monroe and over the years has played with all the greats, including Flatt and Scruggs, Jimmy Martin, and Doc Watson.
No wonder Del is psyched to have all that talent on stage with him. Combined they have accounted for 15 International Bluegrass Music Associations Entertainer of the Year awards, and won 4 Vocal Group of the Year and 11 Instrumental Group of the Year IBMA honors. Individually they have won Fiddle Player of the Year 14 times, Mandolin Player of the Year 12 times, Guitar Player and Dobro Player of the Year each 10 times, 2 banjo Player of the Year Awards and the Del McCoury band's Alan Bartram won his first Bass Player of the Year award in September.
"I know all these guys because I've played with them all before," Del says. "It is a special thing."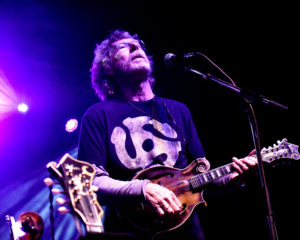 The Bluegrass Congress session isn't the only reason you will want to be there along the headwaters of the Potomac River in the scenic mountains of western Maryland. Each of those Congressional delegates will also have a set with their own band (except, perhaps, Bela Fleck, whose set with his wife, Abigail Washburn, is no longer listed on the festival schedule, most likely due to her recently announced pregnancy). Del and his band will play multiple sets and his band, which includes his sons, will also play sans Del as The Travelin' McCourys. There are also a host of other stellar bluegrass and newgrass artists on the weekend's slate, including Old Crow Medicine Show, Grammy winners The Infamous Stringdusters, Billy Strings, and Sierra Hull, as well as a number of Americana roots acts such as The Wood Brother, Fruition, and Reverend Peyton's Big Damn Band.
You can the full lineup — including this year's late night shows, ticket and travel information, and more at http://delfest.com. You will also find information there on the DelFest Academy, a four-day learning experience with instructors that include the members of Del's band and other professional musicians.
A version of this story originally appeared in the Spring 2018 edition of The British Bluegrass News.