Genuine. It's a word Andy Falco uses a lot when you talk to him about the music he makes with The Infamous Stringdusters.
"The most important thing we can do is just stay focused on making the music that's the most genuine to us," says Falco, who was on the phone from back home in Long Island, N.Y., where he was getting ready to depart for The Stringdusters' appearance at the Strings and Sol in Cancun, Mexico, a few weeks before the holidays.
Strings and Sol is a gathering of what might be called "progressive bluegrass" fans for a weekend of sun, sand, music, and tequila (not necessarily in that order). The Stringdusters are right at home on a bill that includes bands such as Greensky Bluegrass, Yonder Mountain String Band, and Railroad Earth.
Hear The Infamous Stringdusters perform an acoustic mashup of their Grammy winning Laws of Gravity album
All these bands are considered by many to be bluegrass bands. Conversely, there are also many bluegrass music fans who are skeptical, at best, of that claim. It's that age old battle between the Bill Monroe Flatt Earth Society and those with what the purists would consider inferior, less rigid standards.
In his well-received "Bluegrass Manifesto," Falco's fellow Stringduster, Chris Pandolfi, put it like this: "Firm opinions about what is or isn't 'bluegrass' have literally come to define the core traditional community. It's an omnipresent topic."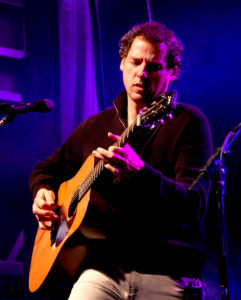 If there is a band capable of bridging that gap, it might just be The Infamous Stringdusters. The purists embraced them early in their career. The band's debut album, 2007's Fork in the Road, won Album of the Year from the International Bluegrass Music Association. The IBMA, which serves as sort of the arbiters of what is bluegrass in some people's eyes, also named that album's title cut Song of the Year and named the band Emerging Artist of the Year.
Even though they now play a jammier, more progressive style that makes them right at home at festivals like Strings and Sol, they have managed to keep a foot planted firmly enough on the traditional side of bluegrass to be accepted there.
That might be because the people on the traditional side of the fence still view the Stringdusters as one of their own.
"I think part of that comes from one of the things that not too many people in the jam grass scene have — our background. We were all living in Nashville and we were all actually playing in the traditional scene. That really is kind of where we cut our teeth and learned the ropes and everything. We all sort of come from that world," Falco says.
They also shared a common, non-bluegrass, influence: jam bands.
"We all kind of come from the jam world. I went to my first Grateful Dead show in 1986, saw many, many Grateful Dead shows, you know, like with Jerry and everything — the full deal. So did the other guys," says Falco.
"Between that and Phish shows and, and coming from a more of an electric background originally and then eventually getting into bluegrass. I think that was a very natural evolution for us to say, collectively, this is a big part of our collective musical DNA , as I call it. Your musical DNA is all the stuff that you played or were influenced by coming up."
Your musical DNA is part of who you are. You cannot deny it and be true to yourself.It's what makes you genuine.
"It's our sort of personal musical journey," Falco says. "What is genuine is the most important thing as an artist and as a musician. That's the most important thing."
Being genuine means writing your music, playing it your way.
"We came from, as fans, from the jam world into the bluegrass world as musicians, and as professional musicians in the traditional bluegrass world," explains Falco. "We kind of came into our own when we started allowing a lot of those influences to come into our Stringduster music, which makes us, us."
One reason the Stringdusters' popularity bridges that gap between the progressive and the traditional bluegrass worlds is because they do not try to be something they are not.
"I'm from Long Island (New York), you know? I live on Long Island. I can't genuinely write a song about living in a cabin in a holler in Kentucky," says Falco. "That's just not genuine. That's not real. You know what I mean? And we can't fool an audience. I mean, you just can't."
While they stay rooted in traditional bluegrass, the Stringdusters make no secret of their more progressive inclinations.
"It was definitely a conscious choice for us to evolve into more of a jam grass thing," Falco says.
Yet they have maintained their mainstream bluegrass appeal. In 2017, the Dusters' Andy Hall was nominated for IBMA's Dobro Player of the Year Award. Fiddler Jeremy Garrett was one of the award presenters at the ceremonies and the band hosted the IBMA's Wide Open Jam  event during the group's annual gathering.
Oh, yeah . . . and in February their Laws of Gravity album won a Grammy as Best Bluegrass Album, an honor shared with Rhonda Vincent, a traditional favorite.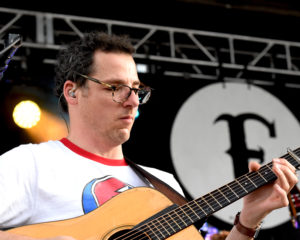 "We actively try to try to bridge those gaps as much as we can. But I tell you, it's an age old argument. Almost as long as bluegrass has been around, there have been there these arguments about what is and isn't. In a lot of ways, it is sort of an uphill battle," said Falco.
"Maybe to some traditionalists, we have absolutely nothing to do with bluegrass and maybe to some people who doesn't really know bluegrass as well, we are traditional. Everybody has an opinion on what bluegrass is, you know. And I think that's just always going to be the case. All we can do is just play the music that is true to us and be as genuine to the music.
It's an approach that has led some to suggest the Infamous Stringdusters might be the future of bluegrass.
"Are we the future? I don't know," Falco said. "I know that what we are doing now is certainly the future of The Stringdusters."
This review originally appeared in the Spring 2018 edition of The British Bluegrass News.