BEN SOMERS STRING BAND
"Live At De Melkbus"
It's a story I've told more than a few times, the tale of a couple of American parents on a visit to their daughter, a grad student at Kingston U., who decided to rent a car and take a drive south towards Hastings in search of some bluegrass music.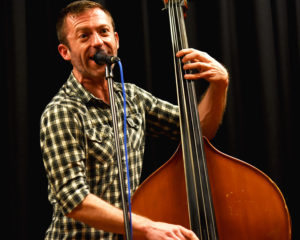 A kind tipster on the British Bluegrass Music Association's Facebook page had suggested we check out the Ben Somers String Band, so despite our initial skepticism about Brits playing our distinctly American genre, curiosity led us to the village of Catsfield, where we enjoyed sausages and ciders at the only pub in town and an evening of outstanding picking in the nearby village hall by the Ben Somers String Band.
When I tell people over here in the States how hot that British bluegrass was, the reaction is often skepticism. Even when I drop names of some of the fine U.S. musicians Somers has played with, a lot of folks still don't believe me when I tell them how authentic the bluegrass was that we heard.
Now, with the release of the "Live At De Melkbus," the debut CD by Somers' String Band, there is audio proof.
Here is what I plan to do (please, don't tell any of my American friends). Every chance I get, I am going to put this CD on and let it play, without telling anybody who it is. Then I am going to wait a song or two until they ask. I can almost guarantee their first reaction will be, "No way."
They will be skeptical because this CD, recorded by a couple of Brits and a couple of Frenchmen at a small, intimate music venue outside of Rotterdam, is pure Americana. It's a collection of 11 tunes Somers describes as "bluegrass standards."
Truth be told, only a few of the songs have purely bluegrass origins. Others are bluegrass interpretations of songs originally recorded in a more mainstream country style, or country swing classics Somers learned growing up with his father Steve Somers, a longtime practitioner of country and Texas swing music who has played with the likes of Glenn Campbell, Billie Jo Spears, and Don Everly.
Ben's dad also has long had a thing for cowboy yodeling, perhaps the result of time spent touring with Frank Ifield, one of the few, if not the only, English-born Australians to ever play the Grand Ole Opry.
Turns out, despite his attempts to tune it out as a kid, Ben is a yodeling chip off the old block, as you will hear on his bluegrass take on the Gene Autry classic "Back in the Saddle."
"Although I resisted getting into that for a long time it just wouldn't let go," Somers says.
Lucky for us. The yodeling part of the song is one of the vocal highlights of an album filled with them.
Somers, who sings lead on all of these cuts, has a smooth, distinctive voice and he is adapt at phrasing. The backing harmonies by the rest of the band are similarly spot on. Should you notice a voice that seems slightly out of key on the harmonies, chances are it is your own.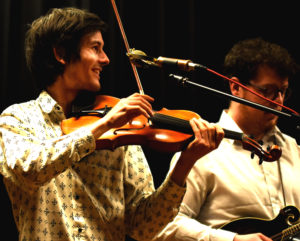 With the possible exception of the Townes Van Zandt ballad "Loretta," every song has a catchy chorus that makes singing along an irresistible temptation. You'll stumble a time or two trying to keep pace on "She's Gone, Gone, Gone," the Lefty Frizell number that opens the album, but by the fourth time through you'll be wailing right along as that train flies down the track.
The pace doesn't slow down much. "Loretta," and the Hank Williams classic "I'm So Lonesome I Could Cry" are the only ballads. The rest of the CD is a toe-tapping, foot-stomping romp. Feel free to dance.
The selection of songs is evidence of Somers' deep knowledge and appreciation of American folk and country music. These are not anybody's greatest hits, with of course the exception of "I'm So Lonesome I Could Cry," which is a tribute to Somers' father. The songs here are a well curated mix of what you might call "deep cuts."
"Way Down on Plank Road," the Uncle Dave Macon number with its "Won't get drunk no more" refrain, takes what was a sparse, clawhammer banjo tune from the 1920s and gives it almost a Celtic drinking song treatment. It's another one you'll sing along to.
Same goes for the revved up version of the Flatt and Scruggs tune "Pain in My Heart," with fiddler Marius Pibarot, flatpicker Dorian Ricaux, and mandolin player Evan Davies trading blistering licks between Somers' rapid fire vocals.
Somers' tasty slapping of the double bass is a highlight of the band's cover of "Chalk Up Another One," a tune written and first recorded by one-time Bluegrass Boy Jimmy Martin and The Osborne Brothers.
There's also a nice version of Ralph Stanley's "Rocky Island," a song he recorded with the Cinch Mountain Boys in 1973, making it, along with "Loretta," one of the two most "modern" songs covered on the album.
One of the more interesting choices in the set list for the show where this CD was recorded is "The Prisoner's Song," a Vernon Dalhat tune from 1925 that was the first country record ever to sell a million copies. That version was a slow, almost dirge-like, ballad.
The version here is more along the lines of the version Bill Monroe recorded in 1951 as the B side to "Kentucky Waltz," but faster. It's a version Somers says was inspired by the woman who introduced him to it, North Carolina banjo picker Julie Elkins.
Just as Monroe and some of the other early legends of bluegrass did, Somers has a knack for picking songs that hold up well in bluegrass style. If you never heard the Norman Blake original, you'd swear "Randall Collins" was written as a bluegrass tune.
The same holds true for "I've Lived a Lot in My Time," a ballad when Jim Reeves recorded it in 1960. Here it is paired with on old fiddle tune, with Pibarot providing a brief fiddle jam transition before launching full throttle into "Hangman's Reel."
All in all it's a fine debut effort from the band, which has been together in this iteration for about a year now. Somers has dug deep into the American songbook and his international collection of pickers — Pibarot and Ricaux are both French, Davies hails from Newcastle — play with skill and verve.
The album was recorded by Marc Burger, a musician and recording engineer who runs the Dutch club where it was taped.
"He literally just put up some mics and recorded the whole gig then mixed and mastered it," Somers explains.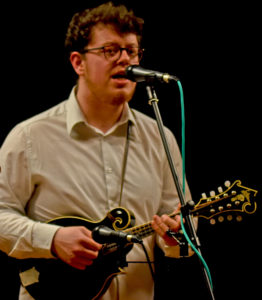 For the most part you'd have a hard time distinguishing this recording from those made with much bigger rigs and more expensive production. The lone flaw is not so much with the recording as it is with the audience. The crowd chatter during "Loretta" and "I'm So Lonesome I Could Cry," two of the softer, quieter songs, is an unfortunate distraction.
That won't be an issue when the band releases its upcoming studio album. That effort will be all original Ben Somers compositions and will feature a number with Ben's father sitting in.
The studio album will be out soon, Somers says. But in the meantime, this tasty treat will give Somers' fans something to hold them until then. You'll find it on Spotify, iTunes, and Deezer.
This review originally appeared in the Spring 2018 edition of The British Bluegrass News.