You will hear people talk about traditional music when they talk about bluegrass. But in bluegrass, traditional usually means from the 1940s. The song selected by The Plate Scrapers, our featured artists on Day 10 of the 12 Days of Bluegrass, is much older than that. Almost 100 years older, to be exact.
Oh Holy Night was written in France in 1847 by a guy by the name of Adolphe Adam, the same dude who composed the ballet "Giselle." Adam put to music a poem written by a wine merchant named Placide Cappeau, who was also a poet. Cappeau had been asked by the parish priest to write a Christmas poem.
Over the years, this song has been performed and/or recorded by a who's who list of performers, often by vocalists such as Andrea Bocelli, Josh Groban, and Mahalia Jackson. Trans Siberian Orchestra does an instrumental version, but if you ask us, the beauty of this composition gets lost in the electric instrumentation, at least on the live versions we have watched. The delicate, clear ringing of the notes that you get from acoustic instrumentation far better compliments the elegance of Adam's notes.
Is this bluegrass, or is this classical? Good question. Our answer: We don't care. We just know it is an incredible bit of musicianship from a band that has emerged as one of the hottest sounds in western Maryland.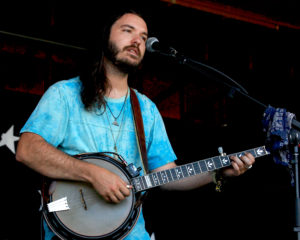 We're not surprised to see the Plate Scrapers starting to attract a following. Back in March of 2016, we headed down to Frederick, Md., ostensibly to see Keller Williams. Keller was headlining a show that was being billed as part of an "Americana Fest" weekend at the Weinberg Center.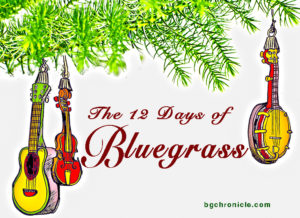 There were three bands on the bill that night. The second was an Irish band known as We Banjo 3, which might seem odd given that it was an "Americana" event (they actually play a bluegrass infused style of Celtic music they call "Celtgrass"). The third was The Plate Scrapers, The band that stole the show that night in Frederick.
These guys were high energy, no-holds-barred, pickers with solid vocals and a strong stage presence. Keller, to be frank, was disappointing that night. But we left the show with The Plate Scrapers' tune "Flying Car" stuck in our head.
By the time we caught up with them again, at a small festival that summer, they'd had a personnel change. The old bass player had left the band and Jody Mosser, Grand Ole Ditch's dobro player, was temporarily handling those duties.
Mosser, who does not appear in the video, is now a permanent member of the Scrapers, though on dobro, not bass. Kevin Johnson has taken over as the Scrapers' bassist.
Mosser still plays with Grand Ole Ditch, too. In fact he will get to pull double-duty in late February when Ditch and The Plate Scrapers share a showcase bill during the 22nd annual Millennium Music Conference & Showcase in Harrisburg.
"It was a no brainer, really," said Mosser in a Facebook message reply to a question about how he came to be a permanent addition to the Scrapers' lineup. "The Plate Scrapers are great pickers and songwriters and are super fun to tour with. I had already sat in with them on multiple occasions at past festivals and knew it would be fun!
"Grand Ole' Ditch was on a bit of a hiatus and in the midst of a lineup change so my schedule was pretty wide open for most of 2016. Brett (Kretzer) gave me a call to help out and I think we found an immediate chemistry with the music. When Kevin came along it was natural to move to dobro as I already knew all the songs. Once Ditch returned to the scene at the beginning of 2017 I decided that I'd try to manage both schedules since Ditch gigs were still minimal and only on occasional weekends. The Scrapers keep a pretty full touring schedule so the different schedules have worked out for the most part."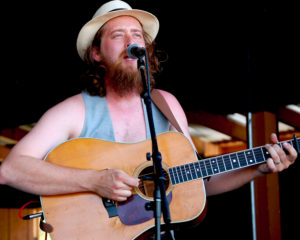 The other three members of the band are original equipment – guitar player and vocalist Andrew Jordan and brothers Derek (banjo/vocals) and Brett (mandolin/vocals) Kretzer. They were there when the band evolved from a bunch of friends who gathered every Sunday to jam at a buddies farm.
Since that start in 2014, The Plate Scrapers have been busy. They have released two live albums and two studio efforts, they've toured 15 states and received airplay on major bluegrass radio stations, including WAMU Bluegrass Country.
The band expects 2018 to be a very busy year. But first they will close out 2017 with a show Saturday night at B Chord Brewing in Round Hill, Va., a relatively new brewery and music venue.  They will also ring out the old on New Year's Eve at The Birchmere with Seldom Scene and The Eastman String Band in what is certain to be an outstanding night of bluegrass. Also of note, on January 12 they will be at Union Craft Brewing in Baltimore competing in the Charm City Bluegrass Festival's Battle of the Bands in an effort to gain a spot on the festival's lineup.
ADDITIONAL LINKS
Plate Scrapers on Facebook
Plate Scrapers on You Tube
Plate Scrapers on Instagram
Plate Scrapers on Twitter
Plate Scrapers on Bandcamp