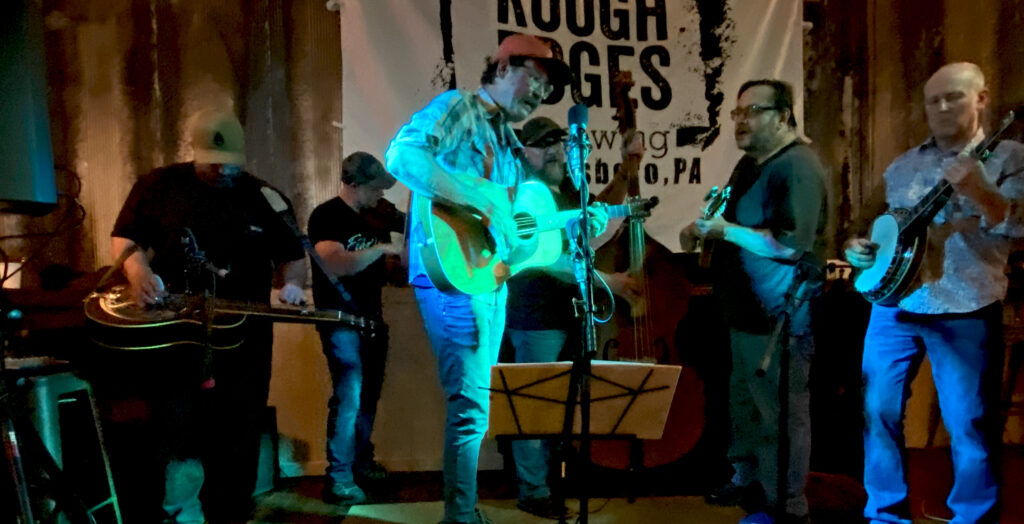 Waynesboro, Pa. Has long been bluegrass country. It's the kind of place where you can walk into the local hardware store — Beck and Benedict's —  and buy a vintage banjo, or at least you could until the age and the pandemic conspired to force Dick and Delia Boschert to close the store's doors.
We didn't discover the hardware store jams until the business had moved to a new location, but the original location was in the heart of Waynesboro's downtown. Matter of fact, it was right cross the street from the Waynesburg News Agency.
The old News Agency's space is Rough Edges Brewing these days, a newish craft beer joint that is contributing to what seems to be a renaissance in Waynesboro's downtown. And Saturday night they brought bluegrass back downtown, hosting local boys FrankCo Penn.
FrankCo Penn is short for Franklin County, Pennsylvania. It's the county Waynesboro is in and it's sort of the geo-center for the band, all of whom live in the county or a short dash away. Suffice to say they are all close enough to have started getting together a few times a month just to jam.
It's a bunch of the region's top pickers, guys who play in other bands, getting together socially, just them, their instruments, and perhaps some refreshments. Or at least it was until a few months ago when they played out together for the first time.
This was their second time out together. So we cannot say we were there for the birth of the band, but if they decide to get serious about this little side project, it's not hard to imagine the day soon at some festival telling the dude beside you how the first time you saw them was in a place so small that we were not just in the first row, we were in the only row.
Our decision to get there way too early was fortunate. The band plays unplugged around a few mics. Their two small speakers were challenged all evening by the chatter from the folks at the tables towards the front of the long narrow space. Rough Edges makes decent beers and is a friendly type of place. But it's geometry makes it a tough room for music.
Lucky for us, we were able to snare two of what were just a handful of prime seats in between the band speakers. That enabled us to fully enjoy the band's acoustic picking.
Most of their two-hour set list was made up of covers of traditional classics — the sort of stuff you might expect to hear if you came across these same pickers around a festival campfire. They also dropped in an original written by guitarist/lead vocalist Eric Avey and a grassed up cover of U2's "Still Haven't Found What I'm Looking For."
It was an impressive performance for a bunch of pickers who only get together twice a month. It's hard not to think about where these guys might go if they choose to get more serious about this project. Right now it seems similar to the early years of Songs From the Road Band, when they were just a loose coalition of Ashville pickers who played together when they were not on the road with the regular bands.
FrankCo Penn's banjo picker, Matt Hickman, is a member of Circa Blue. Mandolinist Ron Webb plays with Shade Tree Collective and dobro player T.J. Enderlein plays mandolin for Seldom Said No. Bassist John "Johnny Calimari" Lanehart, whose recent move back to Waynesburg from Johnson City, Tn. was one of the catalysts for the jams, is an in-demand sideman who keeps a busy schedule all over the place. Avey has been playing bass for the Tanner & Crow Project and with alt-country band Rowdy Acres. Fiddler Brandon Michaels plays with the Back Creek Valley Boys. So who knows how much they have to commit to FrankCo Penn?
For now, plans are limited. "We're just picking for fun," says Avey, who hosts their get togethers. "I wanted a high-level jam to host at the house and these guys all said yes."
Will they someday evolve the way SFTR did, into a full time project? It is way too soon to know. Avey says these first two gigs came about sort of by accident. They do now have stickers and are planning to play a few more shows this year, preferably somewhere that offers more of a listening room atmosphere for their acoustic style. For now, though, you're more likely to find FrankCo Penn on YouTube than live. Avey likes to play with his new recording gear when the boys come over.
"(Recording) is my focus more than anything. I love having a group of talented pickers to share tunes with," Avey says. "We share a jar and pick as many as we can in a few hours and then I have fun mixing the sessions. It's like a recording session every time."
No additional dates are scheduled yet, but Scott Wehrly was at Saturday night's show to check them out. Duly impressed he extended an invite FrankCo Penn to play a show at Wehrly's Auction House as a special addition to this year's Pickin' and Biddin' concert series.
We'll let you know if they can make that work. Sure hoping they do.
(UPDATE: 4-6-23 — FrankCo Penn at Wehrly's Auction House, Sunday, April 30, 1:30 pm)