Rich Winkleman has done it again folks. You might recall back in May Winkleman's response to some covid related late holes in the lineup for the 82nd edition of the Gettysburg Bluegrass Festival by filling those holes with a host of delightful surprises.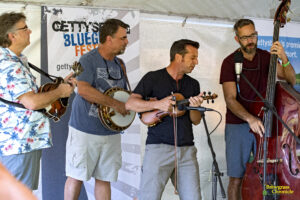 Thursday he did it again. Needing to fill a slot in the workshops part of the schedule for the August edition of Gettysburg, Winkleman somehow talked the four Travelin' McCourys who were on hand in Del McCoury Band mode to play an hour-long set, billed as a jam, in the workshop tent.
How much of a surprise was it? Fiddle player Jason Carter, who arrived by himself ahead of the rest of the band, laughed when somebody backstage asked him about it, saying, "Yeah, I just heard about that when I got here."
The session sort of flew under the radar. Most of the crowd on hand for the opening day of the festival probably never even saw the late addition to the workshop schedule. It wasn't added to the schedule posted on the web site until Wednesday night.
But the 100 or so folks who heard about it and took the walk down the hill and across a small creek to the workshop tent were rewarded with a very special treat.
Playing as a quartet (Travelins guitarist Cody Kilby didn't make the trip because the festival was a Del McCoury Band gig and Del handles DMB guitar duties himself), they ripped through a tight set filled with familiar favorites and a few tunes we'd not heard them play before.
Before the set, Ronnie McCoury sounded apprehensive, telling us he was not sure what it was going to be like without a guitar in the mix. Suffice to say any worries were unfounded. The four guys were in prime form, gathered around a single condenser mic for as fine an unplugged set of music as you will find.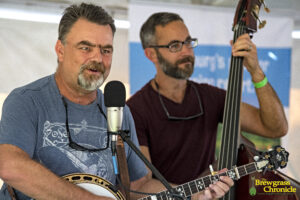 Among the highlights of a set with no lowlights, a fun cover of Tom T. Hall's "I Like Beer" that came as a response to a "Let Rob sing" shoutout when they asked for requests.
The workshop tent came during what was listed as the "dinner break" on the main stage schedule and served as a tasty appetizer for what was to come later in the evening when Del took the stage as the day's headliner.
It was a homecoming of sorts for Del and the boys. Natives of the next county over, where Del still owns a home, the McCourys have a long history with the Gettysburg festival. Del played there early in his career and has returned often over the years. Ronnie and Rob tell stories of coming to Gettysburg when they were teenagers, where they both enjoyed chasing girls (though Ronnie claims he was the only one who caught any of them).
Bassist Alan Bartram, who also is a Pennsylvania native, also spent a lot of time at the Gettysburg festivals growing up.
Being back home seemed to give Del, and the band, a little special charge of extra energy. No doubt it probably had something to do with playing in front of not just the usual enthusiastic crowd of McCoury fans, but a host of personal friends and family members who were on hand.
That energy was particularly on display when Ronnie ripped through "Baltimore Johnny," a song he wrote for former Del McCoury Band fiddler Jon Glick and a request from his Uncle Laverne, who is married to Del's sister.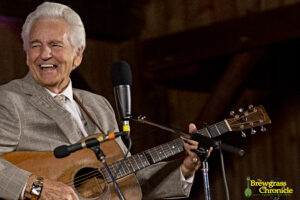 Del, too, seemed in high spirits. His usual Cheshire Cat grin was on display even more than usual and he was obviously having a fine time as he engaged in his typical banter with the audience, especially with a crew of extra enthusiastic folks on the left side of the stage that included those family members.
As usual, there was no predetermined setlist. Also as usual, Del took lots of requests. The result was a stellar mix of the usual jukebox favorites such as "Vincent Black Lightning", "Nashville Cats", and "All Aboard", and a number of great "deep cuts" like you might expect when the requests are coming from an audience that no doubt included folks who have been fans for decades.
Among the treats were "Blackjack County Chains," from the 1996 Cold Hard Facts album, and "40 Acres and a Fool," off the 2008 Del McCoury and Friends compilation LP "Moneyland."
Del paid tribute to his old boss Bill Monroe, covering Monroe's "Footprints in the Snow," a song introduced by the story of how Del had to play the song every night when he was a member of Monroe's bluegrass boys (though Monroe himself handled lead vocals back then).
Also special was a stripped down rendition of "Working on a Building," with Del's guitar and Ronnie's mandolin serving as the only instrumentation and Jason Carter and Bartram contributing harmony vocals.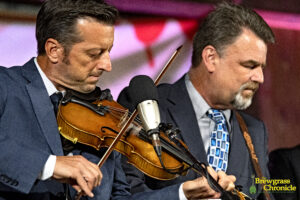 At 83, Del's voice remains amazingly strong. He still sings all the high lonesome tenor parts without even a hint of ever cracking. About the only time he showed his age came when he struggled to remember the lyrics in the middle of the murder ballad "Henry Walker."
He took the brief memory lapse in stride, smiling that awe shucks grin and laughing about it as Ronnie and Alan tried whispering the next verse to help. And after playing once through the instrumental part of that verse, Del recovered and finished strong, bringing perhaps the biggest ovation of the night from the appreciative audience.
The crowd was later rewarded in turn with a two-song encore featuring "White House Blues" and another murder ballad (by request) — "Eli Renfro" — both off the 2001 "My Dixie Home" album.
All in all it was an incredible opening evening, one that will be tough for the rest of the festival to follow.
• Photos from Thursday at the 83rd Gettysburg Bluegrass Festival