We are always hesitant when we write about an event like Smoked Country Jam, the amazing little "roots to branches" bluegrass festival held each year near Cross Forks in the northern mountains part of Pennsylvania known as the "Pennsylvania Wilds."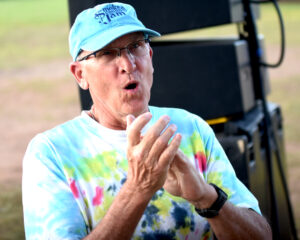 SCJ, which kicks off Thursday, is a relatively closely held secret as top notch bluegrass festivals go. That is sort of a part of its charm. It's not just that smug satisfaction that some folks take from being in on a really cool secret.
We want the bands who appear there to play before enthusiastic audiences. We want the festival, which benefits the Lupus Foundation of America, to continue the sort of success that has helped it raise more than $35,000 for the cause.
Still, it's like knowing a really good fishing hole. You can't help but worry that if you tell too many folks the next thing you know you can't cast a line without snagging another angler.
Smoked Country Jam is a place to get your fill of superb music (40-plus hours of it) and to discover new, upcoming bands (more than 20 artists this year).
"We have 12 new bands this year,"  says promoter Ron Kodish, who spends much of the rest of the year scouting for new acts for the next SCJ. "I don't want our festival to be the same festival everybody else holds. My goal is to always keep it fresh. We don't have the same 10 songs played by the same seven bands."
It is also a place so small and friendly that it is not uncommon to actually get a chance to get to know the artists who perform.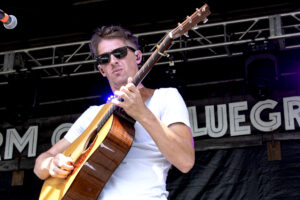 Just ask the Dottie Bolton, who happened to be camped next to the father and uncle of Fireside Collective guitarist Joe Cicero at last year's SCJ. Cicero stopped by late one night after the band had performed earlier and mentioned that he was hungry.
Bolton offered to heat up some leftover pasta and the next thing she knew Cicero had called over the entire band and they jammed by the camp fire into the wee hours of the morning.
That sort of thing is not out of the ordinary at Smoked Country Jam, where many of the artists camp right with the fans and often join in the camp picking that goes on all night after the schedule on the stage concludes. It's the sort of thing that makes the SCJ experience special.
Fireside Collective, by the way, will be back again this year. The Asheville, N.C. based quintet first appeared at SCJ in 2019. Relative unknowns who got an early slot on the lineup, they quickly won over the crowd, bringing subsequent bookings at other Northcentral Pa. venues.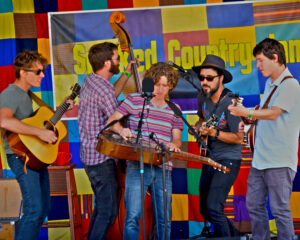 This year, the band, which has exploded on to the festival circuit with bookings at such prominent events as Merlefest, Northwest String Summit, and DelFest, will headline the festival, playing three sets, including closing out both Friday's and Saturday's slate on the main stage.
"It feels incredible to start out at a place and the next time back your sets are fully attended. It means the world to us," says Fireside mandolin player and singer Jesse Iaquinto, who just happened to grow up not too far away in Wellsboro.
Iaquinto says the band enjoys attending SCJ almost as much as it enjoys playing it. "Ron (Kodish) is always scouting new bands and puts together a great lineup. It's gorgeous there. The night sky is amazing. It's a great place for a festival and Ron always does a great job."
The festival, which began in 2004 on a farm near McElhattan, has twice been forced to move because it outgrew its location. It has been at Quiet Oaks since 2011. Last year SCJ drew a record 2,000 people. Kodish is hoping for 2,500 or more this year.
The growth won't be any problem. It will take a while to outgrow Quiet Oaks' spacious 100 acres of field and woods. It's why we figured it's okay to let the secret out. This is one of the best festivals around.
The setting, about an hour northwest of Lock Haven, is a big part of what makes this such a stellar festival. Yes, as we mentioned, the music is always first rate. With Kodish's emphasis on up and coming groups, this is where you will some day remember having seen your favorites for the first time. If you've been a regular attendee, you have lots of "I saw them when" stories.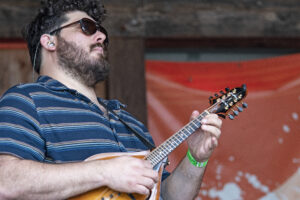 That, though, is not really different than a lot of festivals. Quiet Oaks, and the drive there, is. In the middle of the part of Pennsylvania tourism folks have dubbed the "Wilds," It's not the end of the world. But if you go to the top of the hill you can see it from there.
In mid June, the drive up the Susquehanna Valley from Lock Haven is beautiful. You pass through seen-its-better-days Renovo and leave civilization behind. As you climb Route 144 towards Cross Forks you go deeper into the forest it's not just psychological — the air really is clearer.
Deer sightings are common, and a good reason to camp at the festival rather than hazard a collision leaving at night. Besides, at night, the absence of nearby towns results in some fo the darkest skies east of the Mississippi, adding stargazing to the music when the sun goes down.
It's so beautiful that members of the band Colebrook Road, and their families, went there to camp and camp fire pick in June 2020 when SCJ was cancelled due to the pandemic.
"It is sort of like a second home for us," says Colebrook mandolin player Wade Brooks Yankey. "It is such a beautiful place and everybody is super friendly."
Smoked Country Jam was the first festival Colebrook Road ever played. The 2020 IBMA Momentum Band of the Year nominees have played a SCJ every year since and will appear again this year.
"We always hope Telluride is going to call," laughed Yankey, referring to the big time bluegrass festival held at the Colorado ski resort the same weekend each year. "until they call, though, we'll be at Smoked Country Jam."
Advance tickets for Smoked Country Jam are available online. In addition to full festival passes, two-day Friday-Saturday passes and single day tickets are available. All multi-day passes include camping. Single day ticket holders must leave the festival grounds after the last set of the evening.