It will be all things Keel Saturday night at B Chord Brewing Company in Round Hill, Va., when Larry and Jenny Keel present a special triple set show. The show will open with Larry doing a solo set of his own material. Expect the set to include a lot of stuff from his most recent release, the solo American Dream project.
"It will be sort of a unique thing playing solo like that," says Keel. " I don't do that very much."
The second set will be Larry and Jenny as a duet, "harmonizing and doing old stuff," Larry says.
Set three will feature the full Larry Keel Experience, with special guests expected to sit in.
"It's sort of like Cincinnati chili five ways," laughs Jenny Keel, "I call it Keel three ways."
In addition to the music, the Keels are bringing along four exhibitors from companies in Virginia's burgeoning cannabis industry. Currently medical marijuana is available in the state. Recreational pot sales are scheduled to begin in 2024.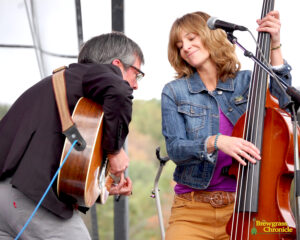 "We're excited to celebrate this new, growing industry in Virginia," says Jenny.
The menage-et-Keels will cap off a busy day at the Loudon County brewery. Earlier they will host the Round Hill Appalachian Trail Festival, which will feature food and exhibitors in addition to the venue's trademark brews and tunes.
Music in the afternoon will in clued Fiddling Dave and Morgan at noon, The Fly Birds at 3, and Frank Solivan and Jillian Lea at 4 p.m. B Chord's Marty Dougherty has also said they will be releasing a special version of Split Beard Double IPA for the Keel show, which gets started at 7 p.m.