It's hard to think of a more apt description of Del McCoury than the title of his latest album, "Almost Proud," due out February 18. At the age of 83, this is McCoury's 17th album with the Del McCoury Band, which since the 1980s has included his two sons.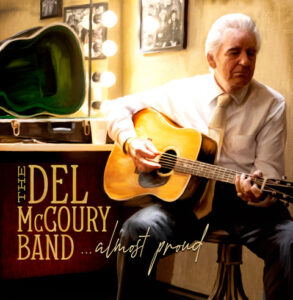 McCoury, of course, has plenty to be proud of. He's a nine-time winner of the IBMA's Entertainer of the Year award. Four times he has won IBMA Male Vocalist of the Year. He's been nominated for 14 Grammy Awards, won four. Yet it would not be hard to imagine McCoury taking a humble, blushing, awe shucks type reaction to the type of praise this album is about to get.
That is just the style of a guy who left Bill Monroe's Bluegrass Boys to be home while his sons were young, spending several years cutting lumber and playing on the weekends before returning to music full time when they were older. Despite being a Hall of Famer, and host of his own highly successful festival, McCoury remains the sort of gracious, self-effacing guy who grew up on a farm in York County, Pa. He's a guy who, as he sings on the album's penultimate song "Workin' Man Wages," still sometimes can't believe they're paying him to pick guitar.
If you include ones he did with his old Dixie Pals band, and seven solo albums, this is McCoury's 30th LP. So it's probably not a surprise that he has once again turned out a stellar effort. It's his first since 2017's "Del McCoury Still Sings Bluegrass" and follows a similar formula with a mix of well curated songs by a stellar collection of writers, a couple of reworked covers, and two McCoury originals, one of which was started 15 years ago.
"This album is the best of what I heard while the world was on pause," says McCoury.
That old, previously unfinished song, "Running Wild," is a good example of how the pandemic played a role in this album. Typically Del's son Ronnie, who also plays mandolin in the band, screens the plethora of songs sent to his father and takes him a pared down selection to consider.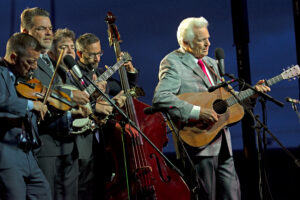 With extra time on their hands while the band was off the road, that process resulted in Del listening to more than 200 songs, including some, like "Running Wild," Ronnie found in a box of unfinished demos from 15 years ago.
It's a rollicking bluegrass burner that clocks in at 2:22 and in that brief time introduces everything that makes the Del McCoury band special — outstanding picking, tight production, Del's high lonesome tenor voice, and incredible harmonies from Ronnie, and fiddler Jason Carter singing baritone.
The album includes an appearance by Vince Gill, who sings the high parts on "Honky Tonk Nights," one of the three classic, drunk-and-heartbroken, torch songs in the middle of the album. And Mountain Heart's Josh Shilling, who chipped in with some piano on McCoury's last album, is back again. Shilling's ivories add a bluesy, honky tonk feel to "Once Again," a song Shilling wrote with Bill Whyte, and a bounce to the gospel-tinged closer, "Other Shore."
Perhaps the highlight of the album is "Sid," a murder ballad based on the true story of a West Virginia sheriff who was later gunned down by the coal mine company's detectives after standing on the side of the miners that showcases McCoury's talents as a storyteller.
Throughout the album, Del's still amazing, who-can-believe-he-is-83 voice rings as strong and clear as it did when he cut his first album in 1968. And as you'd expect from a band that consists entirely of musicians who have all won IBMA honors on their respective instruments at least once, the picking is superb throughout.
In all it's everything you'd expect from Del McCoury, who shows no signs of slowing down as he enters his sixth decade of performing. Matter of fact, with so much time on his hands to curate his newest collection of songs, rumor has it there are enough left over for the likely release of a second volume from these sessions in the future. If it is anywhere close to as good as this effort, we cannot wait.
"Almost Proud" can be sampled and preordered at https://ffm.to/almostproud.