This is not the review we planned to write as we schemed over a plate of oysters and a beer while listening to Mile Twelve's second set Saturday night at the Sultana Downrigging Festival.
In our notebook we jotted down things like "emphasize all the bad things" and "play up the flooding." "Emphasize the weather . . . High and Wides talked about playing here in a hurricane before" we noted. "line at beer stand between acts pretty long."
And this, the giveaway about what was going through our minds during that last hour of the festival, when we sat down the camera and just enjoyed the evening like any other of the folks hanging out and digging the music in the shadows of the masts of a gathering of tall ships along the Chester River, just off the Chesapeake Bay. While reflecting on what had been a great weekend despite lost car keys, a dead battery, and a few inches of rain on Saturday, we wrote: "It's like a good fishing hole. Keep the secret close. Don't want it to get overrun."
Of course we couldn't follow through with that plan. Wouldn't be fair to the folks who run the festival and it wouldn't be telling the truth. See, despite the risk word might spread and it lose its intimate charm, there is no way we could write a bad review of what was a great weekend in historic Chestertown, Md.
It did rain. In buckets. That is no lie. We lost our car keys (thankfully, we had a spare) and had to replace a dead battery. We had no data service (thanks AT&T) at the venue. Couldn't even send a text message, much less upload photos or stream some live music. None of that managed to harsh the weekend's buzz.
That, in a nutshell, is all you need to know about the Sultana Downrigging Festival. This is a cool AF little festy that, at least this weekend, is the perfect size. Announced attendance for the weekend was 3,500. But that included folks who only came to see, or sail on, the tall ships or who came to the waterfront Saturday night for the fireworks.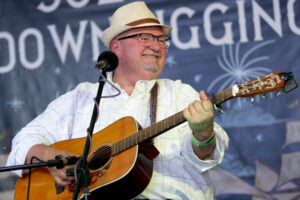 This is not DelFest, GreyFox, or even something smaller like one of the Charm City events. This is, on scale, more attune to your local volunteer fireman's carnival, if your local firemen booked some of the region's top emerging artists. Oh, and for good measure, throw in local boy Danny Paisley, who just happens to be the IBMA Male Vocalist of the Year.
The venue is perfect for the event. It is held in the parking lot of the local marina which happens to be where the Foundation keeps it's namesake schooner, SULTANA. It's a deep enough water port for the visiting tall ships to dock, just off the Chesapeake Bay. The marina docks are also ideal for hosting the fleet of vintage wooden boats on display for the event.
Given the iffy climatology for Chestertown, Md. this time of the year, the organizers wisely held the music part of the event under a large, L-shaped tent that comfortably held the stage and seating area as well as room for the food vendors.
The tent was a godsend Friday when a big storm system swept through with rains that were torrential at times. We couldn't help feeling a little smug about our decision to choose this over another outdoor event as we sat sheltered, dry and relatively warm for an evening of fine bluegrass that included a scorching hot set by The Jakobs Ferry Stragglers, a fun discovery of Kid Davis and Company, and a chance to hear an amazing 13-year-old fiddle prodigy.
Friday's weather did shutdown all the tall ship related activities at the event and forced the fireworks to be postponed until Saturday. But it did nothing to dampen the music.
Saturday the skies cleared, allowing organizers to take down two of the sides of the tent, opening it up onto a dockside area with tables, Adirondack chairs, fire pits, and a view of the tall ship festivities. Those who wanted to, and bought the sold out tickets in advance, could go for a cruise on one of the five tall ships gathered for the event. When they were docked, the ships were open to tour.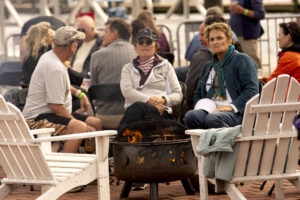 Not everybody was there for the music. On Saturday, those dockside tables and chairs were full of what appeared to be people who were there for the "social event" benefitting the Foundation, which provides educational programming about the Bay's history, culture, and environment. Having those outside areas for those for whom the music was just a background also helped reduce the chatter level significantly.
The lineup Saturday was outstanding. The High and Wides, local fellas and last minute additions when another artist canceled, opened, followed by the ladies of Wicked Sycamore, who were resplendent in matching skeleton regalia for the holiday. Danny Paisley and Southern Grass, Colebrook Road, and MileTwelve wrapped up the afternoon festivities.
The latter three had reprise sets in the evening, along with an appearance by the always enjoyable U.S. Navy bluegrass band, Country Current.
Our only real complaint was with the weather. It didn't interfere with the music, but it did cause the tall ships related portion to be condensed. We'd planned to check out the tall ships early on Friday, before the music started. With no nautical activity on Friday before the music started, we ended up having to miss a little of the music in order to photograph the ships as they sailed to and from the Chesapeake on Saturday.
That certainly was not the organizers fault. It rained steadily all day Friday and at times the rain fell so hard it seemed like there was a small stream running through the music tent. They did take an extended break between Country Current's set and Mile Twelve's set that wrapped up the music so fans could catch the fireworks.
FESTIVAL NOTEBOOK
NEW KIDS IN TOWN — It's only been three weeks since Ella Jordan and Korey Brodsky joined Mile Twelve, but you'd hardly know that almost half of the band was new if you heard them last weekend at the Sultana Downrigging Festival. In fact, about the only audible clues were the comments made during band introductions and Jordan's distinct vocals on a cover of the Ernest Tubbs classic "Waling the Floor Over You."
That is saying a lot considering the level of talent they are replacing. Jordan is tasked with filling the shoes of IBMA fiddler of the year Bronwyn Keith-Hynes while Brodsky takes over on mandolin for David Benedict.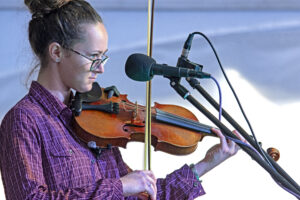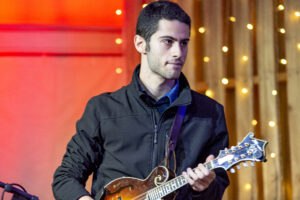 When Keith-Hynes and Benedict informed the band in September they were leaving, they agreed to stay on until replacements were found. That didn't take long and the Boston based didn't have to go far. Both Jordan, a Texas native, and native New Englander Brodsky are recent graduates of the Berklee College of Music in Boston. That is the same school bassist Nathaniel Sabat and Keith-Hynes graduated from. Berklee's American Roots program has been a breeding ground for topflight bluegrass performers. According the guitarist Evan Murphy, the band was familiar with Jordan and Brodsky from the legendary jam sessions at Boston's Cantab Lounge.
In addition to having to learn a lot of new songs written by Murphy and Sabat that have not yet been recorded, the new kids have been busy learning a significant chunk of the band's past catalogue. They have also contributed a few new songs to the band's repertoire.
The band played a lot of that new material during its first set Saturday. Murphy says much of what they played is likely to end up on the band's next album. Murphy is uncertain when they will get in the studio.Mile Twelve will be in New York state for a three-day run this weekend and has a Thanksgiving weekend festival in Florida. Then they will be off December and January before hitting the road again in February.
FIDDLIN' PHENOM — Remember this name — Fiddlin' Willie Marschner. When Willie took the stage Friday night with Tom Mindte and Friends, it looked like one of the guys had brought his grandkid along. Then Willie, age 13, got out his fiddle, rosined up his bow, and completely stole the show.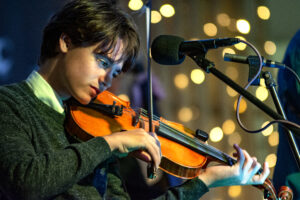 Marschner was easily the most talented musician on the stage, which is saying something because he was playing with a lot of veteran pickers from the D.C. bluegrass scene. most of them three or four times his age.
While he was new to us, it was obvious he was well known to the other regional musicians. In fact, when Vince Forcier, bass player and vocalist for No Part of Nothin', the last band of the night, saw Marschner he invited him to sit in on a song during No Part's set.
Rather than wait until well into the set like most sit-ins, Forcier invited Willie up for the very first song of the set. "Maybe that is so he can get home by bedtime," joked one person seated near us.
When we caught up with Willie backstage, he didn't tell us he actually has his own band or that they released an album last year. We jokingly asked if he would be a freshman at Berklee next year. He laughed.
On a more serious note we asked if he wanted to be a professional musician when he "grows up?" Did he have "career plans." His answer: "I'll find out."
HOMETOWN HEROES — The High and Wides were not supposed to be here. Matter of fact they had another gig Saturday. But when one of the originally scheduled acts had to cancel, the band, which has deep roots in Chestertown, stepped up to fill in before scurrying to that later appearance.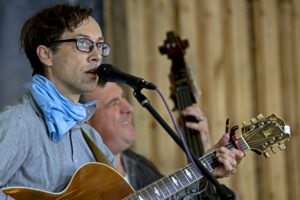 It's unusual for The High and Wides to have such an early time slot here. The band was formed on the Eastern Shore. Banjo picker Sam Guthridge went to school in Chestertown at Washington College. Guitar player Marc Dykeman works in fundraising at the school. Fiddler Nate Grower is from nearby Delaware.
Suffice to say The High and Wides are popular in Chestertown. Matter of fact, the marquee on the theater downtown still bore their name from their show there the previous week. And even though the printed schedules at the vent still listed the canceled artist's name, word obviously spread that the band would be filling that slot. It is rare an early set at a festival draws a near full house.
If you have not seen The High and Wides, you owe it to yourself to make that effort. They are a band with a unique, hard to describe sound of their own. It's not progressive, it's not traditional. That is to say it is not Bill Monroe purist traditional. In fact, the way they mix in elements of Old Tyme, the style is almost neo-traditional.
In addition to their own unique writing styles, The High and Wides' unique sound is due, at least in part, to Dykeman's unusual guitar setup. While most bluegrass guitar players play flat top guitars, Dykeman does his picking on a 1950 Epiphone Triumph archtop.
Archtops are built to project sound, They were especially popular back before amplification because they allowed the guitar to be loud enough to compete with the fiddle, mandolin, and banjo for the listener's attention. Dykeman's sound is enhanced by an unorthodox looking microphone system he uses to amplify his guitar. 
"I don't like pickups," explains Dykeman, saying it is hard for a pickup on a guitar to properly compete with the loudness of a fiddle. "And I don't like the way most microphones sound."
Dykeman had some microphones he uses in his home recording studio that he really likes the sound of. Rigging one up to capture the sound of his guitar proved challenging.
"It is hard to find a clip that will hold a full size mic," Dykeman said. The solution, unorthodox looking as it is, came from an online supplier who carries rigs for micing guitars and other instruments. "I know it looks half-assed, but it is not."  
ANOTHER KID — How often do you get to a festival a little late, figuring no worries if you miss an early act you never heard of? It's not intentional. It's just that sometimes if you are running late and about to see a few days full of music, it can be tough to summon any urgency.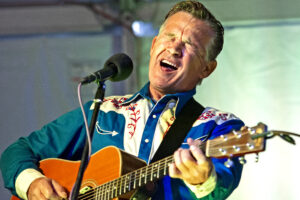 Thankfully that was not the case on Friday evening. Not certain about the venue, and having scouted the very limited parking before checking in at our hotel, we headed to the waterfront area early. Our reward was great parking, front row seats, and a chance to enjoy Kid Davis and Company, who turned out to be our favorite new "discovery" at Sultana.
The quartet included Michael "Kid" Davis on vocals and guitar, with Bobby Bloomingdale on bass, local youngster Frank Cantera on the snare drum, and a very talented multi-instrumentalist whose name we did not catch.
We don't usually worry in those situations because we figure we can get the name, and proper spelling, from the band's web site or social media. But no such luck. We could not find any such page. Best we can tell this is an occasional side project for Davis, a Wilmington, Del. resident who fronts a popular Delaware rockabilly band called Kid Davis and the Bullets.
Too bad. They turned in a fine set that included a fun cover of the Sons of the Pioneers' 1934 cowboy classic "Tumbling Tumbleweed," with Bloomingdale, who is also in Davis' rockabilly outfit, on vocals. Davis also did a rollicking bluegrass cover of Pink Floyd's "Wish You Were Here."
BUST OUT THE BASS — Feel the need to make mention of a pretty cool bass break during Colebrook Road's second set. It came in the bluesy Joe McAnulty penned tune "Days in the Nighttime," right where we suggested it should in our review of Colebrook's fine newish album, "Hindsight is 2020."
We'd suggested the bass solo in our review because we found ourselves almost hypnotized by bassist Jeff Campbell's bass rift throughout that song on the album. It seemed so natural that he should get a break in that song that we thought maybe we'd heard it that way in a live show.
Campbell said after the set that he was a little nervous beforehand knowing that Mile Twelve's outstanding bass man Nathaniel Sabat was in the house. No worries. He nailed it, and the crowd's ovation echoed that sentiment.
SAVE THE DATE — The 2022 edition of Sultana will be held October 28-30.