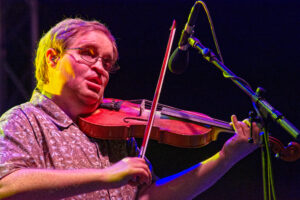 Mother nature giveth. Mother nature taketh away. That, in a nutshell, is the story of last weekend's Charm City Bluegrass Fall Throwdown.
After a Friday that was just ideal for outdoor music, and a similar start to Saturday's festivities, a cold front and a line of storms passed through the Baltimore area that changed everything.
What followed was a lesson, or at least a reminder of the seasonality of, and the fragility of being able to depend on the great outdoors to help keep us safe during this never ending shitstorm.
Most of Saturday's lineup ended up being shifted inside to the bar area at Key Brewing. Around 3 p.m., right on time according to the National Weather Service prognosticators who are never wrong when you want them to be, the winds began to howl and rain began to fall.
Two of the next three bands played indoors. Saturday headliner David Bromberg's set was moved inside, too. For that reason, we can't really say anything about their sets. At 65, with other risk factors, and still a week or two from Moderna booster availability, we opted to ride out the rain in the car in the afternoon and then headed north before Bromberg's set.
That in no way is intended as a criticism of the festival or the scheduling decisions Phil Chorney and his staff at Charm City Bluegrass made. The afternoon sets inside were during driving rain outside. The only other choice would have been to cancel those bands' sets, which would not be fair to the bands or the fans who were up for indoors.
If the windblown Wildmans set, where the wind actually made it tough at times to hear some of their more mellow acoustic melodies, was not proof enough that outdoors was not a suitable option at that point, then surely the Mile Twelve set was.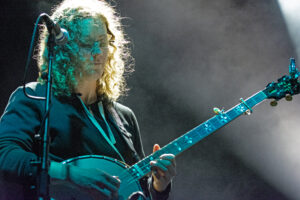 It was a fine set, but one played under trying, at best, conditions, between the cold, the wind, and the raw dampness. The weather didn't make it a lot of fun for the audience, either.
So it was the right move to go indoors, even if it was not the right move for us, individually.
We don't bring it up as a complaint, but as a cautionary tale. Here in the Northeast we are about through with outdoor music season. Oh, we'll hit a weekend or three with unseasonably kind weather that would be ideal for an outdoor afternoon of music. But it will be local, sort of impromptu opportunities at breweries and vineyards where advance tickets are not needed.
Even down in Round Hill, Va., with B Chord's vaunted fire pits, it would be a leap of faith to buy tickets beyond Railroad Earth's Halloween run.
With that in mind, personally we are going to look at the Fall Throwdown as half full, not half empty. We didn't hear the indoor music, so we cannot comment on it other than to say that we have not heard anything negative from anybody who was inside.
And rather than focus on a bad weather day (which when you think of it, it was still a damned good day . . . after all, we saw The Wildmans, Seldom Said No, and Mile Twelve) we prefer to focus on what may have been the last good outdoor festival day in our region.
Friday was nonstop great bluegrass. We are including Chatham County Line even if they have a drummer. It was the first time we'd seen Jakob's Ferry Stragglers live since the start of the pandemic and we were not disappointed. The time off the road seems to have given them a new energy. Like Chatham County Line, it was our first time to hear The Old Part of Town. They too had a percussionist. We hold it against neither. They were fun "discoveries."
Then there was Michael Cleveland, who, if he is not the best fiddler out there is certainly in the top five. Cleveland had been off the past month or so playing on Bela Fleck's tour. It was the band's first show back together after that break and they played like they were happy to be reunited.
Colebrook Road rounded out the day with an extended set featuring music from their soon to be released new album.
All in all, it was another outstanding event by the folks at Charm City, who knock it out of the park every (non covid) spring with their festival in Baltimore's Druid Hill Park. We look forward to gathering there come April.