There was an interesting theme Thursday at the 81st Gettysburg Bluegrass Festival, one that bodes promising for the kids who are taking part in the festival's bluegrass academy this weekend.
The two bands that bookended Thursday's lineup were both bands with sort of roots at the Gettysburg festival. Members of Serene Green, which was appearing at Gettysburg for the first time, and the Travelin' McCourys, who have graced the Starling Pavilion stage many times, both shared stories on stage about having come to the festival since they were just kids.
Serene Green's Quentin "The Professor" Fisher told the sun-baked (or maybe "steamed' is the better adjective) how SG banjo picker Steve Leonard and bassist Shane McGeehan spent many a weekend of their childhood at Granite Hill Campground attending the festival with their parents.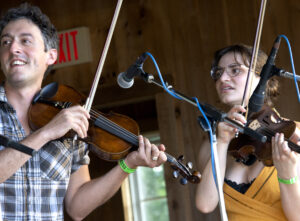 And fiddler Katelynn Casper, who has toured with the band all summer, delayed heading to Boston to start her music education at Berklee to play one more gig with the boys because playing Gettysburg, the festival where she first was introduced to and fell in love with bluegrass, would be a dream come true.
Later that night, Ronnie McCoury told a similar tale about how he, and banjo-picking brother Rob, who were both born one county over in York, Pa., loved camping at the festival when their father, Del, would play there with his old band The Dixie Pals. Those who have heard Ronnie talk about those days before will tell you he left out the part about how they were as interested in chasing girls at the festival as they were in the music back then.
Travelins' bassist Alan Bartram, who was not with the band due to being under the weather, also grew up in Pennsylvania and has shared his childhood Gettysburg festival memories before.
MORE PENNSYLVANIA ROOTS — With Casper heading off to college, another Pennsylvania native is set to take her place, at least temporarily. Fiddler Eric Lee, who has toured with Peter Rowan and most recently has been a member of the Philly-based band Man About a Horse, is joining Serene Green for a five-day southern run that starts in Nashville and ends in Ashville, N.C.
Ironically, Lee who was born in Pa, but now lives in Massachusetts, so he and Casper are trading places in more ways than one. The band introduced Lee during its second set when he joined them on stage for a couple of tunes that featured Lee and Casper on twin fiddles.
LITTLE ROY AND LIZZY TO THE RESCUE — One of the advantages of running a festival for a long time is that you build a pretty solid rolodex. That came in handy for Gettysburg promoter Rich Winkelmann when one of the bands in Thursday's original lineup was forced to cancel at the last minute.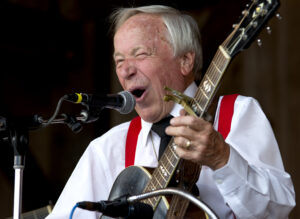 No worries, Little Roy Lewis, and his daughter Lizzy Long, to the rescue. Long said when they got Winkelmann's call, they loaded up and hit the road, driving overnight to get to Gettysburg in time for their Thursday appearance.
For those unfamiliar with the Little Roy and Lizzy Show, they are an extension of the Lewis Family, a legendary family bluegrass gospel act. Roy, now in his 80s, joined the family band when he was 9. Lizzy, 37,  who grew up down the street from Roy and his wife, who became her foster parents, has been touring with Lewis since she was 15. Both are multi-instrumentalists, though Roy mostly plays banjo. Lizzy does most of the singing. Roy tells most of the jokes.
How old school are they? Among the things for sale at their merch table — Little Roy and Lizzy Show pocket knives.
With a fine supporting band that now also includes Rhonda Vincent's daughter, Sally Lea, they are a highly entertaining act with serious old school chops. The addition of Lea, Lizzy's longtime besty, fulfills a dream the two have long had to perform together, says Long. It also adds another strong voice to the vocal harmonies.
If you missed it, you can catch the archive of our stream of their first set here. Lizzy streamed the second set on their YouTube channel.
FAN FRIENDLY —
Josh Ratcliffe was one of the Little Roy and Lizzy Show fans who were happy when they heard the band had been added to the lineup. Ratcliffe, of Salem, Va., used to play banjo in a band that once opened for Little Roy and Lizzy. He'd already bought tickets for his first Gettysburg Bluegrass Festival in many years when he saw Long's Facebook post Wednesday saying they were playing Gettysburg the next day.
"I saw her post and thought 'Wow, that is the festival I am going to," said Ratcliffe.
After the band's first set, Ratcliffe, a banjo picker himself, wondered over to the merch tent to try to say hello to Roy. That opening gig was years ago, so he was a little surprised that Roy remembered him. He was even more surprised when before he knew it he was fetching his 1954 Gibson from his camp site and headed backstage with Lewis to get some tips.
Perched atop a picnic table, Lewis started with some setup tips, but soon fetched his own banjo from a nearby case and it became a little lesson/jam that left Ratcliffe in awe.
"I was surprised he remembered me. I just wanted to say hello. I didn't know it would turn into this," he said, the smile still etched on his face later when he came by to ask where he could find the video we shot of part of that session.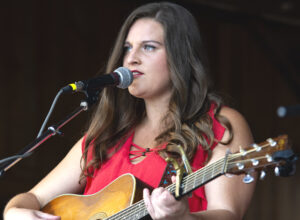 GRANNIE TIME — If things go as Sally Lea has planned, her mother is in for a fun greeting when she takes the stage this afternoon at Gettysburg. Rhonda Vincent, the Queen of Bluegrass, is a Gettysburg festival staple, having played something like 79 of the past 80 festivals. But things are a little different this year.
"My sister just had a baby, so she's a grandmother now," Lea told the crowd. "So you need to be sure to call her Grandma." She even seemed to encourage the crowd to chant "Grandma, Grandma" when her mother takes the stage.
"She has to get used to it," Lea joked with the crowd.
TRAVELIN' LIGHT — The Travelin' McCourys never cease to amaze and Thursday night's headliner set at Gettysburg was no exception. The band rolled into Gettysburg just an hour or two before their set, having driven straight through from Nashville.
There was no tour bus, and no trailer filled with gear; no roadies or big crew. They showed up backstage near the end of Blue Highway's set carrying their instruments and gear, walked on stage, did about a 5-minute soundcheck, and launched into their set.
It was odd not seeing Bartram come out to do a check on all the band's mics the way he typically does. But two-time IBMA Bass Player of the Year Mark Schatz filled in admirably on the bass. And while Bartram's vocals were noticeably absent with a set list absent any songs he sings lead on and his baritone missing from choruses where there is usually three-part harmony.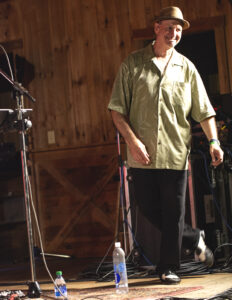 But Schatz, aided by a notebook full of sheet music perched on a stand, didn't miss a beat on the bass, even pitching in with a dandy solo at one point. For bonus points he even danced a little, clogging to the first of the band's two encore numbers, Sawing On The Strings.
Other highlights of the set included a cover of an old Dave Evans song, "Highway 52", that fiddler Jason Carter has recorded for an in-the-works solo album, and Carter's soulful vocals on "The Bonnie Lass o' Fyvie," a traditional Scottish folk song better known as "Peggy-O", which is what The Grateful Dead called it when they performed it. (As an aside, have you ever noticed how many Dead fans don't realize how many songs they give the band credit for that are actually traditional numbers they covered.)
Carter also provided evidence of just how nimble the Travelins are when he came right out of a cover of John Hartford's "Natural To Be Gone" with the fiddle riff from "Back In The Good Old Days" and proceeded to go straight into the tune, which apparently was not on the setlist.
No worries. Pros that they are, the rest of the band took Carter's curveball and knocked it into the cornfield.
FRIDAY FUNDAY — Today's schedule kicks off at noon with Unspoken Tradition, followed by a stellar lineup of Darin and Brooke Aldridge, Rhonda Vincent and the Rage, Russell Moore and IIIrd Tyme Out, and Frank Solivan and Dirty Kitchen.
Local favorites Colebrook Road will play a showcase in the workshop tent at 2:30, then will take the main stage at 5 p.m., followed by second sets by the rest of the day's lineup, in the same order as the afternoon slate.
FSDK is scheduled to close out the evening with a 10 p.m. set. Given the rural setting of the campground, with no neighbors to annoy, that might just mean Frank and the boys cook up an extra long, extra hot set.
Your best option is to be there in person. Tickets, both for the rest of the weekend and single day, will be available at the door. If you can't make it, be sure to check our Facebook page throughout the day for livestreams, interviews, and photos.