If the people can't come to DelFest, then the McCoury family will bring DelFest to the people. That, in an oversimplified nutshell, is the story of this weekend's DelFest Lite at B Chord Brewing in Round Hill, Va. and a pair of semi-related Del McCoury Band shows.
DelFest, in its full glory, will return to Cumberland, Md. in the fall, its late September dates chosen as an alternative when concerns over the Covid pandemic created too much uncertainty to try pulling off such a large festival on its traditional Memorial Day weekend dates.
Last year, when the event was cancelled completely, festival organizers pulled together archived video of classic DelFest sets from the past to hold a virtual, online gathering. This year they wanted to do more.
Organizers knew B Chord had nothing booked that weekend because B Chord's Marty Dougherty has brought his B Chord Productions crew to Cumberland each year to help produce the  video for the festival's side of the stage DELavision screens. In fact, much of the footage used for last year's virtual event was produced by Dougherty.   So when they started thinking about holding a scaled down version of DelFest, B Chord, with its 10-acre hillside natural amphitheater was the logical venuce.
"We kept the idea of something at B Chord in our back pocket. We knew if we couldn't do DelFest we could do something DelFest-like," says Chris Harris, of Del's team at Rainmaker Music Management. "Part of it is wanting to give the fans something. Part of it is you want to keep the Memorial Day weekend tradition going. And part of it is a little bit selfish. You don't want the fans going and developing other Memorial Day weekend habits."
Dougherty didn't need any convincing. Bringing DelFest Lite to B Chord was just the latest notch on the belt of the Loudon County farm brewery. An indoor hotspot for regional music since it opened, B Chord responded to last year's shutdown by erecting a stage beside their building that became a real hotspot in the Mid-Atlantic region last fall with a series of masked, socially distanced shows that included appearances by both The Del McCoury Band and The Travelin' McCourys.
"We are real familiar with everybody. We are all one big family at DelFest," said Dougherty, who has also brewed a special commemorative DelFest Lite Kolsch for the occasion (more on that in a minute). "We wanted to help continue the tradition of Del McCoury music on Memorial Day weekend."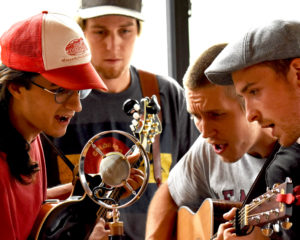 Dougherty said they named the event DelFest Lite because it has all the flavor of DelFest, but the lineup is smaller. So is the crowd. And there is no camping — at least not on the brewery's grounds. Nearby campgrounds will see an influx of music lovers, as will hotels in Leesburg and Winchester
The lineup is made up of acts that have played DelFest, or will. Curating the lineup was a combined effort of B Chord and Del's management folks at Rainmaker.
The event kicks off Friday afternoon, with Serene Green, a band voted in a fan poll as best new act at DelFest 2019, taking the stage at 2 p.m. The Price Sisters and DelFest regulars The Gibson Brothers with Dre Anders are also on the bill supporting Del at B Chord on Friday night.
Saturday, Seldom Scene headlines, with Frank Solivan and Dirty Kitchen, Furnace Mountain Band, and Level Best also appearing.
"We've been wanting to have Seldom Scene here at B Chord for a while and Rainmaker wanted them for DelFest, so it was a good fit," Dougherty said.
Sunday the event wraps up with The Travelin' McCourys headlining a lineup that also includes Americana artist Sierra Ferrell, Asheville boys Fireside Collective, and The Plate Scrapers, another regional band that was a part of DelFest's Bloody Mary series in 2019.
All of the B Chord DelFest Lite shows will be streamed live on DelFest's You Tube page. 
Serene Green will also open for Del on Saturday at the Susquehanna Valley Event Center in Selinsgrove, Pa. The Selinsgrove show is sort of a spin-off event from the B Chord festivities. Owl and Crow — aka JP and Pappy, the Biondo cousins from Cabinet — are also on the Selinsgrove bill.
Del will also head to Cumberland on Monday for a free show for the people of DelFest's host town. That show, which is at 2 p.m. at Canal Place, is intended to give Cumberland's downtown businesses a little shot in the arm since they are missing their traditionally busy DelFest weekend for the second straight year.
"The Cumberland show was Ronnie (McCoury)'s idea," Harris said. "He said 'We can't go that close to Cumberland and not do something for the town.'"
Colebrook Road, a 2020 IBMA Momentum Award nominee, will open Monday's show.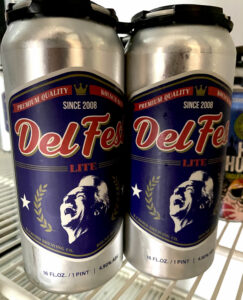 Oh, and about that beer. DelFest Lite is a Kolsch that checks in at 4.9% abv, a style that has not been a part of the B Chord lineup. Marty and his team have developed a reputation for hoppy IPAs and some bigger, maltier offerings.
Those didn't suit the taste of Del's son Rob, who plays banjo in both the Travelins and his dad's band. When they played B Chord in the fall, Rob told Dougherty he needed a lighter beer in the B Chord lineup. So when DelFest Lite, the event, came to be, Dougherty floated the idea.
"The idea was an instant hit with the McCourys," said Dougherty, who has canned the brew with a label that features the iconic "Mt. Delmore" image of Del McCoury that is projected on the bluffs along the Potomac at DelFest.
Harris said one other brewery made a special Del beer for an event one time, but this is the first one has been packaged. B Chord previously has made other beers with music-related names, including Rowan Down The River IPA, Juicy Garcia, G Run Lager, and Oat and In the Way.