Let the record show it was 2 p.m., Eastern Daylight Time, when life as we used to know it took a giant step on its comeback trail when Donna Ulisses and her band took the Sterling Pavilion stage to kick off the long awaited 80th Gettysburg Bluegrass Festival.
It came a year late and not a minute too soon for the smaller than usual, socially distanced, but hyper enthusiastic crowd at Granite Hill Campgrounds. Gathered under a near perfect mix of puffy white clouds and brilliant blue skies, on the afternoon that the CDC announced vaccinated folks no longer need to wear masks, they whooped it up like their team just scored a touchdown every time an artist mentioned how glad they were to play for a live audience after a year of shutdowns and livestreams.
It was a shared enthusiasm. Not that any of the artists that appeared on the first day of the festival ever just mail it in. It just seemed as if they, too, had a lot of pent-up energy and it manifested itself in the form of an afternoon-evening of performances that seemed to have just a little extra something.
It wasn't something you could easily put a finger on. It may not even have been "real." Maybe it was just that everybody was so starved for live music that four guys with kazoos could have gotten a standing ovation. But it felt real, it felt good, and it was one helluva lot of fun. Does anything else matter?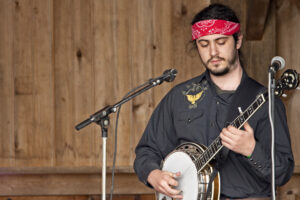 Particularly impressive were the boys from Songs From the Road Band, with new banjo picker Gabe Epstein adding a hard-driving style of picking to what was already a fine band pre-covid.
Before the shitstorm hit last year, SFTRB had been touring as a four-piece outfit since Ryan Cavanaugh had decided to get off the road. There had been a banjo in the band since its early days as a side project by a collective of Ashville pickers who got together from time to time between tours with their "main" bands. Cavanaugh, who was part of the band when it solidified its lineup in 2018 and became a touring band, appears on the band's last two albums.
When Cavanaugh stopped touring with SFTRB, they initially decided to just stay with the remaining guitar-mandolin-fiddle-bass lineup, embracing the opportunity for everybody to stretch out a little and to take more solo breaks.
Epstein first was just a guest artist, sitting in with the band, during what amounted to sort of a try it on to see how it fits period. In February the band announced he would be a permanent addition.
Yesterday at Gettysburg, anybody who had not had a chance to hear the band with Epstein via one of their pandemic livestream shows, or the handful of gigs they played this spring, got to hear why they made him permanent.
Epstein replaces Cavanaugh on stage, but musically he brings a very different style to the five-string that creates a subtle, but significant difference in the band's sound. Cavanaugh, an acknowledged virtuoso, is sort of a Bela Fleck protege. His style is more eclectic, incorporating jazz and other diverse elements into his picking. Epstein, a 25-year-old graduate of Eastern Tennessee University's well-regarded bluegrass music program, has more of a traditional bluegrass style player that really fits Song From the Road Band's style and somehow seemed to pull the band together for an even tighter sound.
We've said before that it is only a matter of time until Songs From the Road Band is headlining big festivals. The pandemic may have delayed that eventuality a bit. Or maybe not. They have emerged from the shutdown sounding the best we have heard them since firsts being introduced to the band at the May 2018 Gettysburg fest.
SITTING IN
Lonesome River Band has been around a long time. Formed in 1982, there are no original members of the band in the current lineup, which is led by five-time IBMA Banjo Player of the Year Sammy Shelor, who joined the band about 30 years ago.
Over those years, the band has had more than 30 different pickers pass through its lineup. That rich past proved valuable this weekend as Lonesome River Band undergoes yet another personnel change.
Guitarist and vocalist Brandon Rickman has decided to get off the road to spend more time with his kids. "He even got a day job," joked Shelor.
Jesse Smathers, who also shares lead vocal duties, had been playing mandolin, has moved to guitar. A new mandolin player joins the band on June 1.
That left them without a mandolin player this weekend, so Shelor tapped the band's roots, enlisting the held of Jeff Parker, who played mandolin and shared vocals with LRB from 2001 to 2007, when he left to join the Dailey and Vincent band.
The only noticeable difference was that the band's set consisted mainly of older material from their catalogue that Parker, who is currently with Joe Mullins and the Radio Ramblers, knew.
Like everybody else, Shelor was overjoyed to be there. Last year the band had 88 gigs scheduled and ended up only playing 14. They have 33 on the books for 2021, with hopes of adding more as things open up.
GOT GAS
The gas shortage in Virginia and North Carolina was some of the bands had been worried about being able to find fuel to get to Gettysburg.
Donna Ulisses solved that problem by bumming a ride for her band from a friend who has a bus that runs on diesel. "I figured maybe it would be easier to get dieselfuel than gasoline," she told the crowd before inviting the bus's owner, whose name we missed, to join her on stage to sing a song.
Ulisses, a longtime Nashville artist who has won IBMA honors for her songwriting, will be back in the southcentral Pennsyvania area in December when she brings her annual Christmas tour to a York area show sponsored by the Seven Mountains Bluegrass Association.