Sweet mother of Bill Monroe it is happening. After a year that seemed like 20, festival season is returning and in the Middle Atlantic region it kicks off in earnest this weekend with the 80th rendition of the Gettysburg Bluegrass Festival.One thing that won't change is the lineup, which, as always, is filled with a fine blend of traditional and more contemporary acts.Among the bands that will grace the Sterling Pavilion stage will be Songs From the Road Band, an Asheville, N.C. based quintet that will be making its second appearance at Gettysburg, following up on an extremely well received Gettysburg debut in May of 2018.
At the time, SFTRB was a relatively unknown band on its first-ever tour after having existed as a loose collection of Ashville pickers who got together to pick, record, and occasionally play a hometown gig between work with their main bands.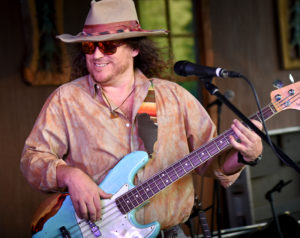 That all changed that year when bassist Charles Humphrey III left the Steep Canyon Rangers to make Songs From the Road his main musical pursuit. Joined by guitarist Sam Wharton, mandolin picker Mark Schimick, and fiddler James Schlender, SFTRB took its show on the road.
Ryan Cavanaugh was on banjo when they played Gettysburg last time. After Cavanaugh stopped touring full time with the band, they played for a while as a four piece outfit before adding Gabe Epstein, a 25-year-old graduate of East Tennessee State's prestigious bluegrass music program, joining the band last year.
"We have solidified our five-piece lineup with Gabe," Humphrey said in a Tuesday night telephone interview from Ashville. "The chemistry in the band is better than it's ever been."
When we say they were well received by the Gettysburg audience, we're not exaggerating. Even the band seemed a little shocked by how enthusiastic the crowd was in calling them back out for an encore. In fact, with most of the band veterans of more progressive/jam festivals, where encores are reserved for the end of the night headliners, it seemed to catch them by surprise. They had to quickly conference to figure out what they would play since they hadn't included an encore on their set list.
That reception meant a lot to the band, especially to Humphrey, who had played Gettysburg before with Steep Canyon Rangers and knew how seriously the Gettysburg crowds take their bluegrass.
Songs from the Road Band performing at the May 2018 Gettysburg Bluegrass Festival
"We loved playing at Gettysburg. We were thrilled to get that encore," said Humphreys. "It's always been one of my favorite festivals. It's an honor to play there. They love their bluegrass."
This won't be Songs From the Road's first post quarantine festival. They played the EMS Spring Fest in Florida back in March and recently headlined Stonefly Fest V in Johnson City, Tn., and event that allowed Humphrey to combine his love of music with his love of fly fishing (he actually moonlights as a fly fishing guide when the band is not on the road). But this will be their first trip north in more than a year, and with no other dates above the Mason Dixon line currently on their schedule, this may be your best chance to catch the boys this summer if you live north of the Carolinas.
That, of course, is assuming they can find enough gas to make it amidst the gas shortage crisis that is gripping the southeast thanks to that hacked pipeline. Not to worry, though, Humphrey says "we'll either make it or we'll run out of gas trying."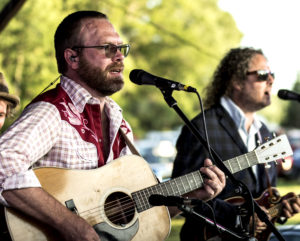 Songs From the Road Band will play a long set Thursday, taking the stage at 3:30 p.m., with a shorter second set on tap for noon Friday. Fans can expect to hear music from the band's five-album catalogue, as well as some new stuff from the album they plan to release later this year, including Molasses, a single released earlier this year that has gotten tons of airplay on bluegrass radio. Another single from the new album will debut Tuesday on Sirus/XM's Bluegrass Junction channel.
Joining SFTRB on the Gettysburg bill are Rhonda Vincent and the Rage, who will also appear Thursday and Friday before heading to Nashville Saturday for an appearance on the Grand Ole Opry. Gettysburg stalwarts Seldom Scene and Dry Branch Fire Squad are back again. Dry Branch has played every edition of this festival. Seldom Scene has missed one of the previous 79.
The lineup also included the Po' Ramblin' Boys, Sideline, The Grascals, Danny Paisley, the Tim Shelton Syndicate, Appalachian Road Show, Seth Mulder and Midnight Run, the Henhouse Prowlers, Lonesome River Band, Larry Stephenson Band, and Donna Ulisse.
Tickets and camp sites can be purchased in advance at https://www.gettysburgbluegrass.com/may-festival/tickets/.