It's fall. The chilly temperature and the cool breeze rolling down the hillside at B Chord Brewing Sunday night made that abundantly clear.
Fall, of course, is time for baseball metaphors. Time to write clever headlines like "B Chord knocked it out of the park again," or "B Chord hits a grand slam," or "B Chord keeps hitting streak alive." Any of which, cliche aside, would work to describe the weekend's festivities in Round Hill, Va., where Marty Dougherty and his team have put their small farm brewery on the musical map with its fall series of outdoor shows.
Sunday was Day 4 of what a lot of folks turned into a mini-festival in the Shenandoah Valley. Railroad Earth played a three-night run at B Chord Thursday through Saturday and a significant number of people made a long weekend of it.
"It feels sort of like the fourth day of a festival," said one friend we encountered early Sunday afternoon. Adding to that feeling was the addition of three other bands to what was originally announced as just a Del McCoury Band show.
Local fellas The Short Mountain Boys opened the festivities, followed by a set by Frank Solivan, Mike Munford, and Jillian Lea who, as Frank corrected the emcee, were not Frank Sullivan and Dirty Kitchen. This little side project, with Lea on bass and penny whistle, was more folksy than bluegrass. Solivan and Munford, sans Lea, did a cover of "The Letter," which FSDK has recorded. But that was as close to the kitchen as they came.
Sierra Hull and her IBMA dobro player of the year husband, Justin Moses were also on the bill, turning in a fine set that showcased their vocal harmonies and musical versatility, with both playing multiple instruments.
Of course Solivan and Hull are both very familiar to the DelFest crowd, which added to the feel of the day. So did the many familiar faces. Bill Rudd, who made DelBows cool long before Covid, was on hand. Delvis was also in the house. And we now know the reason the Bluegrass Chicken Man crossed the road was to get to B Chord to see Del. All that was missing was mud and the train. It really did feel a lot like DelFest.
We even heard of folks who camped at nearby Watermelon Park having gone floating in the Potomac, albeit in kayaks instead of inner tubes. 
And, of course, we had Del, which was cathartic in its own way. So much has been taken from us, but our 81-year old national treasure was here to somehow reassure us. Things are not all bad. We still have the sweetest tenor voice in bluegrass, G runs, and Del's still taking requests.
From the hillside above, you could see the band gathered and ready to take the stage. As they moved through the shadows the first thing you saw emerge from the darkness was Del's trademark pompadour, which picked up the first shards of light and almost reflected it back. It was like a beacon from a lighthouse welcoming us home after a rough six months at sea.
"Oh yeah," Del said, with a chuckle, and the band launched into an instrumental intro that led straight into "I Wonder Where You Are Tonight." "We're sure glad to be back at it," Del told the crowd. This was the band's third show on this little run, their first time out since everything shut down in March.
They'd obviously spent some of their quarantine time rehearsing. They were tight and in high gear. It was a fine set, with a lot of songs we'd not heard live before, and familiar favorites like Nashville Cats and a smoking Vincent Black Lightning encore. Del forgot a few words, made jokes about that being okay to do at his age, and he told a few stories.
And he chuckled. Always that familiar chuckle. There is just something comforting, soothing almost, about Del McCoury's laugh. There is a humbleness to it. Despite all his accolades, all the record sales, and all the crowds that come out to see him, somehow Del coveys a real appreciation, and almost a disbelief, that so many young people flock to hear him play music.
The night was not without disappointments. We hiked up to the top of the hill to take some photos, but the full moon, described as glorious by those there the night before for Railroad Earth, never emerged from behind the clouds that rolled in late in the day, after a glorious fall afternoon.
And, we also were a little disappointed with the crowd of rail riders that appeared up front during Del's set. No, it was not anywhere near as packed as a "normal" crowd. And yes, people did wear their masks. But 6-feet of separation, much less the 10-feet B Chord asks people to observe, was not a thing.
Now, the beauty of B Chord is that the hillside offers more than 10 acres of space to socially distance. We ventured front long enough to shoot a few frames from a very bad angle, but one where we could keep our distance, then retreated to our "safe space." Aside from the obnoxious lady nearby who literally clapped through every song of Del's set, people near us were more than respectful of people's spaces. Many mapped out an area for their "pod" with strings of lights. It was a joyful, festive atmosphere.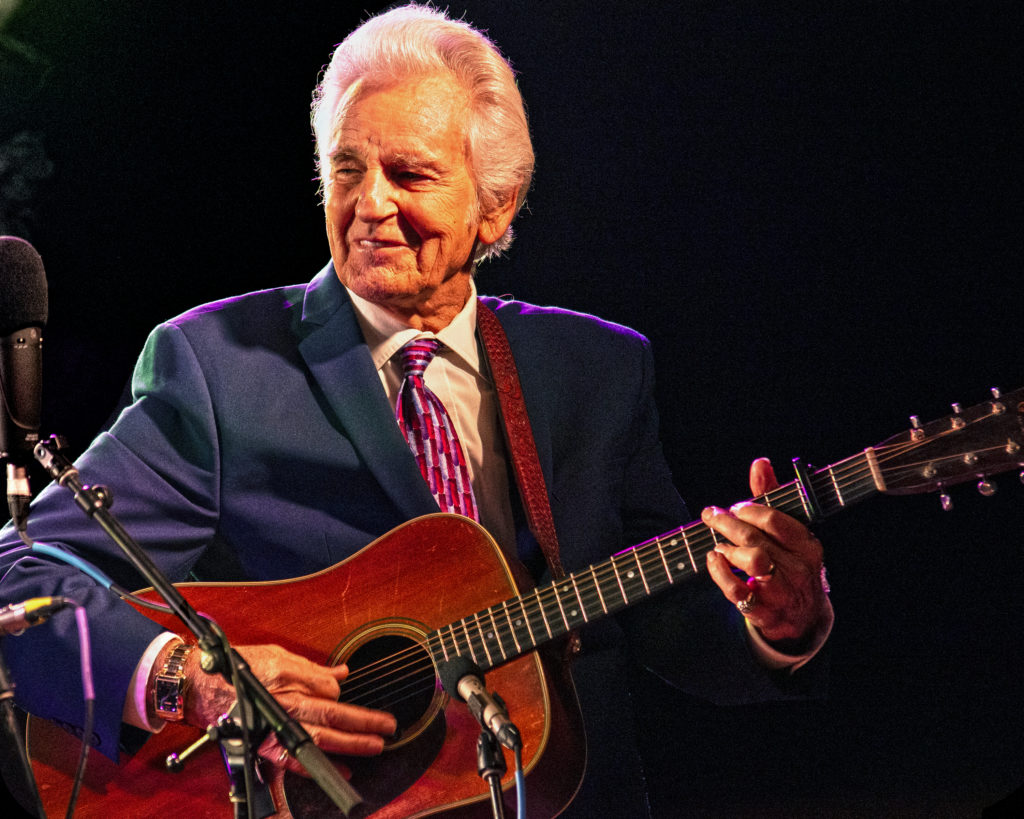 Our comments about the folks up front are out of an abundance of caution. We've been blessed by the emergence of B Chord as an outdoor venue. We've loved the place since its early days, making the two-hour drive several times for smaller, indoor, niche, shows with emerging artists.
They make fine beers, though they will need to find a way to up production to keep up with demand if they  make this outdoor concert thing a regular feature next year. And they should. They have taken on Covid's challenge to the industry and turned it into an opportunity. The combination of Marty and his crew's technical skills, their knowledge and passion for the music, and the unique setting of the brewery has become a blessing to fans starved for live music and bands starved for paying gigs. 
It has happened, in no small part, because of B Chord's attention to the scientists. They don't just follow the guidelines, they preach them. From pre-show e-mail messages and social media to at the show announcements and polite reminders from staff , they have created a space where both bands and fans feel safe.
There are still a number of fine shows scheduled for B Chord this fall. The latest —Larry Keel and Frank Sullivan and Dirty Kitchen on Oct. 24, was just announced. Let's all do our part to make sure they can continue by not letting our passion for the music override our common sense.
As Del said, "We're all in it together and we'll come out together on the other end."
Related links:
• Del McCoury at B Chord photo gallery
• Alex Leary recording of Del McCoury band's B Chord set
• B Chord shows schedule