When Man About A Horse's Matt Thomas told us the River Bones Band was up for taking part in the 12 Days of Bluegrass, our first reaction was not "who?" That was our second reaction, after our joy at filling another of the 12 days.
Then we read a Facebook thread about what bands people wanted to see at DelFest. Somebody mentioned River Bones. That they were mentioned in that light told us something. Checking out their stuff on line told us even more. It was obvious that Matt had not led us astray.
In this version of Blue Christmas, the trio of mandolin player Brandon Warrick, guitarist Luke Wolfrom, and sultry vocals Hannah Taylor show off the band's harmony, with Warrick and Wolfrom setting the mood with their background vocals.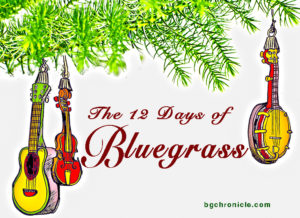 As an aside, most of you probably know Blue Christmas by the Elvis Presley version, which was released as a single in 1964, though Presley recorded it in 1957 on his Christmas album. Presley was just covering the song, though.
Written by Doye O'Dell in 1948, Blue Christmas was recorded by several artists, in several styles, before Elvis first sang it. Three people released it in 1949, including conutry star Ernet Tubb, whose version reached No. 1 on Billboard magazine's Most-Played Juke Box (Country & Western) Records chart in January of 1950.
Taylor, well you can tell at first glance you are either going to love her or despise her. A performer with that hairdo is like a basketball player wearing 23 — you'd better be able to back that shit up. Taylor can, and does. Watching videos of the band with and without her, the difference is a cheesesteak from Phillip's on Passyunk and one from Subway. The lady can sing.
Missing from the video are bass player Sean Dorn and fiddler Michael Durkin, the other two members of this Philly based band that has been flying under the radar, despite a busy schedule that has included touring the Philly area and what Wolfrom calls "regional coastal areas." Their profile will increase this year when they hit the regional festival circuit. Thus far they are set to play Wilmington Wintergrass  and Some Kind of Jam 13 . They will head to Chicago, Warrick's hometown, in May for some gigs and some time in the studio. The band is working on its first full length recording.
It is probably no coincidence that the band's rising profile sort of coincides with the addition of Taylor to the lineup. The band met her this past summer around the Philly scene and she became what Wolfrom calls "a fixture in the band who has helped take things to the next level."
In addition to her vocals, Taylor also left the band talk her into playing washboard. "She's good at that too," reports Wolfrom.
Taylor is the latest addition to the lineup, which began as a trio after Warrick and Wolfrom met at an open mic night at the Dawson Street Pub in Philly. They added Dorn, who slaps the upright, and began playing their high energy version of bluegrass, gypsy jazz, folk, and blues in bars and clubs around Philly.
"None of us were traditional players. We came from the rock and roll, country, and jazz worlds," Wolfrom says. "But we but found a kindred spirit in bluegrass music and the community that surrounds it."
You can catch them live next Thursday (Dec. 28) at the Bellefonte Cafe in Wilmington, Del. They'll be at Philly's Bourbon and Branch on January 27, which depending on what time they come on could be a great Infamous Stringdusters after party. February 16 you can catch them in the Lehigh Valley when they play Porter's Pub in Easton.
ADDITIONAL LINKS:
River Bones Band Facebook
River Bones Band Instagram
River Bones Band You Tube
River Bones Band Sonic Cloud
River Bones Band Twitter