When Charles Humphrey II left Steep Canyon Rangers and took up with his buddies in Songs From the Road Band, some folks speculated he had grown weary of SCR's heavy touring schedule. Suffice to say nothing could be further from the truth.
If anything, Humphrey went from the frying pan into the fire when it comes to touring. After starting as a side project with a rotating cast of whatever Asheville musicians were in town at the moment, Songs From the Road Band hit the road as a touring band with a permanent lineup in the spring of 2018 and hasn't stopped since.
There has been a week or two break occasionally, but for the most part it has been leave town Thursday, play three or four shows, usually a few hundred miles apart, and back home late Sunday night. Occasionally those trips can stretch to a few weeks when the band makes a run out west. You get the idea. Songs From the Road Band is on the road a lot.
Their latest album, "Waiting On A Ride," released late last summer, is the first of the band's five releases to feature the permanent lineup. It's also the first made up of songs written during their heavy touring life. Eight of the 11 tunes on the album were written, or co-written, by Humphrey, who spends considerable time between gigs traveling to Nashville to write with the likes of his frequent collaborators Charlie Chamberlain and Marty Dodson.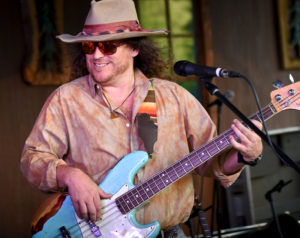 Humphries is passionate about songwriting. "It's a craft you are constantly working on," he says. "It never stops."
And of course, there is a practical side. After all, a band needs new music to stay fresh. "Material is so important," Humphrey says. "You've got to have songs."
This is not a concept album, but it does have a thematic feel, which may or may not be intentional. This one sounds like it could have been self-titled, had their debut album back in 2006 not already used that name. It really does feel like Songs From The Road.
Whether it is leaving town with a broken heart, like in opener "Any Highway," which Humphrey write with fellow Western North Carolinian Darren Nicholson (Balsam Ridge), or leaving after finally giving up on unrequited love in the title cut, seems like somebody is on the road in almost every song.
In "Can't Afford Not To," that's a musician who stays on the road not just for the money, but because they can't stop "chasing the sound." In "Even the Good Ones" that musician laments his inability to get off the road and settle down. "Lost in Austin" is the tale of love at first sight that lasted only as long as it took the object of that musician's affection to vanish with the crowd through the exit when the set ended.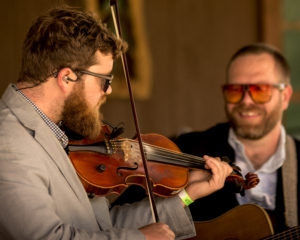 It's not all tales of touring troubadours and pickers. "Long Slow Road" examines "running from the past" and trying to start over somewhere new from the women's point of view.  "Waterloo" is a sweet, romantic waltz about a guy who doesn't want this date to end.
"Green Rush" updates the saga of the "Banjo Picking Truck Driving Famer" from the band's debut album, last seen trying to save his Carolinas farm by growing marijuana in "How Can It Be Wrong If It Grows Wild" on the "As The Crow Flies" LP. This time he is taking his agricultural prowess to the land of legal weed, Colorado, because "fortune smiles on the crazy and the brave." "There's a green rush in Colorado," he sings. "You can smell it in the air" and he's going to get his share.
Throughout the album, Humprhey's songs are given a bright showcase by the band's tight musicianship and strong vocals. Mandolinist Mark Schimick and guitar player Sam Wharton share the lead vocals. Fiddler James Schlender adds harmony.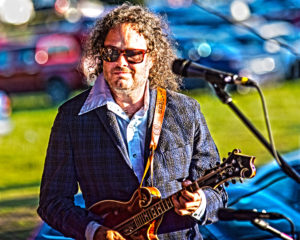 Banjo picker Ryan Cavanaugh, who is no longer with the band full time, having found the tour schedule more than he could commit to, plays throughout the album and wrote "Thunderstorm Serenade," one of two instrumentals on the album. The other is the smoking fiddle tune Wood Chuckin', written by Schlender.
"Nowhere To Land," a Schimick tale of the fear faced when one fully commits to love, closes the album in fine fashion.
All in all, this is an outstanding modern bluegrass album. It checks off all the boxes, with plus signs in most categories. There is not a clunker, not a single song you'll fast forward past. A few may get stick on replay while you learn the lyrics. Yes, you will find yourself singing along. It's OK. Consider it a normal reaction.
———————
Waiting On A Ride, by Songs From The Road Band, is available on all major download and streaming services and from the band's web site at https://www.songsfromtheroadband.com/store/
This review originally appeared in the Spring 2020 issue of the British Bluegrass News