It's the middle of hunting season almost anywhere you go. And if there is one thing Frank Solivan likes as much as playing music, it is spending time in the outdoors. In the summer his social media feeds are full of pictures of his fishing adventures. In recent weeks he's posted photos of hunting trips while visiting old friends in Alaska, where he lied for 10 years.
So you might wonder how anybody talked him into coming indoors this weekend to do a little pickin'. Well, for starters, "I've filled my freezer," he explains. Besides, it's only a three-day run. He has a Monday bow hunting outing planned with his buddy and manager, Phil Chorney, who has been tracking a big buck for a few days with no success. He's going fishing Tuesday before doing a mandolin workshop Wednesday at Appalachian Bluegrass in Baltimore.
It's not like Solivan has only been hunting the last seven weeks. "I've been cooking, practicing, fishing, and hunting," he says. He also spent some time in the studio with his friend, jazz mandolin virtuoso Don Stiernberg.
They did a few duo songs during FSDK's two-day live recording session in Westminster, Md., that Solivan recorded to use to book some gigs for the two. "We've been talking about playing together for a long time," Solivan says. They will do three dates in the southeast in early December.
Solivan is not sure how he will release the seven songs they just recorded in Nashville. "We don't have quite enough for an album but it's more than an EP," he laments as he is wheeling north for he weekend's shows with bass player Jeremy Middleton in tow. He riffs, top of the head, about possible ways to release the recordings. There's video, too. Might do it song-by-song somehow. We'll see.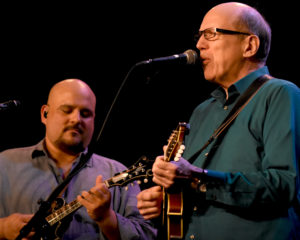 Meanwhile he is headed to Baltimore, where Thursday night he and Middleton, along with Mike Munford and Chris Luquette, will be throwing down at a mini-festival at Union Craft Brewing with Man About a Horse, The Gibson Brothers, Rob Ickes and Trey Hensley, and Front Country.
Solivan is excited to be playing with the band after the layoff. Coming off a break like this generates a s certain energy of its own. "There is always an edge when we haven't played together for a while," he says. "Everybody kind of pays attention a little bit more. It's kind of fresh."
Middleton tells him, "We know these songs. We don't have to worry about it."
"I can't wait to throw down, to go rage a little bit," Solivan says. He thinks It's the band's job to get the party started. "If you are not having fun, what's the use? We'e the catalyst for the good times to be had."
After Baltimore, FSDK and Man About A Horse will hit the Hamilton in D.C. on Friday night and close the brief run at the Locks at Sona in Manayunk for what should be a great show Saturday night in MAAH's Philly homecoming.