Over the river and through the snow has a more literal meaning this year for Matt Thomas. The Philadelphia native lives in the People's Republic of Colorado these days. The first snow already melted out there and it's already been replaced by a fresh coating.
Thomas moved there about a year ago, following love to the Rockies. He's about to fly back to Philadelphia for a three-day reunion run with his Man About A Horse stablemates
"I miss the east coast, but it's fun out here," says Thomas. "It's beautiful. The weather is great, except for the snow. And there is a lot of good music. I can't complain."
If you are on Mountain Time, it's still early in the day when we connect by phone to talk about this mini-tour of the mid-atlantic region. When we connect via messenger to bail down when we will talk, a little after 11 on the east coast, Thomas begs off, asking of we can do it a little later. "Give me time to finish caffeinating," he pleads.
He's adjusted well to the altitude. Between practicing on his bass, filling in occasionally for some local bands, and a plethora of bluegrass jams, "literally one every night of the week," he's playing as much as he wants. "I'm getting my fix," Thomas says, but, he adds, "I'd love to be gigging more."
He'll get that chance this weekend. The band will open this run Thursday night in Baltimore, throwing down at a mini-festival at Union Craft Brewing with Frank Solivan and Dirty Kitchen, The Gibson Brothers, Rob Ickes and Trey Hensley, and Front Country.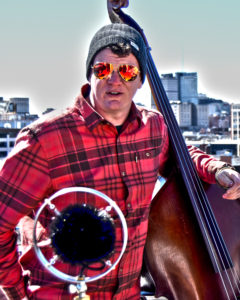 They'll continue from there with FSDK, playing Friday night at the Hamilton in D.C before the final show of the decade for both bands at the Locks at Sona in Manayunk. It wraps up a busy year for Man About A Horse that included their first overseas tour, a two-week Great Britain run.
That was a particularly stretch of gigs for Man About A Horse, which has long had to juggle its dates with other commitments, be it day jobs, or other musical ventures like banjo player Dan Whitener's busy slate with Gangstagrass. "Scheduling is the toughest part of the band," Thomas explains. The UK tour was almost like a chance to get a feel of what it would be like if the band was a full time touring outfit.
"Being a full-time performing musician can be a pretty miserable existence," even though the tour was well planned and ran smoothly. "You don't sleep in your own bed. You don't have any money. And you're constantly crammed into small spaces with four other people," Thomas says, quickly adding, "That said, I'd love to do it. There is nothing better."
That is something the band has thought realistically about. For now, though, "Everybody still has to work to support the pleasure of playing in the band. None of us are at a point where we can drop everything to be on the road 200 nights a year," says Thomas.
You probably won't hear any new music from Man About A Horse this weekend. That does not mean none is in the pipeline. The band has been working on new stuff for what will be their debut album on Stephen Mougin's Dark Shadow label. They had some studio time booked earlier this year but that got bumped when Mougin had a gig with Sam Bush. They are looking to get in the studio early next year.
They have been holding internal debates over whether to road test the new songs before recording them, or waiting to play them live to promote the new album when it is ready. "I can't promise that you will hear any of it this weekend," Thomas says.
It's been an interesting writing process with the band widespread geographically these days. Thomas is in Colorado. Whitener lives in central New Jersey. Fiddler Eric Lee lives in New England. Only Thomas' original partner in the band, guitarist Matt Royles, and mandolin picker Matt Hiller remain based in Philadelphia.
"We've been figuring out how to write an album long distance," Thomas says. The internet plays a big role. "We've been virtually working together."
The time lag on the web doesn't allow virtual jamming, but they can conference together and share ideas. Somebody will lay down a base track, then they swap the recording around, each guy adding their track.
"We discuss it on the phone, then people do their homework," explains THomas. "The only thing lacking is that we can't all jam at the same time."
Thomas will arrive home in Philly a few days ahead of the first gig. The band has not played together since Freshgrass in late September. "We'll get together before Thursday night and get everybody up and running," he says.
He's looking forward to all three dates, especially since they will all be with Frank Solivan. "He's definitely one of my favorite musicians to watch," says Thomas. And he is especially psyched form Saturday night in Manayunk.
"I love Philly. I love any opportunity to get back to Philly," Hopefully I will see some friends at the show."
• Tickets for Saturday at the Locks at Sona are available through EventBrite