Our Smoked Country Jam experience was a little different in a number of ways this year.
Last year, our first visit to Ron Kodish's sweet little hootenanny in the hills, we just made a day trip out of it. We decided before we even started our drive home that night that this year's stay would be longer.
Our plan was to go for all three days of the event. Outside factors, like the need to take a writing assignment that actually paid money, ended up forcing us to wait until Friday to head north. But missing Thursday night was a blessing in some ways (as you'll hear more about later), and we still got to enjoy a lot of fine music, and more.
Part of the enjoyment of Smoked Country Jam is the trip there, especially the last 40 miles or so of the drive, which, at least coming from our direction, is on State Route 120. The road follows the West Branch of the Susquehanna River, winding through the valley between the mountains north of Lock Haven, the nearest town big enough to have a fast food joint.
Just before you reach Renovo, the shell that remains of what once was a bustling railroad town, you pass Hyners View, which is home to a thriving hang-gliding community and a vantage point offering spectacular views up and down the river valley.
We didn't stop there on the way to SCJ. We were on a tight schedule to get there in time for Serene Green's set that afternoon. But we did get up there Saturday morning when we went exploring the area. There were no hang-gliders jumping, but we did watch a woman throw her husband's banjo over the side.
This is not the first time we've gone exploring early in the morning while at a festival. We wake up early by habit, and we often will go find the nearest McDonalds to use the free wi-fi to post photos on the site. We also like cooked breakfasts and flush toilets, not necessarily in that order, so there's that to be gained, as well. We also like discovering the local area a little. It's how we found our way to the top of the bluff on the other side of the Potomac at DelFest, for example.
We weren't about to drive all the way back to Lock Haven, but we did need to find some sort of a store to pick up some food. We had planned to just get our meals from vendors, but for some reason there were only two on hand this year and one had run out of food early on Friday. Our softshell crab sandwich from the crabballs stand for dinner Friday was delicious, but we didn't want to eat fried seafood again on Saturday.
By now you might have seen Man About A Horse's post about seeing elks on their drive Sunday morning from SCJ to their next gig. Or maybe you remember our mention of how Frank Solivan and his band saw a bear when they played the festival last year. We didn't see anything quite that exotic, but we did count 22 deer on our Saturday morning travels. And we saw some trout waters that we hope to revisit when we have our fly rod along.
Anyhow, you get the point. The beauty of Smoked Country Jam is not in its music, though this year's lineup of regional and emerging bands was stellar. SCJ is also an outdoor getaway in a beautiful part of Pennsylvania that likes to call itself, without a whole lot of exaggeration, the Pa. Wilds.
Even with the inundation of fracking wells, and the giant natural gas processing facility you pass as you turn off the nearest paved road onto the dirt road that leads to Quiet Oaks Campground, you still get that wondrous feeling of being off the grid (especially if your cell hone is with Sprint). Even at the festival, which draws a very nice crowd, you still feel like you have escaped. There is so much room to spread out, it never feels crowded.
It's a very chill atmosphere during the day. Maybe because the two times we have been there the weather has been pretty hot, but folks are almost in a siesta state during the afternoons. The rail? What rail? We're going to sit on our folding chairs in some shade, sip a beer and enjoy the music. The dance floor, as they like to refer to the concrete pit area in front of the main stage, belongs to the free range chilrun' most of the day.
There is a distinct difference between the crowd at SCJ at night and the crowds we have experienced at many other festivals. Maybe its just because you notice it as festivals like this, where most of the top billed bands play an afternoon set in addition to their set at night. 
The beer definitely has something to do with it. SCJ is a BYO affair, and any container that is not made of glass, and smaller than a sixtel, is OK. Last year, after they saw that bear, Solivan's banjo player, Mike Munford, joked "We came for the wild life. And we saw a bear."
Wild life would not be an inaccurate description of the SCJ crowd at night. It definitely is on the rowdy side. Not out of hand. But almost more party than music festival. They don't chatter a lot, but if you play one they know, you can bet the crowd will sing harmony. As a band, if they like you, they will definitely let you know.
SITTING BY THE FIRESIDE
That was definitely the atmosphere Friday night when Fireside Collective headlined on the main stage. They'd played the same stage a few hours earlier. It's not like they skipped dinner to rehearse. And it's not like there was any obvious flaw with their afternoon set. It was damned good.
So why, then, did it seem so much sweeter at 10 p.m. Was it the lights? Does the surrounding darkness, put a different focus on the artist? Does the darkness eliminate outside distractions? Does being in the dark change the way the crowd reacts? And which comes first? Does the crowd then further inspire the band? Or does the band get some psychological boost playing under the lights that that makes them play just a little better and thus brings out the increased enthusiasm of the crowd. Should we walk to the car for another beer?
Yes, we did actually write that in our notebook as we sat by the side of the stage and enjoyed Fireside's set. This was our "hops set." That is generally the last set of the day, when we put away the camera and crack one open. Some day we'll learn to also put away the notebook so we don't write lots of odd philosophical questions.
At any rate, it was a mighty fine set. We especially loved the long jam that led into a great little cover of the Eagles' "One of These Nights."
We always tell any band that listens that they should play an original for an encore so the crowd leaves the show with your song in their head. But damned if Fireside's encore cover of the Rolling Stones "Miss You" wasn't one of the absolute highlights of the festival. It was creative and it was extremely well played.
At one point during one of Fireside's sets, We were sitting side stage, sipping a Troegs Nimble Giant and writing in our notebook about how we wondered what the bluegrass purists would think of these guys. About that time, Fireside guitarist Joe Cicero came off stage for a few minutes. Cicero is a graduate of East Tennessee State's bluegrass music program. Earlier in the day we had mentioned to him that we met the guy who runs that department — Professor Dan Boner at the Gettysburg festival in May. Boner plays guitar in Becky Buller's band.
"What do you think Professor Boner would say," Cicero asked, flashing the brightest whites in bluegrass. He was obviously having some fun.
"Dunno, what do you think he'd say," we replied.
"I think he'd be okay," Cicero replied as he went back on stage.
Thought about it for a moment and could not think of a reason why Professor Dan would not like what Cicero, his old classmate Alex Genova, and the rest of Fireside Collective were doing. Matter of fact, despite the protests it might bring from the Flatt Earthers, we think Bill Monroe himself would approve.
These boys are talented. Their stage manner is professional. Their music is well written and well performed. Yes, they play their bluegrass hard and fast, and they are not afraid to push things musically to see where they can take it. But in that way they are a lot like old Bill himself.
Does anybody seriously think that if Bill Monroe were alive today he would not be shredding on that 1923 Loyd Loar of his? Isn't that pretty much how he started bluegrass, by stretching the supposed boundaries of old country music. Do you believe Bill would stand by as some young whippersnapper played harder and faster than him?
Hell no, he'd be blowing things up just like he did when he sent down the marble tablets with the commandments of bluegrass that traditionalists seem to think exist.
ROAD WARRIORS
It goes without saying you need to be on the road to write songs from it. No wonder Songs From the Road Band has such a deep catalogue.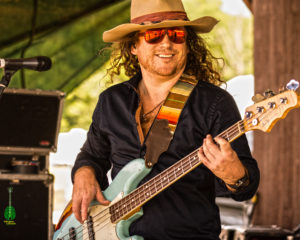 The boys from Asheville pulled into Quiet Oaks Campground early Saturday afternoon, played two sets and before the sun was down they were back on the road to North Carolina, where they had another gig — 600-plus miles from SCJ — on Sunday afternoon.
That Sunday gig would be the wrap up of a trip that saw SFTRB play in Rochester, N.Y. on Thursday, near Philadelphia on Friday, and after stopping in Harrisburg long enough to get some sleep while Charles Humphrey III took an early morning 10-mile run before journeying another 3 hours north to play SCJ. That was why the unusual scheduling that had the Saturday headliners playing their evening set early, at 7 p.m. It was done to allow them to get back on the road to make it to that Sunday gig.
Humphrey is an ultra runner. Somehow he manages to get his miles in daily, even with the band's almost non-stop touring schedule.
"He gets up early and runs while we're still sleeping," said Humphrey's bandmate Sam Wharton.
They'll get a slight respite over the next month or so. Aside from four days at FloydFest, 11 of their next 15 dates will be in the Carolinas. But they will return to Pennsylvania for two dates in September and you can count on the unannounced balance of the year involving heavy travel.
It can take a toll. Banjo picker Ryan Cavanaugh has left the band, though he still plays with them for occasional gigs and will be along for FloydFest. He tired of the road.
Wharton says the band enjoys the camaraderie. You need to when you are on the road as much as they are. "It's like a marriage. You're together an awful lot of the time," he says.
Bottom line, Wharton says, "We're having fun." 
Part of the fun at Smoked Country Jam was a high octane sit in by Tommy Maher (dobro) and Alex Genova (banjo), from their Asheville neighbors Fireside Collective. Originally set to be for the last two songs, including a very hot grassed up cover of Grand Funk Railroad's "I'm Your Captain," the band brought them back out with them for a pair of encores, too.
RAIN CAN'T STOP THE MUSIC
As we mentioned, we were not there Thursday night. But amidst a monsoon-like downpour that turned the slightly elevated stage into what has been described as a manmade island, Serene Green prevailed over the deluge, which let loose right as they were to take the stage.
How much did it rain? Well, festival promoter Ron Kodish put it this way. "For a few hours there it wasn't Smoked Country Jam, it was soaked country jam."
With lightning flashing in the sky, the organizers pulled the plug on the PA system and canceled Serene's set.
"They told us we had to shut it down. We weren't having it," said Serene's Quentin FIsher.
So they invited those brave souls who were on hand to come under the cover of the stage and proceeded to play an acoustic set.
"It went about as good as it could have gone," Fisher said.
When the set ended, it was still raining and the stage was surrounded by a few inches of rain. While they were waiting it out, somebody arrived with beers and the band ended up sitting around and picking for a few hours with those who were still there.
JAKOBS FERRY STRANGERS
There were a few new faces up there when Jakobs Ferry Stragglers hit the stage. Not only did the band have new bassman Niko Kreider in tow, but Corey Woodcock, from Dead Horse Revival (and formerly of Mountain Ride) sat in on banjo.
Woodcock, who was filling in for dobro player Jody Mosser, has played with JFS "six or seven times now." That was more than Kreider, who has replaced Evan Bell on bass, had played with his new band. He'd joined the band about a week earlier, "on about 12 hours notice," said Gary Antol, the band's guitar player and vocalist.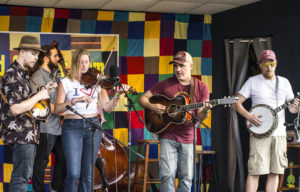 Kreider and mandolinist/fiddler Ray Bruckman teamed up for another one of the weekend's highlight when Kreider, who is actually a cellist, pulled out his cello and he and Buckman played "Maverick of a Higher Creed," which is off Bruckman's recent solo album.
Woodcock said he learned a lot of the Stragglers' originals by cranking up their albums at home and playing along. Kreider, though, got first hand instructions from the song's composer on "Maverick."
Driving past where JFS had parked, we saw Kreider, with his cello, and Bruckman, with his fiddle, jamming in front of the van. Turned out that was Bruckman teaching Kreider the song, at the suggestion of Antol, who added it to the set list.
After the set, Antol said it was so well received that he is hoping Bruckman and Kreider might give other songs from Bruckman's album similar treatment. Don't be surprised if you also hear the Stragglers give one or two of Bruckman's originals the full band treatment, too.
HOWDY, STRANGER
With new fiddle player Eric Lee traveling in Norway, Man About a Horse recruited their old fiddle player, Liz Carlson, to sit in for a few gigs, including Smoked Country Jam. Carlson, who left the band after having a baby.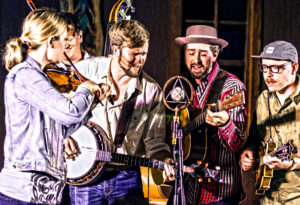 And speaking of bands that do a lot of traveling, bass player Matt Thomas now lives in Colorado. He flew in for the weekend of gigs prior to the band departing for a two-week tour of the United Kingdom.
Carlson did not go along on the UK trip. Lee joined the band there.
Man About A Horse also gets this year's wildlife sighting honors. The band posted video on its Facebook page of the elks they encountered on Sunday while driving from SCJ to their next gig in Milford, Pa.
BEST NEWS OF THE FESTIVAL
If you've ever seen the Hillbilly Gypsies, then you know all about rose among thorns Jamie Lynn Buckner, wife of guitarist/lead vocalist Trae Buckner. Jamie Lynn has the voice of an angel, which really smoothes out the band's gruff, bib overall covered exterior, whether she sings harmony or lead.
She also adds greatly to the band's stage presence with her energetic dancing, swirling in the background before ducking under the neck of Levi Houston Sanders' banjo and popping up behind the mic just in time for the chorus.
Can't ever say we've seen Jamie Lynn not smiling. But her smile might have seemed just a little brighter at Smoked Country Jam. Jamie Lynn is a breast cancer survivor and during the band's Friday evening set, Trae shared the news with the crowd that she had just received an all clear report from her latest annual scan.
Without a doubt, that was another one of the highlights of a fine Smoked Country Jam.