You know you are headed the right way for good bluegrass music when you pass a sign like we did a few miles from the site of the NEPA Bluegrass Festival. The sign was an advertisement for the local volunteer fire company's big summer fundraising event.
Some fire companies hold a carnival. Not these folks. The sign advertised their upcoming "Rattlesnake Roundup." You see a sign like that, you know you are in the mountains. Somehow, being in the mountains and bluegrass just seem to go well together.
Danny Stewart has been holding this festival in Pennsylvania's Endless Mountains region for 12 years now. Lazy Brook Park sits off of U.S. Route 6 just a few miles east of Tunkhannock, Pa. The park was created when the government bought out the residents of a trailer park that once sat along the Tunkhannock Creek after a flood.
You'll have a hard time finding a more beautiful place to listen to music. The festival has two stages. One is set in a large grassy area ringed by tall hardwoods and hemlocks. The other sits about a quarter-mile away, in an open picnic pavilion that sits right next to the creek, surrounded by Blooming Mountain Laurels and more towering hemlocks.
Many campers gather along the creek. A wide swale between the two sides of the park is also a popular place to camp. There is a historically significant bridge spanning the swale. It once carried cars across the creek a few miles upstream. It was moved to the park in a two-birds-with-one-stone move that preserved the structure and solved the park's need for a way to cross the swale in times when the creek is high enough for it to become flooded.
We headed north to NEPA primarily to do a story on the U.S. Navy's bluegrass band, Country Current, for The British Bluegrass News. We also knew we'd want to spend considerable time at The Progressive Stage, where Serene Green and Jakobs Ferry Stragglers were playing their first gigs since their triumphant DelFest debuts a week prior.
"The creek is high and fast," warns emcee Sandi Skidmore Marola. "Please, no swimming. Do not go in the water."
That is not the news the folks here want to hear. Tubing the Tunkhannock is as much a tradition here as tubing the Potomac is at DelFest. We've also seen folks fishing while enjoying the music from the small, creekside stage. We left Saturday night. Never did hear if the stream calmed down enough to allow them to do the in stream baptisms that were scheduled for after the Sunday gospel set.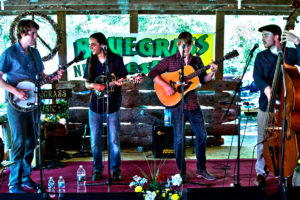 The crowd here skews old. Walkers, canes, Rascal scooters; we saw them all. To those of us getting up in years, it was heartening to see folks older than us refusing to slow down.
Certainly the crowd on hand for Serene Green's Friday afternoon set was much older than the crowd that filled the Music Hall at DelFest. Inside the small pavilion was almost empty. Most of the crowd chose to place their folding chairs in the shade under the trees.
It was an interesting contrast. Just like getting their gig at DelFest was a big step, it was a big thing when they got their first gig at NEPA a few years ago. Even though they are still relegated to the small, side stage, it is still important to the band, says banjo player Steve Leonard.
"It feels like home. It's familiar to us. We've played here a bunch of times now," Leonard says. "It's a real good festival. It's a good gig to come here after DelFest."
There are two things worth keeping in mind that might have some influence on Leonard's high opinion of NEPA. For starters, it is known as a good picking party. So good, in fact, that Leonard, who had tickets to see The Kruger Brothers that night back in Jim Thorpe, drove home for that show, then back to Tunkhannock  — over an hour each way — so he could pick that night at Serene's campsite.
The second reason the Serene boys are so fond of NEPA is their reverence for traditional bluegrass. Honestly, though we'd heard of most of the bands, we'd only actually heard a few. It was Serene's mandolin player, Quentin Fisher, who insisted on Saturday morning that we had to see The Kody Norris Show early that afternoon on the main stage. He was right, too.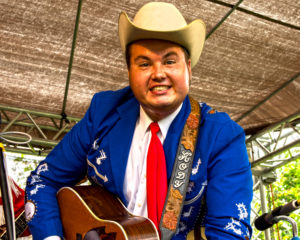 Norris, with his three-piece backing troupe, is a solid guitar player with a strong voice and a Branson sense of humor. The jokes are corny, but the band is tight. It's old fashioned, hard-driving, grand Ole Opry style bluegrass, complete with fancy, embroidered and fringed, country singer style outfits. Banjo player Josiah Tyree is a stellar picker and good-spirited straight man.
Matching outfits are not required at NEPA, but they sure don't seem to be discouraged. The Kody Norris Show was one of many with coordinated duds. You see some of that at Gettysburg, but here it is prevalent. This is old school, Bill and Earl style bluegrass.
The Central Valley Boys, a California outfit, played the Progressive Stage in their matching lime green suits. David Parmley and Cardinal Tradition sported Johnny Cash style all black outfits, replete with matching black cowboy hats. And of course Country Current, the U.S. Navy's bluegrass band, was resplendent in their dress whites.
Country Current, whose bass player happens to be Danny Stewart, the promoter's son with the same name, is an interesting band. We'll post the whole story we do for the BBN once it is published. But among the things you should know:
• Band members must audition. Most enlist following the audition.
• Band members go through regular Navy basic training, then are assigned to Washington, D.C., with the rank of Music Specialist First Class.
• The band splits its gigs around 50-50 between country western, with electric guitars and drums, and acoustic bluegrass.
• Alums of Country Current include Frank Solivan, and his bass player, Jeremy Middleton.
• It is common for band members to stay in the Navy, and the band, until retirement. Banjo player Haley E. Stiltne is just the third banjo player in the band's 46-year history.
• How competitive is the audition process? Stiltne played with Rhonda Vincent and The Little Roy and Lizzy Show before auditioning.
TRAVELIN' MAN
Jeff Scroggins was back for NEPA. Not just back at the festival. Back in the country.
Scroggins, who plays extensively in Europe, was back from a few weeks on the continent, playing the Czech Republic, Switzerland, France, and Germany. Earlier in May he was in Ireland with his Scroggdogs project. He also was in the UK earlier this year to teach at the Sore Fingers camp. Oh, and Scroggins, who is based in Vancouver, B.C., these days also played on one of Danny Stewart the elder's bluegrass cruises last winter.
Scroggins left Frankfurt, Germany, on Wednesday night. The band played a house show in Baltimore on Thursday night, then drove to NEPA on Saturday.
If you follow Scroggins on Facebook, you know some of his travel misadventures are near legendary. You also probably won't be surprised to hear they had some sort of an issue with their rental car that caused the festival to swap Scoggins' 6 p.m. slot to 7 p.m., with The Little Roy and Lizzie Show moving to the earlier slot to accommodate.
Once they got there, Scroggins and Colorado, which included Frank Solivan guitarist Chris Luquette filling in for Tristan Scroggins on mandolin, was outstanding. They turned it up another notch later that night on the Progressive Stage before Scroggins had to scurry on his way back to British Columbia.
Luquette, by the way, will tour the West Coast with Scroggins' guitarist Greg Blake later this month. See Luquette's web site for the tour schedule.
TO THE RESCUE — TWICE
We mentioned Progressive Stage emcee Sandi Skidmore Marola, but we didn't tell you how she picked up a pair of key saves at NEPA. First she came to the rescue of Blake, during Scroggins' Progressive Stage set, then, on Saturday, she bailed out the festival's promoters, with her band, Texas Rose, filling an open slot on the schedule.
"We're TRB, the Texas Rose Band. We're the TBA on the schedule, so TRB is the TBA," she told us backstage Friday night, not long after she scurried to her campsite for her guitar when Blake broke a string.
Blake turned down her initial offer, opting to replace the string, a task that took an entire song. A few notes later he broke another and took Sandi up on her offer.
As for the Saturday set, Bolek Mikoluk, who plays resonator guitar, and fiddler Sarah Williams Larsen were both at NEPA already. Shane McGeehan, of Serene Green, was recruited to lay down the bass.
MOUNTAIN MUSIC
Like Scroggins, Leroy Troy and The Tennessee Mafia Jug Band split their sets between an afternoon show on the main stage and an evening set on the Progressive Stage.
For the record, yes, they do actually have a jug. You might have seen it on the replays of RFD TV's "The Marty Stuart Show." They transport the ceramic jug in a bowling bag.
The entire band wore bib overalls. They played that jug. Played a washboard, too.
"Me and Mikey have been together since we were teenagers," says Troy.
"We've had this band since 1997," chimes in fiddler Dan Kelly, as we chat backstage. "It don't get no worse. It don't get no better, either."
For the record: It was pretty good.
DOESN'T SOUND LITTLE
We'll say this about Little Roy Lewis, he really is little. Lizzy Long, the Lizzy part of the Little Roy and Lizzy show, is half his age and twice as tall. OK, yeah, we are exaggerating a little on the height part, but the 35-year-old Lizzy really is a good bit taller than Roy, who is 77.
Roy's physical height is dwarfed by his musical reputation. To those of us who are more attuned to the progressive side of bluegrass, "Little Roy" might be little more than a recognizable name we've seen on festival lineups. To those in touch with the more traditional side, his is a big name.
Roy Lewis started picking the banjo at the age of 6. By the time he was 8 he was winning local talent shows. About the same time he started playing with his siblings in The Lewis Family Band, which had a pretty impressive career that included a Sunday afternoon gospel music show that aired in syndication for 38 years.
Even after they gave up the weekly show in 1992 due to the demands of the band's heavy touring schedule (they used to play around 200 shows each year), The Lewis Family Band, which was inducted into the International Bluegrass Music Association's Hall of fame in 2006, continued to tape annual Christmas shows up until 2009, when they announced their retirement as a band due to the advancing age and poor health of several members.
Little Roy, he got that name because his dad was also named Roy, not because of his diminutive stature, has not slowed down much. After the Lewis Family Band hung it up, Roy and Lizzy, who was Roy and his wife Bonnie's foster child since she was 15, began touring as The Little Roy and Lizzy Show. Lizzy actually got her start in bluegrass in 2007 when she appeared on the album "Lifelines" which was recorded by Earl Scruggs and Little Roy. Lizzy also recorded a solo album, "Blueberry Pie," in 2015 that included guests like Sam Bush and Rhonda Vincent.
Roy plays mostly banjo. He also picks up the autoharp for a few songs. Lizzy plays mostly fiddle (she also plays several other instruments) and handles most of the lead vocals, though Roy also sings some numbers. The pair has recorded 11 albums together, in addition to the one with Earl, and has also put out a two-volume live DVD. Their most recent LP, "10", was released last month to commemorate their 10 years playing together.
We didn't go to NEPA to see bands like The Little Roy and Lizzy Show, the Kody Norris Show, or David Parmley and Cardinal Tradition. We were drawn to make the trek to Tunkhannock by the desire to write the BBN story on Country Current and to see bands we were familiar with — Scroggins and Colorado, Serene Green, Robert Mabe, and the Jakobs Ferry Stragglers. Getting to "discover" so much other fine bluegrass was a nice bonus.
Like at Gettysburg a few weeks ago, though, we really enjoyed getting a chance to be exposed to some of these bands who, despite their being pretty big names in traditional bluegrass circles, were new to us. If, like we were a week ago, you are not familiar with the likes of Little Roy and Lizzy, we strongly suggest you check them out if you get a chance. And there are plenty of chances coming up. According to the band's web site, they still have more than 50 dates scheduled in 2019. Their travels will take Little Roy and Lizzy literally coast to coast and from Maine to Florida.
So much for Little Roy slowing down at 77.
COMING ATTRACTIONS
Even before the 2019 NEPA festival was underway, promoter Danny Stewart was already busy at work building his lineup for next year. Scheduled for May 28-31, again the week following DelFest, NEPA's 2020 lineup is impressive, with the likes of The Grascals, Michael Cleveland and Flamekeeper, Sideline, The Price Sisters, and Valerie Smith and Liberty Pike already booked.
The Kody Norris Show, and The Hillbilly Gypsies, who closed things out Saturday night in the Progressive Stage, are also set to return.
Stewart says although the Traditional Stage lineup is close to set, he still will be adding many more bands, especially for the Progressive Stage.
See y'all next year in Tunkhannock.