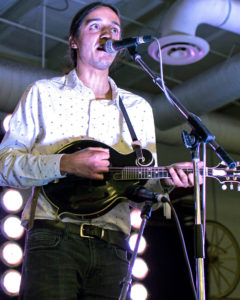 The emcee was on his way. He was doing double duty, covering two stages, so he may have been tied up over at the Potomac when Serene Green was ready to hit the stage in the Music Hall next door. Or maybe his watch was slow, or whomever's Serene was going by was fast. For sure they were not in sync.
We didn't bother to check to see what time it was when the boys just said hello and started playing. Didn't even bother to mention their band's name before they started to play. The clock, somebody's clock, hit 12:30, Quentin FIsher said, "How ya doin' DelFest," and began playing his mandolin.
The emcee had a confused look on his face when we passed him in the hallway backstage. Hope he hadn't taken a lot of time to write up some poetic, Joe Craven-ish intro that he never got to deliver.
It's possible he was just running a few minutes late and figured they couldn't start without him. Figured wrong if that was the case. These fellas had been chomping at the bit for this gig and they weren't about to wait to see what Santa brought them just because Mom wasn't up. They tore into a 16-song set that included a sit-in by 16-year-old banjo prodigy G. Rockwell, who recently was awarded a scholarship by the IBMA to attend Bela Fleck's Blue Ridge Banjo Camp.

Livestream of Serene Green's DelFest set
Rockwell, who the Serene boys said they'd been picking with all week at DelFest Academy, picked Shenandoah Valley Breakdown, an old tune Bill Keith recorded with Bill Monroe, and the Carter Family's My Home is Across the Blue Ridge Mountains.
This was not Serene Green's first time at DelFest, but it was their first time on the lineup. A late addition, filling an early Sunday TBA slot. Serene was the fifth "regional" band to appear at this year's DelFest. The other four played the Bloody Mary Brunch set slots in the Music Hall on Friday and Saturday.
There were no Bloody Marys available during Serene's set. That did nothing to dampen the crowd reaction. Matter of fact, a sleepy, Sunday morning crowd gave the band a rousing, standing ovation.
NOT A JOKE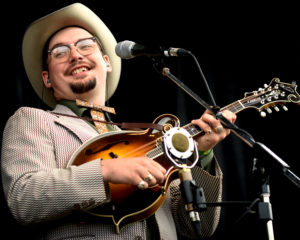 We might have told you the one about how we were joking with Junior Brown at the Gettysburg Bluegrass Festival about the band looking like the Cleverlys' alumni association. There is some truth to that. The 2018 IBMA Emerging Artist of the Year does favor the same sort of vintage Nashville style as the Cleverlys do. But unlike the Cleverlys, who play it for comedy, the Po' Ramblin' Boys aren't joking around.
We only caught the last 45 minutes of their Potomac Stage set after Serene Green finished, but lucky for us that included the part where Frank Solivan sat in for a couple songs, including a smoking version of the old Lead Belly classic "Take This Hammer."
RESTED AND READY
Del McCoury was supposed to be a part of a panel discussion on Sunday afternoon, along with his son, Ronnie, John Skehan of Railroad Earth, and Ricky Skaggs. The 80-year-old host with the most was a no-show, though. He was taking a nap and nobody wanted to wake him.
Nobody would begrudge Del his nap. The man was on hand early in the week for the DelFest Academy and then played full sets on Thursday and Friday. Saturday was hardly a day off, between various appearances around the festival and sitting in with The Travelin' McCourys on Saturday night. He played another full set Sunday night, after his nap.
The rest did him well. Sunday night's set, much of which was played during a steady rain, with flashes of lightning in the not too distant sky, was stellar. Del's brother Jerry, who used to play with him, sat in on bass for a few and Ricky Skaggs, who filled in last minute when Sam Bush got sick, came out to do "Blue and Lonesome," a number Del used to sing with Bill Monroe.
Del and the boys pulled out any favorites that had not yet been played over the weekend, such as Travelin' Teardrop Blues, High on the Mountain, White House Blues, 1952 Vincent Black Lightning, and a ripping encore of Rawhide.
"FINALLY GODDAMNED DELFEST"
A friend posted that on Facebook Sunday night, around 7:30, along with a photo taken from under the awning of his RV, looking out at the track, which was being turned into a mud pit by the deluge that let loose just after Ricky Skaggs finished playing.
The lightning could be seen in the distance during Skaggs' set, but it looked like it might pass north of the Allegany County Fairgrounds. What we failed to notice, mostly because we were looking towards the stage and watching Skaggs, was the mass of dark clouds piling up behind us.
Obviously the organizers of the festival had a better idea what was going on because they sent emcee Joe Craven out to shoo us all out of the music meadow. We were almost back to our car when the rains those folks had seen on radar let loose.
Up until that point, the weather had been very cooperative. There were a few showers, but nothing really drenching and we had no schedule changes due to weather until the final night.
As we mentioned, it was still raining when they left us back in and the rain kept up for most of Del's set, though it did stop for Railroad Earth, who closed out the festival. Both bands' sets were cut short a little in order to meet the local curfew for outdoor music.
Railroad Earth, which had been scheduled for a 90 minute set, played just shy of an hour. including an encore of Cold Water.
We'd love to tell you more about those two sets, but our notes from Del were soaked and unreadable. Lacking anything dry to take notes on during Railroad Earth, we shot a couple photos, cracked open a beer, and toasted yet another edition of this amazing festival.