A lot of folks got up festival early to come out and see The Jakobs Ferry Stragglers and The Plate Scrapers on Saturday morning.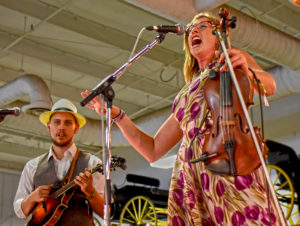 Festival early is a term we think we just made up. It is inspired by the phrase "hiker midnight," which Appalachian Trail hikers will tell you is 9 p.m. That is late at night if you walked 10 miles the day before and plan to do it again the next day.
It's sort of the opposite at music festivals. Festival dawn is sunset for everybody else. Afternoons are mostly mellow affairs, a mix of sitting in the sun, listening to live music, and slathering on sunscreen (or sitting in the rain, sans sunscreen). Or maybe you prefer hanging at your campsite, drinking cold, not necessarily alcoholic, beverages and listening to the festival radio station, which at festivals that have one, broadcasts the music from the main stage to the campgrounds and immediate surrounds.
Nobody ever put their guitar in the campfire during daylight. Larry Keel famously did that once at The Festy. You can still see the burn marks. It happened in the middle of the night.
Sun goes down and it is a different story. Festival goers get an extra jolt of energy when it gets dark out. The setting sun is like an astronomical equivalent of a double expresso.  It's then the craziness, the true fun, usually starts.
All the biggest name bands are on at night, so people marshal their energy to begin with. It's time to ride the rail, to dance, to wade through the unkempt masses to get a better spot. Stick your folding chair by the soundbooth in the afternoon and you have a clear view over the heads of those standing up front. At night the pit expands and you are forced to stand. Not that you could sit still anyhow.
And when those bands all leave the stage, for many, the fun is just getting started. At DelFest, late night sets in the music hall start just after midnight and run until almost 4 a.m. Anybody still needing more music after that can find it in the campgrounds, where jams and picking parties go on all night.
So when DelFest announced this concept of Bloody Mary Brunch sets, many were skeptical. Would the bands playing those early slots have much of an audience?

A conversation with The Plate Scrapers
The answer both days was yes. Especially so on Saturday, with a combination of more people having arrived for the festival and a bill that included two semi-local bands, both of which share the same dobro player, Jody Mosser, who just happens to live in Cumberland.
Del's Place Pub, as they renamed the Music Hall during the sets, which also featured a Bloody Mary bar sponsored by a local distillery, was packed, or at least packed for 10:15 a.m. The crowd for The Jakobs Ferry Stragglers, who led things off, was easily double the size of the crowd later in the day for Darin and Brooke Aldridge, a band with multiple IBMA honors.
A lot of the folks were like Matti Brown, who said he has been coming to DelFest for 11 years.
"I don't usually get up in the morning after three hours sleep to go see a band," said Brown, who knows both of the bands and has been following them for years. "I'm stoked to see them playing on this stage."

A conversation with The Jakobs Ferry Stragglers
Gigs like this are huge for bands like JFS and the Scrapers. It's the musical equivalent of getting called up to the majors from AAA. It might be 10:15 in the morning on a side stage, but it's playing DelFest. You know how sports fans always remind you there are no style points in the standings, just Ws and Ls? Same thinking applies here. There is no "side stage" in parentheses on the list of tour dates on the back of the T-shirts.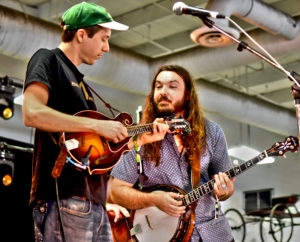 Your resume as a band doesn't say "side stage." It says "DelFest." It's a badge of honor. Many are called but few are chosen. It signifies that you have reached the next level in the Donkey Kong that is the music business.
Word gets out to the folks who book bands that your band played DelFest. What time slot, what stage, it doesn't matter. It's like the Good Housekeeping seal of approval. Folks trust the opinions of the experts who run festivals like DelFest. And word spreads in the music booking community the way it does in any business. People will know these two bands brought big crowds out at DelFest at what time, did you say? Holy shit. 10:15? A.M.?
The bands also gained invaluable exposure. Just having their names in the poster-like images spread by the festival's social media gave them a boost. Fans elsewhere, who didn't get to DelFest, will see they are playing locally and be like  "Oh yeah, didn't they play DelFest? Let's check them out."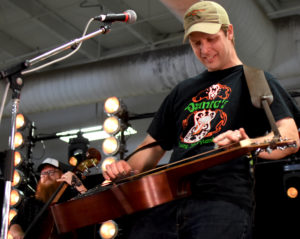 Those who were there who came either out of a sense of discovery or a serious jones for vodka and tomato juice got turned on to new music that, if the crowd's reaction was any indication, they sure liked. Ten bucks says both bands will see a bump in their web site stats next week.
No, this does not mean either band has "made it" just because they have played DelFest. The Plate Scrapers actually loaded up their van right after their set to head north a few hours to a festival in Pennsylvania that they had booked before the slot at DelFest was offered.  That golf cart jockey who gave them a ride to the venue from where they parked the van, and helped carry equipment, won't be there when they get to their next gig.
Both bands will spend the rest of the summer playing the same bars and small festivals they had booked before DelFest. It will take time, and more exposure for that to change significantly. Playing DelFest did not make either band big time. But it is a huge step in the right direction.
SO WE SAW THE ALDRIDGES
We had not planned to watch the Brooke and Darin Aldridge. We got our traditional bluegrass fix last weekend in Gettysburg. Then plans changed. Technical problems with photos from Friday made us decided to edit some photos after we finished a post set live interview with The Plate Scrapers. We were almost finished when Jenny and Larry Keel walked into the media room with their mandolin player, Jared Poole, in tow.

A conversation with The Larry Keel Experience
The Keels, who had played one of the late night sets early this morning, played the leadoff set Saturday on the main stage, kicking things off at 11:45. We missed their set, one of the tough choices we have to make at some festivals where schedules overlap and stages are set apart. Just didn't make sense to tote all our gear over to the main stage to catch 15 minutes of the Keels only to have to carry it all back to Frank Solivan and Dirty Kitchen's Saturday set on the Potomac Stage.
Prior to DelFest, we tried to set up an interview with Larry Keel for a story we were working on about what makes DelFest special to the musicians. Between his schedule, our schedule, and our last minute request, we never did hook up for that chat. But in our e-mail exchange, we agreed to try to catch up for an interview at DelFest.
Them walking into the room solved one of those festival logistics nightmares that you encounter trying to cover bigger events. Often the good intentions of pre-festival plans fall prey to the realities of handicapped communications and difficulties connecting in a crowd this size.
It did end up meaning we missed FSDK, too, because we had to wait for the Keels to finish taping another interview first. But it was worth it. Not just because Larry Keel is a great storyteller, but because it meant we called an audible and caught much of the Aldridge's set.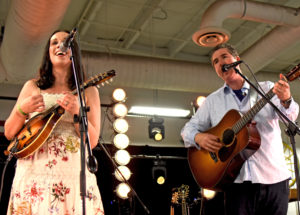 Darin and Brooke Aldridge are married. Have been going in 11 years now. He plays guitar. She plays mandolin. He sings. She really sings. They are a bigger deal on the Flatt Earth Society circuit than they are with the progressive, freaky bluegrass lovers that tend to be a big chunk of the DelFest crowd.
They are tight and polished, with a backup band to match. Brooke has won numerous IBMA female vocalist awards. Darin and fiddler Carley Arrowood have also won IBMA honors. At traditional festivals, they'd be playing on the main stage, probably at night.
Here they are part of the rich, eclectic mix of music curated for this festival, which celebrates bluegrass, yes, progressive and traditional, but also so much more, with bands like String Cheese Incident, which headlined Friday night, Marcus King, Tyler Childers, and Railroad Earth, the bluegrass inspired inventors of a genre of their own who headline Sunday night.
It was interesting to see the difference in the demographics of the crowd that showed up in the music hall for the Aldridges. From appearances, they tended to skew older than the crowd at the festival as a whole. Or at least none of them seemed to have dreadlocks.
PETTY STUFF
Keller Williams' latest project is another of the very cool cover music projects that made you love Keller back in the days before the molly crowd started invading his audiences. It's vintage Keller doing vintage Petty, with the Hillbenders, of Tommy a Bluegrass Opry fame, serving as his backup band.
It's not necessarily bluegrass. It certainly would not please the Flatt Earth Society folks. But it is much more than just covering Tom Petty songs on acoustic instruments. The arrangements are fresh and original. The picking is tight.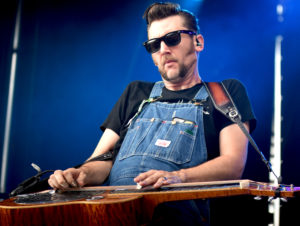 Chad "Gravy Boat" Graves, is always entertaining to watch as he stalks the stage, his dobro connected to the sound system wirelessly. Graves is probably 6-5 or so. He plays his dobro about two feet off the floor half the time. It's his own, unique style. Don't try this at home kids. But there is no discernable impact on his playing. The rest of the band plays their instruments in a more traditional manner, but with every bit as much skill as Graves.
A highlight of the set, as you might guess, was a sit in, with Ronnie McCoury and Jason Carter joining them for a few songs. It was a reunion of sorts. The Travelin' McCourys backed Williams on his 2012 album "Pick." Especially well done was  the  version of "You Got Lucky" they did, which featured a long, beautiful,  instrumental intro by McCoury, Carter, and Williams.
RAIN NO DELAY
As Tyler Childers set came to an end, lightning could be seen in the distance to the north and west. At first we hoped it would pass to the north like some others have this week. Those hopes were dashed in a hurry when emcee Joe Craven came out and told the crowd they were going to try to do the stage switch in 15 minutes so the Travelin'McCourys could get their set started promptly. It was obvious they were hoping to, in baseball terms, get in four innings before it rained.
The rains did come, but the rain delay never did. The lightning was never deemed enough of a danger to cause any shortening of the Travelin's set. In fact, fans got free baseball . . . extra innings if you will, when they still played til close to midnight, despite the earlier start.
There is no dumber feeling than knowing you have an array of rain protection gear a quarter mile away when the rain starts. It's especially so when you have your uncovered camera in tow. Over the years, shooting sports and festivals, we have developed a number of ways to keep our photo gear, and ourselves, relatively dry. None of them work when they are in the car because somebody forgot to check a weather update.
We shared this frustration with the vast majority of the crowd, or at least the vast majority of the crowd that stayed through the rain for the entire Travelin's set. There were some – the smart, Mensa types – who had their rain coats, ponchos, or umbrellas handy. Most of the crowd, though, got soaked by the rain that fell fairly hard during part of the set.
You can bet they all had rain gear with them at the festival, in their car, or in their camp. Nobody goes to a festival without rain gear, especially not DelFest, where weather forecasts seem to change quicker than digital billboards. First-time attendees seeking advice on what to pack are advised to be prepared  for three seasons and expect to see all three. Sometimes you will see them all the same day.
"Those of you who have been here before know what it's about," said Ronnie McCoury.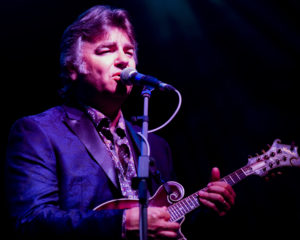 Some left when it seemed threatening. Those who stayed were rewarded with a set filled with fresh songs and a few old favorites, including two with Del, who sat in to the crowd's delight.
We were not completely unprepared. Anticipating the rain that came through early afternoon, we'd brought in a small tarp top cover our chairs, which we set up in the meadow prior to heading over to the music hall.
Anticipating the rain, we spent the first three songs of the set in the stagefront photo pit, then retreated to our chair next to the sound booth, where we used that tarp to keep people, and cameras, dry as the band played on.
We all sang Happy Birthday to Del, who turned 80 this year. Why we did so, given his birthday was February 1, is anybody's guess. "I've been celebrating this birthday since February 1," Del said. "I think I am going to be 80 forever."
Other highlights of the set included a fun bluegrass style cover of Paul Simon's "50 Ways to Leave Your Lover", and a very cool "West L.A. Fadeaway" with Ronnie McCoury on his Fender electric mandolin and his son, Heaven, sitting in on electric guitar.
It's not surprising these guys are so good,  given their pedigree. Their other job involves  backing a bluegrass hall of famer . Even less surprising when you remember Del's two sons, Ronnie and Rob, who plays banjo, are part of the band. They are polished, the way you'd expect from a member of the Grand Ole Opry. Professional, is a word that comes to mind.
We have been out in the rain for them before. This was not our first rodeo. We said before that we would go to DelFest if the lineup was Del, the Travelins, and five guys with kazoos. Nothing we saw Saturday night would change our minds.