Even though he is a Grand Ole Opry member, enshrined in every hall of fame that exists for the music he plays, and widely acknowledged as the reigning king of bluegrass, it seems like Del McCoury is still surprised by his success.
Friday evening he stepped on to the stage and his eyes got wide as he looked out and saw the crowd gathered for the festival he hosts. His smile got wide, too. It was that genuine, awe shucks, is this really for me, almost embarrassed smile that Del is known for.  The man has won 31 IBMA awards in his career, which spans parts of seven decades, Yet you look up "humble" in the dictionary, it says "See  McCoury, Del."
Maybe it is because his career had a sort of interruption between his stint with Bill Monroe as a Bluegrass Boy and his resurgence leading a band of his own. For almost 20 years McCoury worked a day job as a logger to ensure a steady income to support his wife and three kids. Living in York County, Pa., Del would travel to Baltimore and Washington for weekend gigs, occasionally playing further from home.
After all that, maybe Del just can't stop thanking his lucky stars. He's been hosting this party for 12 years now and he still seems surprised he got invited. He seeks reassurance, asking the crowd if they are having a good time. Yeah, a routine crowd engagement thing that every band does, but when Del asks, you feel like he really does want to know.
Del and his boys put on a DELightful show Friday evening, spilling over into the first of String Cheese Incident's two sets when Ron and Ronnie McCoury and fiddler Jason Carter sat in for several songs. They were later joined by Del himself for a couple of numbers. By the time they added Cody Kilby and Alan Bartram to the mix, we had ourselves a genuine hootenanny.
A highlight of Del's set was The Kruger Brothers joining the McCourys on stage for a few tunes. The brothers — Jens and Uwe Kruger, blended some beautiful three-part harmonies.
BLOODY MARY MORNING
The newly added "Bloody Mary Brunch" sets sounded great when they announced them. And musically they were. But they sure do come early in the day, a point we were reminded of
when we missed Wicked Sycamore's set because we had to sleep sometime.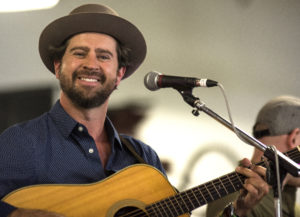 Man About a Horse absolutely killed it with their set. With regular banjoman Dan Whitener unavailable  do to a prior commitment on this date, Sam Guthridge, the Baltimore-based bass player for The High and Wides filled in. MAAH fans might have noticed the absence of a few songs Whitener wrote and sings from the setlist, but otherwise, this Philly based band did not miss a beat.
With Whitener absent, guitarist Matt Royles got vocal relief  for a few songs from filler Eric Lee and mandolin player Matt Hiller. Lee, a singer and songwriter who recorded a few solo albums before joining the band last year, was no surprise. Hiller, on the other hand, was a bit of a surprise when he took the vocal lead on a cover of Graham Parsons' "Las Vegas." Hiller singing lead was not something folks who had seen him going back to his days in the old Scranton, Pa. outfit The Coaltown Rounders had seen before. Asked about it after the set, Hiller said it's not that he cannot sing, he just doesn't like to.

A conversation with Man About a Horse
THE HEAT IS ON
What can we say about Frank Solivan and Dirty Kitchen that has not already been said? How about this: why the hell aren't these guys playing in the main stage? This band just keeps getting better, and tighter, each time we see them.

A conversation with Frank Solivan and Dirty Kitchen
Mike Munford is one of the best banjo players around. Don't believe us, check with the folks who hand out the IBMA awards. Jeremy Middleton's stylings on the electric five-string bass might displease the traditionalists who insist only a standup double bass should be allowed, but it sure as hell doesn't offend anyone listening to the band's music.
Guitarist Chris Luquette flies a little under the radar compared with some young guitar pickers like Billy Strings, or Andy Falco of the Infamous Stringdusters, but his picking is as fast and clean as anybody. And of course Solivan, the band's leader, is a mandolin monster and his vocals have a soulful edge that is not often found in bluegrass.
On a day that was filled with a lot of fine music, FSDK's afternoon set in the music hall ranked as one of the best. They are on the Potomac stage today (Saturday) at 12:45. It will be hot in the sun. These boys will do nothing to cool things off. If you are at DelFest, you won't want to miss it.
MEETING OF THE MASTERS
We were shooting photos of FSDK and needed a different lens. Normally we have our gear bag with us, but the media room for the festival is located adjacent to the Music Hall, providing a secure place to stash gear while in the room next door for the music.
As we walked back the hall to grab the lens, we heard some picking from the Green Room on the other side of the hall. We grabbed the lens and started back, but we heard that music again and had to see who it was.
Passing the Green Room, we glanced through the open door to see Eric Lee sitting there with his fiddle, jamming with the Kruger Brothers. A guy with a big, white, pompadour sat there with them, his back to the doorway.
Back, front, sideways, let's face it, from any angle, Del McCoury's hair is readily identifiable. So we stopped to listen a little as Del started chipping in with some vocals.
It was a surreal sight. Truly a glimpse of masters at work. Later that evening the scene was sort of repeated when the Krugers sat in with Del and the boys during their main stage set.
GIVE THAT BOY A RED BULL
OK, we realize Billy Strings is only 26 and yeah, we had a lot more energy when we were his age, too. But this is ridiculous. Does the kid ever sleep?
Strings' Friday began around midnight when he kicked off a two-set late night show that reportedly lasted until 4 a.m.  He was back at it shortly after noon, sitting in with the Broomestix, then played a monster set of his own on the main stage at 4 p.m.
You could see Strings in the wings during the Del McCoury set, but he didn't sit in with the McCourys.  He did, however , join String Cheese Incident during their second set for an absolutely smoking version of "Black Clouds" that featured a long jam in the middle with Billy Nershi and Strings trading some incredible guitar licks.
Presumably, like we did after String Cheese's set was through, Strings then went home to get a little sleep.