DelFest 2019 started a day early this year, at least for us. We rolled into Cumberland on Wednesday in time to get to DelFest Academy in time for Bluegrass Karaoke, one of the highlights of the three-day, pre-festival, music camp for all ages that Rob McCoury's wife, Lisa, runs each year.
Bluegrass Karaoke is the final event of the academy, save the Thursday night opportunity for the Academy's band scramble winners to play a song on the main stage. During the karaoke afternoon, any student can get up and play a song with the instructors – Del McCoury, his entire band, and a host of other artists who are appearing at DelFest — as their backup band.
The karaoke session turned into a little sneak preview of the coming weekend when Del himself stepped up to the mid for the afternoon's last number.
From there it was into town, and dinner at what is reported to be Del's favorite restaurant in Cumberland, Ristorante Ottaviani. We didn't know anything about Del liking the place, or that the McCoury family, and the Academy staff, traditionally dine there the Tuesday night of DelFest week.
We chose the place because our pal Jody Mosser, a Cumberland native who will appear at DelFest with both The Plate Scrapers and The Jakobs Ferry Stragglers, was playing solo on Ottaviani's patio. We knew we had chosen a place with good food to go with the fine entertainment when we ran into friends there that included Cumberland native Bill Rudd, the unofficial Mayor of DelFest.
Rudd, for those not familiar, is a member of the Delfest Foundation's board and the originator of the Allegany County Public School's "We Are Bluegrass" educational program, which takes the music, and the musicians (Mosser is one who has participated) into area middle schools.
From there it was up the hill to Cumberland's beautiful Constitution Park, where locals, with sponsorship from a local medical marijuana grower and dispensary operator, put on what was billed as the Delebration, a pre-DelFest party.
To be clear, this was very much a family affair. We didn't catch a whiff of the sponsor's goods. We did catch some fine bluegrass music with FolkenPhunk and Serene Green, a Pennsylvania band that will play the Music Hall stage at DelFest on Sunday.
Let's hope this becomes an annual event. It seemed like a true win-win. For out-of-towners arriving early for DelFest, something pretty common these days with the festivals early admission for RV campers, it was something to do on a night where otherwise the music would be limited to campsite jams. For the locals, it was a chance for some free entertainment and maybe more important, a connection to the festival. Kudos to all involved in organizing the event, and thanks to the bands, who played for free.
MORE FREE ENTERTAINMENT
For the second year in a row, early arrivals to pick up their festival wristbands on Thursday at Allegany College of Maryland were treated to some fine, live bluegrass as they waited in line. This year it was The Plate Scrapers who played on the lawn outside the school's Continuing Education building, where the festival box office is located. Last year it was Serene Green who entertained those on queue.
Those who know the aforementioned Mr. Rudd will not be surprised to learn it was the Mayor who organized this welcoming committee. This year he also arranged for a food truck that served breakfast and a coffee vendor to also be on hand.
RAIN, RAIN, GO AWAY
Weather forecasts for Thursday seemed pretty ominous Wednesday night and Thursday morning, with the TV weather gals all warning the system that spawned deadly tornadoes Wednesday across the Midwest expected to sweep through the region with a ferocity that could only be predicted on weather maps by using every shade of red in the Crayola box.
When the dark clouds started rolling in late morning, many wondered if we were in for a repeat of the infamous 2009 Delnado. But there were no high winds, no significant lightning, and after about 45 minutes of rain, albeit heavy at times, the clouds gave way to an spf 40 kind of bright, sunny, hot afternoon.
As it turned out, it was enough rain to keep the dust down and a disappointment to kids who have fond memories of playing in lake-sized puddles and on the muddy racetrack that surrounds the music meadow during last year's drenched DelFest.
AND THERE WAS MUSIC
You may have hear the story about the DelFest soundcheck tradition before. It started as just that, a soundcheck – a chance for Del in the boys to get the kinks worked out of the festival sound system. Over the years, it became so highly anticipated by the fans, that it stretched into a longer set. When they tried removing it from the schedule, the outcry was enough to convince Del to reinstate it.
Del still tries to downplay it. It is one of the rare times you will see him and the boys perform sans coats and ties. But despite his repeated jokes about "Hey, this is just a soundcheck," it has become the festivals annual kickoff celebration.
Like he always does, Del took requests. In fact most of the soundcheck set was by request. The only request he actually turned down was for "New York Trains," off 2016's "Del and Woody" album. That album consisted of Woody Guthrie lyrics that Del set to music. He performs those songs rarely and, as he explained, uses a teleprompter to help with the lyrics when he does.
Del did have his "analogue" teleprompter on hand – a music stand full of lyric sheets. But apparently he did not have any of the lyrics from that album in the stack.
ITS OFFICIAL
Earlier this week we had a little preview piece talking about how much the artists enjoy the opportunity to play with one another during DelFest. Let the record show the first such sit-in came late in the festival's second set, when Rob and Ronnie McCoury joined Yonder Mountain String Band on stage.
KING OF DELFEST?
Well, no, despite his surname, Marcus King is not royalty at DelFest. That job is reserved for Del. But the South Carolina born bluesman did receive a royal reception from the DelFest crowd.
That should come as no surprise. Despite being hosted by a bluegrass legend, and featuring some of the finest bluegrass bands going, DelFest has always had room for other genres of Americana music, from roots and blues to more progressive jams.
King, a youngster in his early 20s, displayed a musical maturity beyond his years. His guitar work reminds one of folks like Warren Haynes and Derek Trucks. And his five-member backing band, which includes two horns, was tight and talented.
An anticipated sit in by Billy Strings never materialized, likely because Strings was getting some rest prior to playing a two-set late night show that started after midnight. No word if King sat in there. We were back at the hotel editing photos by then and we don't see any word yet this morning on social media, though given that the festivities went until around 4 a.m., that probably is not a surprise.
ABOUT OUR COVERAGE
As an aside, we spoke briefly with Billy yesterday and he agreed to sit down for an interview at some point during the festival. Hopefully we will be able to make it work logistically. We have several other interviews tentatively set up. Again, we will wait to see what actually comes to fruition.
Unlike many festivals, such as Grey Fox and Gettysburg, media access to the artists is limited at DelFest. Specifically most media have no access to the backstage area at the main stage, which is where the artists hospitality area is, and where we'd be most likely to be able to catch folks to talk.
We will have a good number of interviews throughout the weekend. When possible, we will stream them live on our Facebook page. We will also try to stream some music, but we are not sure how much we will be able to do. During Del's soundcheck, a security guy made us take down our stream saying video recording was not allowed.  Hopefully conditions will be less stringent at the Music Hall or at the Potomac Stage.
PERFECT ENDING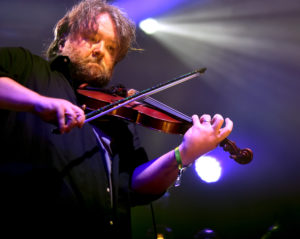 Trampled by Turtles closed out night one with a scorching set of high octane bluegrass that had the crowd bouncing. As lightning flashed off in the distance to the northwest, they closed the night out with a beautifully haunting version of "Midnight on the Interstate" off 2012's Stars and Satellites LP.
It was a perfect end to a near perfect day at DelFest. Or should we say, it wrapped up another typical DELightful day at DelFest.