For many music lovers, some of the highlights of festivals are always the sit-ins. It's fun to see different artists collaborate musically. And it turns out, the musicians like it, too. Matter of fact, many of them say their favorite thing about DelFest is getting to pick with friends.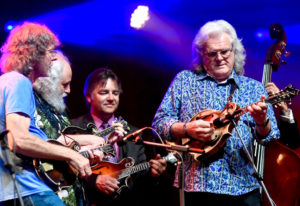 That is especially the case for Ronnie McCoury, who says his best memories of DelFest over the years have been those chances to play music with his pals. Because the McCourys are at DelFest all four days, that happens a lot.
It's different than at other festivals, where you might get a chance to pick one with the folks who were on stage before, or after, you. Usually bands are only there for one day and so your friends who are playing the same festival might not even be there the same day.
Being at DelFest over the full four day period means you don't miss anybody. "The first year, I think I ended up playing with like 17 different acts. I just remember having such a great time," McCoury says.
Sierra Hull had a similar experience a few years back when she was DelFest's artist at large.
"I got to play with so many people, in addition to playing my own set and teaching at the academy all week," she recalls. "I ended up sitting in with like 13 different bands, just popping around and playing with different people. That was really fun. You really get a chance to visit with so many people. I really had fun that year."
Those sit ins mean a lot to the bands on the receiving end, especially for emerging artists for whom it can appear as validation they belong with the big acts at the festival.
Jody Mosser has been a part of such an emerging act. The Cumberland native got a chance to play DelFest with the now defunct Grand Ole Ditch.
"One set that is very memorable to me is one when Ronnie came up and played a tune with us on the inside stage," says Mosser, who will return to the DelFest stage with both The Plate Scrapers and The Jakobs Ferry Stragglers. "Getting to be on stage at DelFest in front of that festival crowd is an awesome memory. But to have somebody like Ronnie come up and play with us was extra special."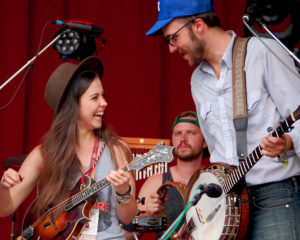 Mosser's two bands, by the way, will play back-to-back sets Saturday morning at the new Bloody Mary Bar in the Music Hall.
Asked about some of his favorite DelFest sit-ins over the years, McCoury starts through a laundry list. "I've played on stage with so many people. The Lee boys that was a lot of fun, Trey Anastasio,Derek Trucks and Susan Tedeschi, Bobby Osborne."
He pauses for a moment, then gets to a recent memory that you can tell is special.
"Last year with the Bluegrass Congress and having so many greats up there at the same time. David Grisman and Sam Bush, my two favorite mandolin players and playing with them, and all these other people, Jerry Douglas, all my heroes."
McCoury is not the only one who remembers that night. Bush calls it his "favorite musical memory" of DelFest. "The Bluegrass Congress, getting to see Del honored by all his friends. That was a great thing to be a part of," says Bush.
"I had a lot of fun playing electric mandolin, my Fender electric, with Ronnie playing his Fender electric. I'm on a mission for all mandolin players to also own a Fender electric. So Ronnie and I had our electrics and Ricky Skaggs had his beautiful red Telecaster guitar and that was fun. We could stretch way out."
Bush, who is recovering from abdominal surgery, will not be at DelFest. Skaggs has agreed to fill Bush's spot in the schedule. He is also expected to bring that red Telecaster to the Music Hall for the Travelin' McCourys Sunday late night send off.
Those Sunday night send off shows are always special, in part because they tend to get a lot of special guests sitting in.  
McCoury says it is not unlike the jams that will go on around camp fires all weekend as old friends reunite at DelFest.
"It only happens when we are around each other and it's not often. A lot of times at other festivals we are on other days than our friends, or somebody has to leave in a hurry to make it to their next show," says McCoury. .
"I have picking parties at my house, but a lot of these folks may not be in town, or might not live nearby. So we take some of that to DelFest. That's what it is, a picking party."