We can finally lay the rumors to rest: No, Granite Hill campgrounds do not allow favored patrons of the Gettysburg Bluegrass Festival to leave their chairs in place year around to assure they get their favored prime seats.
How do we know? Because for the first time in the short few years we have been covering the Gettysburg festival, we were there on Sunday. Matter of fact, after getting all our gear out to the car and discovering we'd left the iPhone back by the stage, we ended up being among the last to leave. We can assure you, when we left, all the chairs were removed. All that remained in the seating area was the EZ-up that housed the sound and light boards, and that was being packed up.
That doesn't mean you won't see many of those same faces back there in August, when Sam Bush is set to headline the 79th edition of what is one of the longest running bluegrass festivals around. If not in August, they will be back here in May.
Bush's appearance is not listed on the Gettysburg web site yet. But it was listed in the festival program and promoter Rich Winkelman confirmed as much backstage. It's yet another fine booking by Winkelman, who shrewdly looks to draw new, and younger, folks to the audience mix.
At the same time, though, Winkelman knows his audience. The three other acts announced thus far for August — Rhonda Vincent, Dry Branch Fire Squad, and Seldom Scene. We don't have stats on Rhonda, but we know the Queen of Bluegrass has been on every Gettysburg festival bill that we can ever remember seeing. Dry Branch has played all 78 festivals that have been held here. Seldom Scene has played all but one.
So it was little surprise Sunday afternoon when Dudley Connell, of Seldom Scene, told the crowd "I kinds feel like we're among friends." It was, like their set Saturday evening, a comfortable, familiar, situation.

Seldom Scene, live May 19, 2019 at Gettysburg Bluegrass Festival
True to their promises made Saturday night, the band had taken time to work through an old Johnson Mountain Boys number that they hadn't played in years, and they played it Sunday. They played three or four new songs from the album they are currently working on. When Lou Reid announced he was playing a song the rest of the band didn't seem to know for a little girl in the audience who had asked for it, the rest of the band was game, and had it figured out by the second verse.
There was a lot of familiar banter with the audience, which seemed much smaller, and more intimate, than it actually was. Noting just a hundred or so folks in their seats in front of the stage,  Fred Travers commented, "You guys are the die-hards. You're staying til the end."
To a certain extent he was right. Despite a fine Sunday afternoon lineup that finished with The Grascals, it seemed for many attendees the music Sunday was just a soundtrack to pack up their RVs by. The threat, which proved empty until well after the music stopped, of thunderstorms likely held down Sunday afternoon single-day sales. But there was still a decent crowd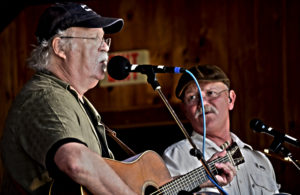 What Travers probably had not noticed was how many people had migrated to the big shade tent at the top of the hill. It's a Gettysburg phenomenon, or at least one we have not seen elsewhere. The stage, which is housed in a beautiful wooden barn style pavilion, sits at the bottom of a slope that creates a natural amphitheater. There is a small road that runs across the top of that hillside, and on the other side of that road, which is just a walking path during the festivals, they erect a giant tent under which festival attendees line up their folding chairs.
For a lot of them, we suspect it is a duplicate. You may set you chair up ahead of time and leave it in place through the entire festival at Gettysburg. So a second chair can claim a second good spot, this one out of the sun. We'd seen it more at the August festivals. Last May a similar phenomenon took place as folks looked for shelter from the weekend-long rains. Anyhow, Travers did smile when we reminded him that there we easily as many people in the tent as there had been
Ironically, it was "Wait a Minute," arguably Seldom Scene's most  iconic, and most requested, song that failed to make the cut.
Several times Saturday Connell told the crowd they would play that one on Sunday. Early in the set, Connell repeated the promise. But they'd made so many promises to so many fans, many of whom they knew by name — folks who bring them baked goods, or invite them over to their RVs for a meal — that by the time they had closed the show with a promised Bob Dylan cover as their encore, they'd simply run out of time. "Wait a Minute" became Wait 'til August.
When we mentioned the omission to Connell backstage after the set, he got the same look we get on our face when we realize we forgot to pick up the drycleaning on the way home. We assured him his troubles were not at that level since the Mrs., who absolutely loves "Wait a Minute," hadn't been able to come along.
CLOSING NOTES
We feel sorry for anybody who packed up and left early. The festival's final set, by The Grascals, was one of its finest. Top three, easy, and this was a festival full of fine sets.

The Grascals, live May 19, 2019 at Gettysburg Bluegrass Festival
With seven-time Society for the Preservation of Bluegrass Music in America mandolin player of the year Danny Roberts and four-time IBMA Banjo Player of the Year and five-time SPBGMA winner Kristin Scott Benson on board, you won't find better pickin'. Adam Haynes, who joined the band in 2013, does a fine job on the fiddle.
Over the years, including individual honors, The Grascals have won 9 IBMA awards and 28 awards from the SPBGMA. They also have three Grammy nominations.
Like Seldom Scene, The Grascals have been through some personnel changes over the years. Most recently founding member Terry Eldredge left the band in February. Founding member Jamie Johnson, who himself left the band in 2015, filled in for a few months until the band found a new guy to fill that spot.
That new guy, Chris Davis, was playing his third show with the band on Sunday. Who knew? He hit every note, both vocally and on guitar. And he knows some Randy Travis, something no other band member apparently knows, which made the fan who had delivered a note to the stage requesting a Randy Travis cover ecstatic.
The Grascals are a six-piece outfit, with two guitars. We're not sure why they felt the need for two guitars when the band was founded, or why they feel the need to continue having two. Both Davis and John Bryan, who replaced Johnson in 2015, pretty much just play rhythm. Most of the solos and breaks are handled by Roberts, Scott Benson, and Haynes. But we do know Davis' voice is an ideal fit. Davis and Bryan share most of the lead vocals. Both are fine singers. It's when they combine with Smith on three-part harmony that they really shine.
FINAL THOUGHTS
Over the past few years we have learned to really love Gettysburg's festivals. At one time, we stuck to one-day passes, usually targeting one of the more progressive acts Winkelman brings in, like the Steeps, or the Travelin' McCourys.
We wrote, a few years ago, about the fish out of water experience our first Gettysburg was. Coming from a jammier side of bluegrass, things like audiences who don't dance, and don't wear tie-dyes, were foreign at first. So many people our own age seemed odd, too.
These days, we have learned to appreciate a lot of what Gettysburg has to offer. For starters, the talkers in the crowd are so rare you can easily trace the source of the chatter and quiet it with a disapproving look. And while we like places with room to dance, and love to ride the rail ourselves, there is something to be said for places where you can sit down and watch the band.
There is no security, at least not any visibly identifiable security. Have yet to see any reason they would need it. This is about as fan friendly a venue you will ever find, and it is filled with what certainly seem to be friendly, or at least respectful, people.
What bad could you say about a music venue where you can bring your own food and beverages with you in a small cooler, or purchase beer, at reasonable, non-captive audience prices — even by the six pack if you prefer — at the campground snack bar.
Bluegrass artists are, by nature, friendly and pretty accessible to their fans. Nowhere is that more true than at Gettysburg, where every artist, from the guy on stage at noon to the headliner, sticks around the merch tent until every fan has been greeted and every autograph signed.
It's a little informal backstage at Gettysburg. The "green room" is small and goes mostly unused since it is also the hallway to the restroom and the backstage area on one side. The artists' buses cannot park immediately backstage, so there is a lot of mingling in the covered area right behind the stage pavilion.
The picnic tables in that area get covered by instrument cases. There are more stickers on display than a first grade class at the end of the school year awards assembly. Artists catch up with old friends from the other bands. They take a moment to pick one another's newest instruments in between stories from the road.
Yeah, come the second weekend in August we know where we will be. Rhonda will be there. Dudley, Fred and the Boys. Dry Branch for sure, God willin', the creeks, and all that. Did we mention Sam Bush is coming, too?
Looking at the schedule on his site, which does not yet show Gettysburg, it would appear Bush will be there on Sunday afternoon. Something tells us we'll have a lot more die hards sticking around Sunday for that one.
• 78th Gettysburg Bluegrass Festival (May 2019) Photo Gallery
• Dispatch from Gettysburg, where Saturday night felt a lot like being home
• Friday's Dispatch from Gettysburg: The one where we learn all about Weston, W Va.
• Dispatch from Gettysburg: Only thing better than Thursday's weather was the music