Wikipedia may not be the most authoritative source in the world, but where else are you going to go to find out a little about Weston, W. Va.? There is an official site for this "city" of 4,110 people. But it mostly deals with the local government. Wikipedia, though, tells us a little more about the town.
For instance, Weston, which is about an hour south of Morgantown, was founded in 1818. Stonewall Jackson was born a few miles outside of town, although Weston was not yet an official municipality in those days.
It's a town with some history. The Museum of American Glass in West Virginia is located there. The town has two historic districts and a number of buildings on the National register of Historic Places, including the Jonathan M. Bennett House, Jackson's Mill (Stonewall's childhood home), the Weston Colored School, and the Trans-Allegheny Lunatic Asylum.
There is a list of Weston's "Notable People" on that Wikipedia page. The influence of the asylum's escapees is obvious when you look at that list. Of the dozen people on the list, four were congressmen, one was a senator. Two others flew planes in combat, one was a professional poker player. Maybe it is something in the water.
The only musician listed is Buddy Hayes. You'd have to be a hardcore Lawrence Welk fan to recognize the name. Buddy played bass and tuba in Welk's orchestra and occasionally sang on some of the novelty tunes Welk would perform on his old TV show.
Chase Arbogast is not on that list. Not yet. None of his LC Blue bandmates are listed either. Something tells us it won't be long until that changes.
LC Blue is the Lewis County High School bluegrass band. They are unofficial. The guy who runs the program is a chemistry teacher. They get no school credit for the project, not even as a music elective. Rehearsals are after school. LC Blue gets no funding from the district.
"We just, sort of, represent the school," says Arbogast, a senior who will graduate from LCHS next week.
They represent it well, or at least they have at this May's Gettysburg Bluegrass Festival. The band played a set on the main stage Thursday evening and Friday morning and also had a workshop tent set Friday afternoon.
It is easily the biggest gig the current version of the band has played. LC Blue was founded in 2000 by Mark Lynch, who got the idea at the Gettysburg festival from a teacher who ran a similar program in Wheeling. LC Blue did play at Gettysburg once before, but none of the current seven members were in the band then.
"We have played a good handful of local festivals, but none that were national like this one," Arbogast says. "My heart was pumping when we went on stage. It felt amazing. It was the experience of a lifetime."
LC Blue holds tryouts. When band member Silas Powell, a multi-instrumentalist who plays mostly mandolin when fronting his own band, which is also playing at Gettysburg, auditioned, it was on fiddle because Arbogast already was holding the mandolin job.
"It can be pretty competitive at times," says Arbogast. "But in the end it comes out perfectly."
No LC Blue alums have broken out after leaving the school. A former bass player is with a band in Florida, Armstrong thinks. A current member of the band, who graduated last year, plays with his college's bluegrass band. A few alums are doing that at their schools, too. Arbogast will be a member of Glenville (WV) State's bluegrass program in the fall.
Don't be surprised if you see Arbogast back on the Gettysburg stage again someday. Only a fool would bet against his having a career as a bluegrass musician. It's not just because of his obvious ability playing the mandolin. Backstage he showed an uncanny work ethic and ability to network for a kid his age.
While many of his bandmates were enjoying the festival, Arbogast was working it, hanging with mandolin players like Nick Dumas of Special Consensus and others, picking mandolin and picking their brains.
It was really not much of a surprise when we posted a video on Facebook of Dumas and Arbogast picking, and almost immediately a musician friend commented "Hey, that's our buddy Chase."
MEA CULPA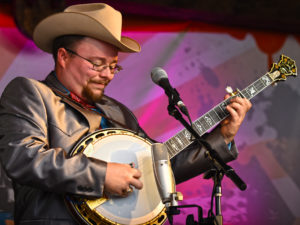 Apologies to Jereme Brown, of Po' Ramblin' Boys, if we offended him backstage when we asked which Cleverly he used to be. Brown sort of gave us the stink eye when we asked. We were half joking. He did seriously look familiar and the outfit didn't make things clearer.
We later overheard him laughing as he told another musician about a similar encounter at another festival, so we don't think he was really mad. How could he be? To a first-time Rambler, the visual similarities are obvious. They shop at the same vintage shops and share a similar sense of style.
Musically there are some similarities, too. Both bands are made up of talented musicians. Both have what some might call a quirky style, a schtick, if you will. But while the Cleverlys are taking pop songs and playing them bluegrass, at times in a parody style, the Po' Ramblin' Boys are serious about the revved up versions of original and obscure bluegrass classics they play.
Po' Ramblin' Boys, the 2018 IBMA Emerging Artists of the Year, don't fool around. They play hard drivin' bluegrass. They seemed somehow out of place without a dance floor.
Suffice to say we look forward to getting a chance to see these guys again next week at DelFest.
FRIDAY NOTEBOOK
• Last year, the first time we saw Russell Moore and IIIrd Tyme Out, we recall thinking we really would like to see them again. We should not have waited a full year.
Former band fiddle player Justin Haynes filled in on banjo while the band's regular banjoman was home with his wife and newborn baby. You'd have been hard pressed to notice any flaws.
These guys are pros. Built around Moore's strong (five-time IBMA Vocalist of the year) voice, these guys sounds as if they have all been with Moore for the band's entire 28-year existence.
In truth, only Moore has been with the band that long. Mandolin player Wayne Benson, who has been with Moore for 21 of those years, is next in seniority. Dustin Pyrtle, formerly of Doyle Lawson and Quicksilver, is playing bass these days. His harmonies with Moore add a lot.
We said it before, we'll say it again (and we mean it this time): We should see Russell Moore and IIIrd Tyme Out more often.
• We also need to see more of Sideline and Special Consensus, both of whom were relatively new to us. Sideline, so true to bluegrass they are actually sponsored by a sausage company, is led by Steve Dilling, a former member of the Lonesome River Band who also spent 20 years playing with Moore. We'd love to see them in a more progressive setting. They feel like a jam grass band dying to escape the bonds of traditionalism — especially guitarist (and Dilling son-in-law) Skip Cherryholmes and mandolin monster Troy Boone.
Special Consensus is a twice Grammy-nominated quartet led by banjo picker Greg Cahill, who celebrated his birthday numerous times Friday on and off stage.
• Photo Gallery: May 2019 Gettysburg Bluegrass Festival