Seems like it was just last year. Probably because it was.
It seemed to rain every weekend in the spring and summer of 2018. We called it "Festival Season," but truth be told, it was more like monsoon season.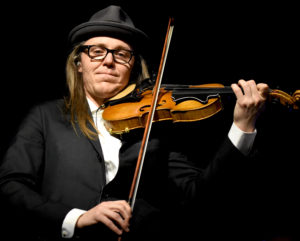 Looking back, it seemed like there was only one truly perfect weather day — the Saturday of Grey Fox, when it was bright, sunny, dry, and perfect shirtsleeves weather. It was a Goldilocks day — not to hot, not too cold, just right.
And with the rainy Friday start to Charm City a few weeks ago, we had to wonder if maybe this was the new normal.
Than came Day One of the May 2019 Gettysburg Bluegrass Festival to make us feel like this year might not be a repeat of last year.
We were reminded of last year's May Gettysburg fest from time to time yesterday. They have had their share of rain recently and the ground was soft in places, especially to the lower side of the stage. But it was nothing like last year, when even spreading bales of hay did little to make your footing seem more secure.
No, Thursday was a perfect spring day, with high clouds filtering a brilliant, blue sky. It was the kind of day that reminds you of that old joke about Syracuse, the one where they say if Summer falls on a Saturday they'll have a picnic. We don't seem to get many days like that anymore. We seem to go from the harsh cold of winter to the swelter of summer and back again with so few of those beautiful, moderate, spring and fall days.
Yes, these days seem scarce. Scarce enough that they deserve special care. They should be celebrated in grand fashion, which is just what went on Thursday at Gettysburg.
There's no sugarcoating it. Yes, there are still a lot of fine bands to play there this weekend. There is plenty of fine music yet to be heard. But like George Washington, we cannot tell a lie — it will be all downhill from here.
Thursday's lineup was, on paper, the best of the festival and it was every bit as good as promised, with Steep Canyon Rangers turning in a fine 90-minute headlining set to cap the day.
The Rangers rolled in early, and rolled out not long after they hit the final notes of "Tell the Ones I Love," the title cut from their 2013 album that they did as an encore. Nicky Sanders said backstage they were headed to Missouri, a 14-hour overnight run that required they bring along a relief driver for the tour bus so they could make it in time for Friday's gig in St. Louis.
It was Barrett Smith's first visit to Gettysburg, and he got introduced to the Gettysburg crowd straight away, taking lead vocals on the opener, a new song with a name that was not mentioned. From there they breezed through a tight set that included songs from four of their last five albums but was conspicuously missing anything from 2015's "Radio" album.
Highlights included a sweet, jazz-influenced bass and drum into into a rollicking "Stand and Deliver" and a number of songs mid-set played around a sole microphone, including "Whiskey in the Afternoon," "Shenandoah Valley" (showcasing Nicky Sanders picking his fiddle like a mandolin), and a fine "Call the Captain," from 2007's "Lovin' Pretty Women" LP.
Worth noting, Mike Ashcroft was playing his cajon "box set," not the full drum kit he had at Charm City.
Sanders said it was a bit of a nod to the more traditional bluegrass crowd that Gettysburg draws. "When we play hippy jam grass festivals, those folks like the full kit," Sanders said with a laugh.
MELLOW OPENING
Mile Twelve's setlist for their festival-opening afternoon set as on the mellow side, and heavy on songs from 2017's "Onwards" album. Their evening set, which featured much of the recently released "City on a Hill" LP, was much more danceable, right from the "Down Where the Drunkerds Roll" opener.
It was interesting watching the crowd's reaction to some of the band's songs that might be interpreted as having a liberal point of view. Just an hour or so earlier they had roared to the chorus of Carolina Blue's "The Ballad Of Flem Galloway," a tale of a Confederate soldier defiant to the last breath, telling President Lincoln he would always "Stand up for the things I believe in, and the right of the South to be free."
There are those who might argue that the right of anybody being free was the last thing that was was about, but here, just miles from where the decisive battle of that conflict was fought, that chorus was an applause line.
It is a tribute to Mile Twelve's songwriting that even when they are singing about issues such as climate change ("City That Drowned"} and the refugee crisis ("Liberty"), the songs never come across overtly political. There is nothing preachy about them. It never feels like they are advocating for a cause. They just tell rich, symbolic stories that catch you up more in the characters than the cause.
If anybody was offended, you could not tell it from their reaction. After finishing their set with a stellar "Innocent Again," the crowd called them back for an encore and that encore — the band's well known cover of Elton John's "Rocket Man," brought an even more enthusiastic reaction.
THEY'RE JUST KIDS
A highlight Thursday was the dinner hour set by LC Blue, the bluegrass band of Lewis County (W. Va.) High School, which wowed the crowd and the artists on hand with a strong set that made folks feel good about the future of bluegrass.
LC Blue, which will be back on the main stage Friday and will also play a set in the workshop tent, featured several multi-instrumentalists, including 15-year-old Silas Powell, whose own Silas Powell Band plays at 11 Saturday morning. Powell's band is also on the slate for June's Smoked Country Jam festival.
Backstage, the youngsters were excited to get their festival posters autographed by the other artists. A number of the artists also took time to talk with the kids about their instruments, set-ups, and other performance related stuff.
ALL-STAR CAST
Much has been made about the Travelin' McCourys being perhaps the most IBMA decorated band around. But the version of the Becky Buller Band that played Thursday at Gettysburg could give those boys a run for their money. Counting seven-time IBMA Bass Player of the Year Missy Raines, who sat in for usual Buller sideman Daniel Hardin, the band had a combined 18 IBMA Awards.
Those 18 awards include eight for Buller herself, who was the first artist ever to win in both instrumental and vocal categories the same year. Buller was also the first women to win Fiddle Player Of The Year.
The only member of the band to not have won an IBMA Award is guitarist-vocalist Dan Boner. Boner, who heads the Bluegrass, Old Time, and Country Music Studies program at East Tennessee State University, has been nominated twice for "Mentor of the Year."
Boner got a chance to show off one of his students during Buller's evening set, when Carolina Blue's Aynsley Porchak, a 2013 ETSU graduate who is currently a grad student at the school and Mile Twelve's Bronwyn Keith-Hynes joined Buller for a couple numbers showing off their three fiddles.
SAVE THE DATE
The full lineup for August's edition of the Gettysburg Festival is yet to be announced, but the May festival program does let slip a very major announcement. Sam Bush will be among the headliners for what will be the 79th Gettysburg Bluegrass Festival.
Gettysburg stalwarts Rhonda Vincent and Seldom Scene will also be back in August. The August edition is set for August 15-18.
• Festival schedule
• Gettysburg Festival photo gallery