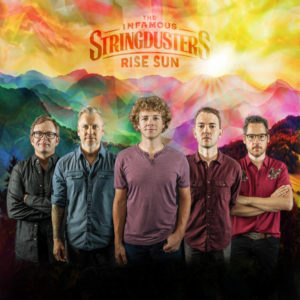 We'd been listening to the Infamous Stringdusters' new album "Rise Sun" since mid-February, when we received a review copy, and the entire time we'd been struggling with trying to write this review.
Then we skipped the first song, and all was much better.
You see, we sort of have a policy of only writing about music we like. So how, then, were we going to write about "Rise Sun," which we were convinced we just were not that fond of. It wasn't as if we thought it was a bad album. But it just wasn't quite connecting for us somehow.
We were disappointed. We've become used to the Stringdusters' can-we-top-this trend of the last three albums — "Let It Go," the female-fueled "Ladies and Gentlemen," and the Grammy-winning "Laws of Gravity."
Likewise, we have lost count at how many times, post a Dusters show, we've remarked to others about how just when you think they can't get any better, they do. This is a band that literally has always seemed better every show and every album.
Then along comes the hand-clapping title cut that opens this album like a first frame gutter ball. The first time we heard the song, all we could think was how much it was going to suck live when the crowd, no more than three-quarters of whom will be in time, joins in.
It seems contrived, artificial, and so un-Stringduster-like. It's the recorded equivalent of those cameramen signaling the crowd to wave their arms back and forth on those big, televised concert "events" or artificial noise at a sporting event. We wanted to just grab them by the shoulders and say "Fellas, you are so much better than this."
We might even like the song, if we could just hear it without the damned hand clapping. It starts off that way and by the time the first words are sung, our jaded mode was on hair trigger. We admit it is unfair — to the song, and to the band. But we can't help it. Hand clapping and talking while the band is playing are two of our pet peeves.
Then, by accident, we discovered the secret. Unintentionally placing it on shuffle play, we found ourselves really enjoying the album until about five songs in, when it shuffled to "Rise Sun." Thinking maybe we were on to something, we did it intentionally, listening to the entire album, in order, after giving the leadoff guy an intentional walk.
No, this album does not measure up to its immediate predecessors. It would be tempting to suggest you'd better spend your limited entertainment dollars on downloading a live Dusters show or two from their Nugs powered live downloads site (http://www.thestringdusters.com/live-downloads). But by that logic, we'd never buy an Infamous Stringdusters studio album. They are one of those bands that are always better captured live.
It's nice, though, to occasionally listen to the studio LPs for a reminder of what those songs sounded like when they were young, before the improvisation and jamming of live performance after live performance helped them evolve. It is a reminder that the music is a living, constantly changing, thing with a life of its own. These are the baby pictures.
Someday, a few years down the road, some of these songs will be standards in Stringdusters' sets. And some will be forgotten, or perhaps will have become one of those special rarities that people go nuts about when it appears on a setlist every 15 months or so.
Produced by Billy Hume, who also produced "Laws of Gravity," this project was conceived and created in the order it appears on the album. Forget all that stuff about "a hard life makes a good song." This one is intended to be a concept album about the power of positivity.
"Rise Sun was sparked by the feeling of something better, more awareness, and more compassion," said band member Andy Hall, in a release about the album. "It's a message of taking care of each other, our planet, and ourselves."   
"If You're Gonna Love Someone," is one of the songs we cannot wait to hear stretched out in a live set. It's classic dusters, with Travis Book's stellar vocals, with strong three part harmony. It also features some of the best picking on the album, especially on a midsong segment when Chris Pandolfi (banjo), Jeremy Garrett (fiddle), Hall (dobro), and Andy Falco (guitar) take turns on the instrumental breaks.
"Long Time Going," co-Written with Jon Weisberger, is another we'd expect to translate real well live, with Garrett's plaintive vocals and a bouncy chorus over Pandolfi's banjo and Hall's resonator has a lot of stretch-it-out jamming potential
"Thunder" is one of the most philosophically upbeat songs on the album and one of the best."White mountains, big blue sea; Deep canyons, tall green trees." It's vintage Dusters.
We're also fond of the song Jeremy Garrett co-wrote with Kim Richey, "Carry me Away," another banjo-driven romp that has break out into an extended jam written all over it.
Another favorite is the instrumental "Cloud Valley," is a six-minute science fiction themed instrumental that will remind one of their popular live covers of the 2001 A Space Odyssey theme.
"Wake the Dead," co-written with Josh Shilling of Mountain Heart, is almost scary good. Scary in that, if properly promoted, could be a crossover hit on contemporary country stations with its catchy melody and party anthem chorus. From there, it's a short leap to adding a drummer. Don't believe it? Ask Old Crow or Steep Canyon.
So far that is not likely to happen. At least it does not appear anybody is pushing it. The band released a video of the title cut early, and also released Andy Falco's rollicking closer "Truth and Love" as a single
Suffice to say, that song closes the album much better than the title cut opens it.
"It is a message of hope, and it focuses on what really is important in life. I felt like I needed this song to remind me of all this, and I thought maybe others could use a reminder as well," Falco told American Songwriter magazine.
It's also the sort of song that will send the crowd dancing out into the night when they pull it out for a closer. It has encore written all over it.
You might like the entire album. We're not trying to tell anybody not to like "Rise Sun." We're just saying is if, like us, that first song gives you pause, get past it. The rest of the album is well worth the listen.
Infamous Stringdusters "Rise Sun" is out today and available on CD or as a double LP on vinyl on their web site.